Backbends: A Lesson in Quit Vs. Surrender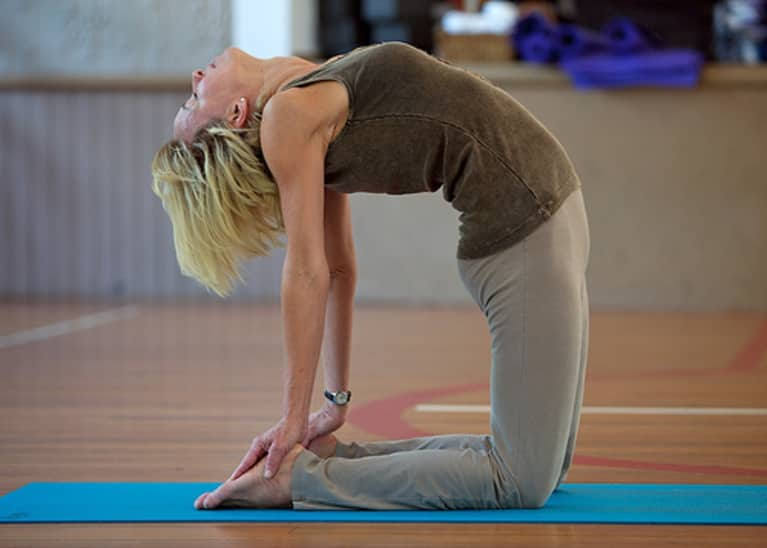 After three years of practicing yoga, one of the terms that keeps challenging my mindset is the word "surrender." What does it mean to surrender on the mat? Type A personalities seldom, if ever, allow themselves to even consider the word surrender.
Driven by one challenge after another and balancing multiple demands on our time, Type A personalities drive forward, around or over challenges but never surrender. Surrender is synonymous with quit, and Type A personalities prohibit such words from their dictionary. We simply do not give up. Ever.
But time and again my instructors have challenged me to surrender on the mat. Whether it's related to a specific pose or a meditation moment, I am to surrender. I listened politely and acknowledged their direction but wondered if I truly understood their words. How can I surrender on the mat? I just did not understand. Nevertheless, I continued on with the flow trying my best to yoke posture, intent, breath, gaze and mind together in a moving meditation.
Something has changed lately, and I seem to be gaining clarity. Perhaps it is because for the first time ever I can enter Urdhva Dhanurasana (Upward Bow or Wheel Pose). Like many of my poses it's neither graceful nor elegant, but it is functional to a point where progress can be noted. Figuring out how to lift my head off the ground in this deep backbend has puzzled me for years.
Rest assured I have a long way to go in this pose, but my self-reflection suggests that this recent progress is because I am starting to learn the difference between quitting and surrendering. In the world outside of yoga, quitting and surrendering are synonymous and relate to giving up. In yoga, however, the two words actually allow one to do the opposite and give in. And if progress is to be made in any pose, one has to give in.
When faced with a challenging backbend such as Urdhva Dhanurasana, I had to quit saying that I could not do it and surrender to the possibility of allowing myself to enter the pose. I had to quit trying to force the pose and surrender to progress on its own terms. And I had to quit judging myself against others who gracefully enter the pose and surrender to the trust I place in my practice.
image via extend yoga