Kat Fowler on Yoga, the Matrix & Your Inner Guru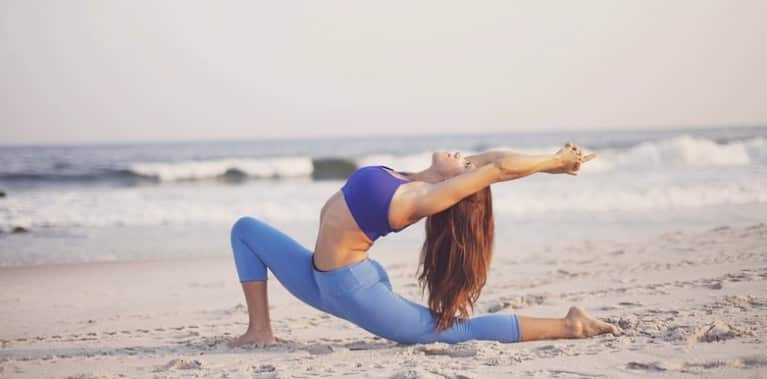 From the hustle and bustle of New York City to the solitude and serenity of the beach, this yoga teacher's everyday life is a full expression of the art of seeking balance - and she wouldn't have it any other way. Kat Fowler left everything behind to dive head-stand first into teaching yoga and never looked back. This charismatic yogini will wow you with her gravity-defying poses (on both land and sea) and then giggle and tell you how yoga is just like the Matrix – all while confidently knowing that this is the exactly the path that she is meant to be on.
Name, Occupation, Location: Kat Fowler - New York Vinyasa yoga teacher, Lululemon Ambassador, SUP Yogi, and vegan foodie.
What does a typical day look like for you?
During a typical day I am usually always on the go - I think this is pretty typical for most full-time teachers. I wake up early in the morning and always start off my day with some warm water with lemon. I've made it a goal to take at least 30 minutes in the beginning of each morning for some morning meditation or pranayama, BEFORE I check the phone and emails. This is challenging, but I highly recommend it. Then I head out to my garden where I hand-pick some fresh kale and collard greens to add to my morning smoothie. A good recipe to try is: 1 handful of kale, 1/2 banana, 1 tablespoon of raw almond butter, flax seeds, vegan rice and pea protein and unsweetened almond milk - makes for a quick, delicious breakfast. Then the fun part begins! My schedule throughout the week varies daily, and will generally contain a mix of teaching classes, private sessions and workshops all over New York City and Long Island, teaching Stand-Up Paddle Board (SUP) Yoga in the afternoons in Long Beach, doing a home practice on the beach, in my backyard or taking a class at a studio, catching up on emails and facebook posts, stopping in at any of the local health food stores for some fuel and probably some random handstand-ing and inverting in between all of this. And, when I'm lucky, I get some downtime at the beach with family, boyfriend, and friends.
What is the first big (or little) step you took to follow your bliss and create this beautiful life that you have?
After I took my very first Vinaysa class, I knew this is what I wanted to do for a living. I was hooked. My previous dance background and new-found love of this beautiful practice led me to New York City, to take my first teacher training. Once I dove into Teacher Training, I never looked back. Yoga is kinda like the matrix, you can either take the red pill, or the blue pill, but once you take it, your life has changed forever.
Exactly one day after I graduated Teacher Training, I took a leap of faith… I quit my job and sent out my (looking back now, seemingly-empty) resume everywhere. At the time, that probably looked a little crazy, but I was trusting my intuition and following what was in my heart. It took a lot of hard work, networking, auditioning and faith in myself, but it paid off and now has allowed me to do what I love to do for a living! I had a huge shift in priorities happen as well. Once I decided I was going to dedicate my life to this practice, I almost naturally started making healthier decisions and taking small, but important steps each day towards being able to do what I love. It meant making a few sacrifices and lifestyle changes, but they were all very worth it.
What is your advice to people in overcoming fear and following their bliss?
Pursuing my dreams has taught me how powerful we are as human beings, and that our thoughts make our world. I believe it is our thoughts that determine our actions, and keeping your thoughts positive and in line with your goals is a start in the right direction. We cannot change certain circumstances around us, but we can change ourselves, and that all starts with having the right attitude.
Another thing I have learned from experience is that the first step to getting what you want is deciding EXACTLY what you want. That's the hard part — after that point, it's simple. You will notice things will start falling into place. Your faith and trust in God (the Universe, Divine Power, whatever you would like to call it) AND in yourself will keep you on the right path. I believe that every person we meet along our life path is our teacher, in some way or another, helping us with an important lesson needed at the time, and all these teachers and lessons in our life are ultimately leading us to our greatest teacher, the teacher within. I truly believe if you have faith in yourself, you will find plenty of like-minded individuals who have similar beliefs, dreams and goals, who are here to help you on your path to success pursuing whatever it is you love.
If you are in the NY area, you can find Kat teaching her Workshops, Master Classes and a Five Day Summer Detox this July - or catch up with her on Facebook. But be forewarned – this yogini is going places and going fast – catch her if you can!