5 Ways to Get Yoga Teaching Experience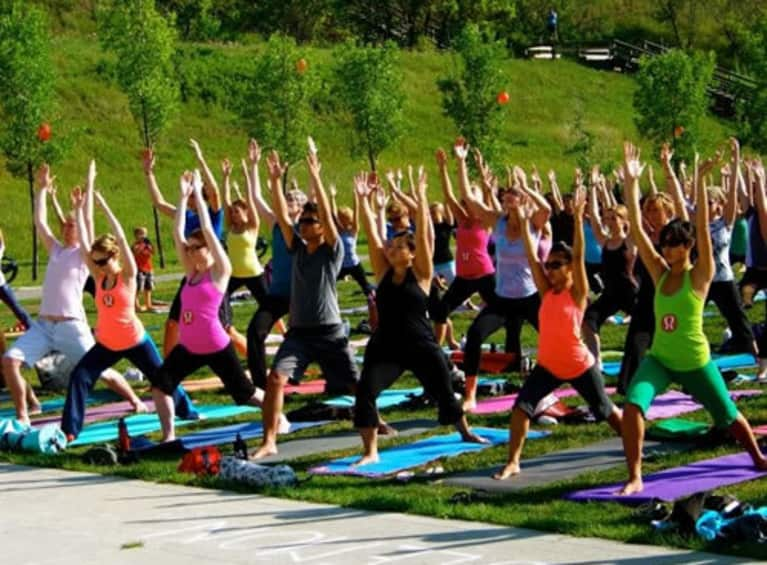 So, you're fresh out of your 200-hour yoga teacher training with your diploma in hand, ready to take your first steps out into the world as a yoga teacher. However, you may not make it very far before you find yourself coming to a halt and standing there scratching your head, wondering – so how exactly do I get a job anyway?
New yoga teachers often find themselves facing a bit of a conundrum: you are looking for a gig so you can get teaching experience, but studios tend to look for prior teaching experience before they'll give you a gig. Here are five alternatives to trying to land a job at your favorite yoga studio right out of teacher training. They'll help you get your feet wet before diving head-first into unknown waters, and they'll give you the opportunity to find your "yoga voice," work out the kinks in your craft, gain confidence in your teaching abilities, and, most importantly, they'll give you the teaching experience that you need.
1. Teach your friends. Your friends will probably leap at the opportunity to be your guinea pigs, especially if you charge less than the average studio rate or, better yet, offer to teach them for free. And don't view it as asking your friends for a favor. You spent a lot of time and effort (and not to mention money) to get trained as a yoga teacher, and you probably have a wealth of knowledge to impart – so go ahead, share that newfound wisdom and your passion for the practice with your friends. What's stopping you?
2. Teach your fellow TT alums. Recruit some of your fellow trainees from your 200-hour training and ask everyone to commit to getting together once a week (or once every other week, or whatever time period works for your schedules) for a class taught by one of you (and you can rotate teachers each session). If there are enough of you, a second person can assist each session. And if each teacher brings a friend, you might round up a pretty large crew.
3. Teach your work colleagues. If you have a full-time job, like I do, teach the people you work with. Who knows, it might even help you score brownie points with your boss. If you work in an office setting, talk to the management about establishing a weekly lunchtime or after-hours yoga class in the cafeteria, conference room, lobby, wherever. Of course, there are a lot of logistics and details you'll have to work out yourself given your place of work, but it might be worth spending a little time thinking about it. (For more tips on teaching yoga in a corporate setting, go here).
4. Teach in the gym at an apartment complex. Many large apartment buildings in big cities (especially New York) have their own on-site gyms and – what's crucial to you – their own yoga studios. A lot of these buildings will hire yoga instructors to teach regular classes to their residents. So, do a little reconnaissance on your favorite luxury buildings near you to find out if they have a group fitness/yoga studio, then call the building (or just show up in person) and ask to speak to the gym management team. Some buildings have their own staff running the gym. Other buildings outsource the management to another organization. Either way, find out who they are, and reach out to them.
5. Teach at the beach, at the park or in any public space this summer. Pick any public space where you think you can hold class comfortably, choose a time which is convenient for most people (I suggest early evenings Monday through Wednesday), and spread the good word – you're going to teach a class and anyone is welcome. Advertise old school-style with flyers or announce it via Facebook, Twitter, etc.
So, go ahead and teach. Share your passion for the yoga practice and your newfound knowledge. All you need to do is take the first step.
And, because I'm a lawyer in addition to a yoga teacher, I have just a few final words of advice: Before you give any of the above a try, be sure to get yourself liability insurance that covers you as a yoga instructor (many companies, including Yoga Journal, offer this and it's relatively inexpensive). Also, prepare and ask your students to sign a standard waiver form before you teach your class. There are many standard templates online (just Google "yoga liability wavier" or "yoga student release form"), and if you have any questions about it, feel free to email me.
image via