3 Tips to Survive Your First Yoga Class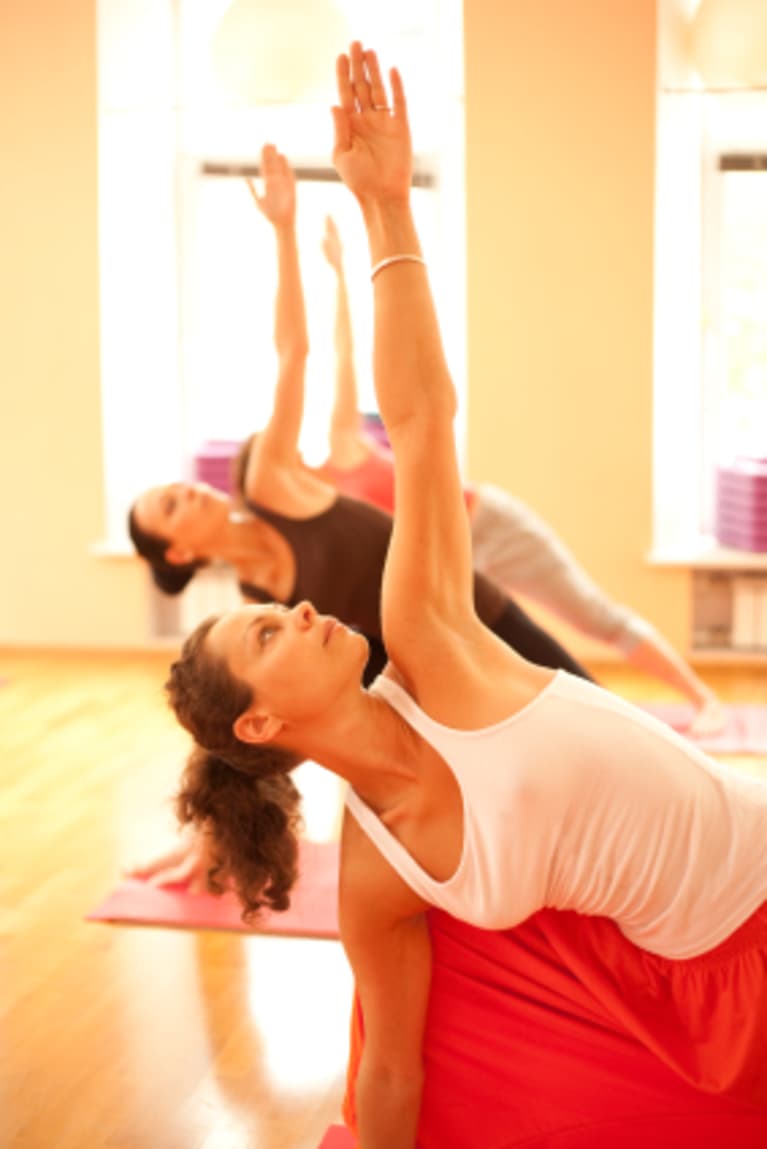 Your best friend has been nagging you to try out yoga for eons, yet you've always managed to put it off. Your usual and unusual excuses are all used up: my parents are in town, I have to [multiple choice: work, do laundry, take my parakeet to the vet, help the police find a missing dog], I volunteered to help out for the Olympic Games. Cornered as you are, you reluctantly set a date.
You're better off if you're not hung up on fashion because yoga gear is pricey. Just wear something comfortable that will let you move and sweat. Bring a jug of water, a towel and a change of clothes. You can rent a mat at the yoga studio.
It's your first time to do anything remotely resembling exercise. Your mind goes into overdrive about looking stupid in class and not being able to touch your toes. The closer the day gets, the more agitated you get. Calm down! You're not being asked to solve the country's soaring price of health care in an hour. Here are three simple steps to make your first class a positive experience.
1. Breathe. This is perhaps the central theme of any yoga class. Learning to maintain an even breath through the nose can be challenging not only for first timers. Depending on the kind of class you join, there will surely be a mix of slow and gentle movements, as well as more demanding poses. Before you know it, you will have been moving non-stop for 20 minutes and your body will start to heat up. By being aware of your breath, you will give your body an opportunity to calm down despite challenging poses. Besides, if you can't do a pose, there is always an easier option or you can just stop, breathe and enjoy the silence.
2. Listen to the teacher. That first yoga class is always tough, be it for the seasoned athlete, the couch potato or the various bodies in between. Since first timers to yoga generally have poor body awareness, they resort to copying the people practicing around them. This can be potentially dangerous, because the person in front of you may have more experience and you will be following them into poses that your body can't do yet. On the flip side, the person you chose to imitate may have an injury and you end up doing something that is appropriate for them, not for you.
I suggest that you use the people near you as guides but ultimately listen to the teacher for the proper cues of each posture. Use the teacher's words as a checklist and hold yourself as closely to that checklist as possible. In this way, you not only have something to focus on, but you also keep yourself safe in class.
3. Observe yourself. First timers are extremely harsh on themselves. They haven't moved beyond their work desk and computer in years, but when they take their first yoga class and discover that they can't even do seemingly simple postures, they reprimand themselves.
When you take your first yoga class, notice the kind of mental chatter that goes on in your mind. Make note of how you talk to yourself. You might be stunned to find how cruel you can be to yourself. The silence of a yoga class is an amazing backdrop to discover the kind of self-talk we engage in. Take this chance just to observe yourself. There is no problem to fix or wrong to right. Just be a witness to yourself. Be surprised at what you find: this is how I am?
It has been said that we cannot improve on what we do not know needs improving. So first, be quiet and become aware.
Before you know it, your first class is done. You'll have many memories to laugh about, and hopefully you'll be raring to go to your second class. Guess what? The seed of a budding regular yoga practice has just been planted.