6 Tips to Cook Quick, Creative, Fulfilling Meals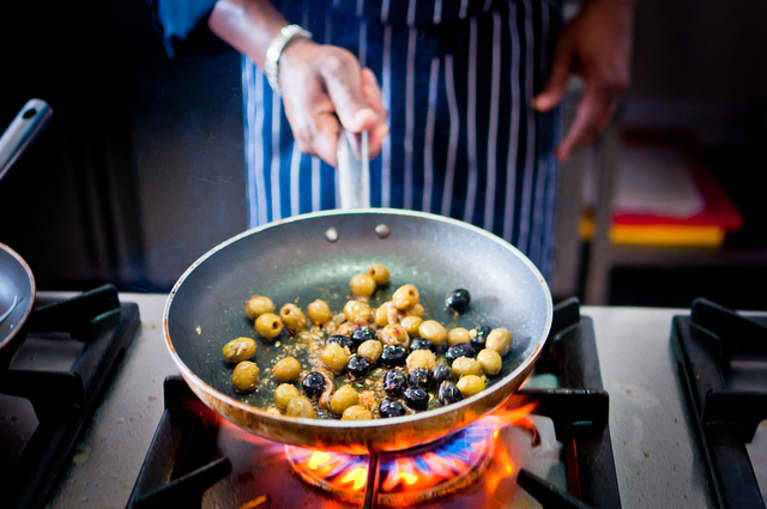 "I don't know how to cook"
"Cooking is for boring people"
"I'd love to, but just don't have the time!"
"Healthy food just doesn't taste delicious"
Have any or all of these excuses popped up when you've tried cooking? Well, think again. Cooking can be faster, cheaper and far more fun with these simple tips to get you started.
1. Involve everybody
Cooking is boring and drab when you're slaving away in the kitchen, and everyone else is watching TV. In fact, for many couples and families, cooking is the least enjoyable way of spending time together. Well, you can change all that! Buy fun aprons for each person, play some happy music, and get everyone involved. Turn it into a creative project that requires everyone's contribution. If you're single, organize a cookout, invite your friends, and bond over food! Often we assume that we're alone… until we reach out and simply ask.
2. Prepare the basics
In my kitchen, onions, garlic, ginger and tomatoes find their way into most preparations, cooked or raw. So, I usually chop these and keep them in containers in the fridge. This helps me whip up meals much faster. I have the basics ready, and along with the cooked grains (see below), I'm able to prepare meals in fifteen to twenty minutes. Yes, yummy, healthy and wholesome meals. I encourage you to find your list of basic ingredients, chop, and keep them ready and available for the week. You're much more likely to cook at home when you know you don't have to start from scratch.
3. Cook the grains
What is the most time-consuming aspect of cooking your own meals? Getting those grains ready, right? Be it a stir-fry, pilaf or pulao, the base carbs usually take a long time to cook. So, once a week, take an hour to cook these grains. Soak your brown rice, quinoa, barley or any other grains, and cook them! Do you know what this does? This saves you time throughout the week when you return home tired, and ordering in is oh-so tempting. You remind yourself about the cooked grains and the chopped basics in your fridge, and suddenly getting a meal ready doesn't seem so daunting.
4. Find YOUR special chef's knife
This investment is so worth it. A good chef's knife does most of the chopping for you, saving you lots of time and hassle. Do you know what its biggest contribution is, though? It keeps you in the kitchen. Chopping becomes such a joyful experience that you want to cook (anything!), because you get to use this amazing piece of stainless steel. Chop. Swish. Whoosh. World, say hello to the newest, eager-est wellness warrior on the block! My chef's knife is from IKEA, but if you look around, you'll find tons of good quality options. I suggest you go to a store rather than order online, so you can get a feel for the knife.
5. Get creative
Often at my health and wellness workshops, participants lament the lack of time to explore their potential and creativity. This is when I tell them that cooking IS one of the best forms of creative expression: you start with nothing, and you create something delicious, beautiful and healthy that nourishes you and your loved ones! Does this appear any less grandiose than awe-inspiring art or waxing poetry or soul-stirring music? And you know what's even better? You get to witness immediately the effect your creative artwork has on yourself and others. Isn't that amazing? Yes it is. Repeat after me: "Yes it is!"
6. Condiments are your friends
You don't have to learn every recipe in the cookbook to make delicious, healthy meals. Condiments are a great way to personalize meals as well as add variety. I often make the same base dish: quinoa or brown rice stir fry with veggies. But by seasoning it differently each time – herbs and nuts, tamari, Sriracha, Biryani powder, Asian ginger sauce – it never tastes the same. So, go ahead and pick a few condiments next time you go grocery shopping. The kitchen is your sandbox – play at will.
If you've been feeling in a rut or simply de-motivated to cook more at home, try these tips out, and share your own quick cooking tips in the comments below!
image via zanthia/flickr