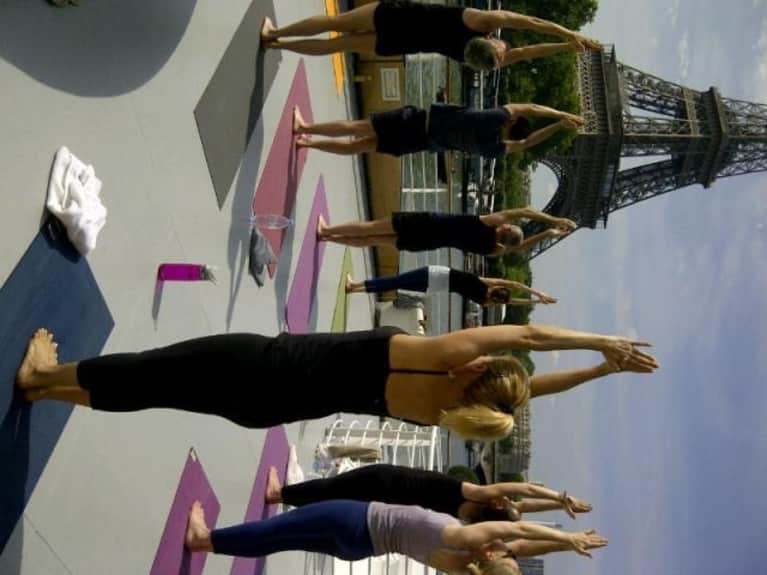 When I moved to Paris eight years ago, I never would have imagined how much a simple humming sound could change my life. I've done my Om-work: "Om" is also called "pranava" which literally means "humming" and is derived from the word "pranu" that means "to reverberate."
"Om" is actually supposed to be spelled "Aum." According to Iyengar, the "A" symbolizes the conscious state of being, the "U" the dream state and the "M" the dreamless sleep state, and the combination symbolizes "the realization of man's divinity within himself."
Many yoga classes begin and end with this one-syllable chant that is considered to be the mantra upon which all other mantras are based. Depending on the number of people in a yoga class and the vocal capacities of said people, the initial or final "om" can be either a soothing acoustic harmony or, well, let's be honest here, terrifying cacophony. Yet it's not the choral prowess that is important in the "om," it's the people behind the voices who give the sound its power.
As an expat living in France, I have found my "Om" away from home in yoga. I love going to the American Church in Paris on Saturdays for classes with fellow expat yoga instructor, Marc Holzman, who has brought his "guerilla yoga" movement to Paris with the help of his English-speaking French yoga instructor friend, Anne Vandewalle. For one morning each week, yogis and yoginis from all over Paris, and the world, roll out their mats to practice together. There are young people and older folks, Americans, Germans, Israelis, Mexicans and French people, slim figures and more corpulent frames. Some bring their Manduka yoga mats and others prefer to practice on the hard floor. Some are wearing fancy Lululemon gear and others in oversized tye-dyed shirts and sweatpants. They come by bus, metro, bicycle, car and by foot. Some are wealthy businesspeople or media moguls, others are poor students or unemployed. Then, at 11 a.m. all of these different people join their voices in an "Om."
As an expat, even for those who have been in the country for many years or who have husbands, wives or families, one can feel very alone and disconnected on occasion. I've lived here in Paris for several years, I speak fluent French and have many friends here, but there are days when I feel very disconnected and would love to give my family members a hug or have a peanut butter and jelly sandwich. Then I arrive at the Church and am greeted by my "kula," or community. I battled health problems this year and had been away from the "kula" for many months. When I returned, there were some familiar faces, but many others that I didn't recognize. Yet, as soon as we all sat together, crammed in side-by-side on our mats and chanted that first "Om," I felt connected. I felt understood. I felt part of something bigger than myself.
Another fellow American, Cassandra Kish, teaches classes on Saturdays on a boat overlooking the Seine. I look out the window, and it's clear: I'm in Paris. The Eiffel Tower is directly in front of me, and the famous Bateaux Mouches carrying tourists are floating by on the water below. However, downward dog is the same. Urdhva Dhanurasana is the same. And the class ends with a harmonious "Om," and this mantra: "When you are in that place inside of you, and I am in that place inside of me, we are one." No matter where we find ourselves in the world, when we practice yoga together, we are one.
I've been to several French-language yoga classes here where non-French speakers visiting from other places come and, thanks to the universal language of yoga, are able to participate with very little confusion (though the French words for ears, "oreilles," and toes, "orteilles," are so similar that it may lend to some interesting positions from time to time).
Holzman began his class on my recent return to the American Church by telling us, "Stay stable and steady, but remember to have fun." He meant this as a guide for the postures that would follow, but I see his words as a metaphor for life. Stay grounded, but don't be afraid to travel the world and roll out your yoga mat in a different place.
When I go to America this summer and take a yoga class there, the teacher will be different, the postures will be different, the surroundings will be different, even the language will be different. Yet the sound of "Om" will remain the same and, once I hear it, I'll know that I'm home again.