10 Yoga Practice Tips for Beginners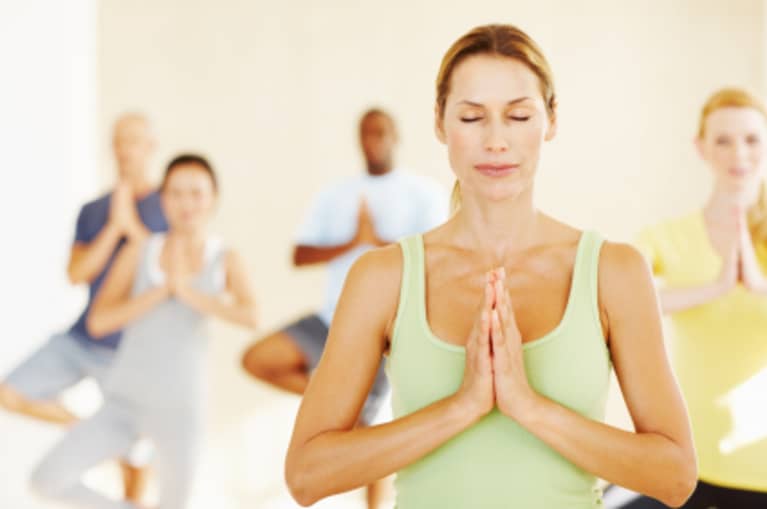 You bought a yoga mat and are ready to take your first yoga class! Or maybe you have already taken one or two classes and have some thoughts about it and need some guidance. I was once the brand new yoga student myself, and although it was exciting, it felt a little daunting at times, too. These 10 tips, many based on my experience as a new yoga student and now as an experienced yoga teacher, will help you settle more comfortably into a pattern and rhythm of a yoga practice.
1. Beginner classes do not always mean it is going to be an easy class. Depending on your teacher's style and training, a beginner's class may be quite challenging. In a beginner's class, you should expect your teacher to break down breathing, yoga poses, and form and alignment into fine details, as well as offering modifications. If you are looking for something softer or very slow paced, gentle yoga may be a more suitable class for you.
2. You do not need to wear fancy, designer yoga clothes. Wear clothes that your body can move and breathe in.
3. The best spot is in the front! This may be a little scary for a beginner, but you will have a beautiful view of your teacher. You will be able to see poses more clearly demonstrated and able to easily hear your teacher speak. Worried about the students behind you or even starring at you? Don't be, because they won't. Yoga poses require concentration, and if a student is focused on anyone else beside themselves, they will wobble and may even fall right out of a pose.
4. Help yourself to props before class starts. It is always good to have two blocks, a strap, and even a blanket. You never know what pose might pop up, and your teacher will be ready to assist and instruct you on how to use the props if you're uncertain.
5. Self-conscious about being barefoot? I was! Remember, this is for your safety; otherwise your feet will slip and slide on your mat. Being barefoot also helps ground the feet to support your body in a pose. And don't worry, no one will be looking at your feet – the other students will be absorbed in their own practice.
6. Don't push yourself. And if you have injuries or previous surgeries, be sure to inform your teacher. In yoga, you will discover muscles you never knew you had and you may want to dive further in before your body is ready to. Listen to your body. Don't stress, strain, or struggle.
7. Yoga teachers love questions! If something is unclear to you, feel free to speak up and ask for clarification. It is better to understand how beforehand, than entering a pose with uncertainty. If you are not comfortable to ask during class, you can always approach your teacher after class.
8. Hear a pose that you have never done before? Watch your teacher demonstrate it first so you can safely enter the pose. It is difficult to try to get into a pose and listen to your teacher at the same time.
9. Tried yoga once or twice and unsure about it? Don't give up. Try a couple of classes with different teachers before giving up completely on yoga. Every teacher brings a different presence and energy to class, and sometimes it takes a few classes before connecting and discovering the right teacher for you.
10. Have an open mind and an open heart. And most of all, don't forget to breathe, smile, and enjoy!