11 Encouraging Things to Say to Discouraged Yogis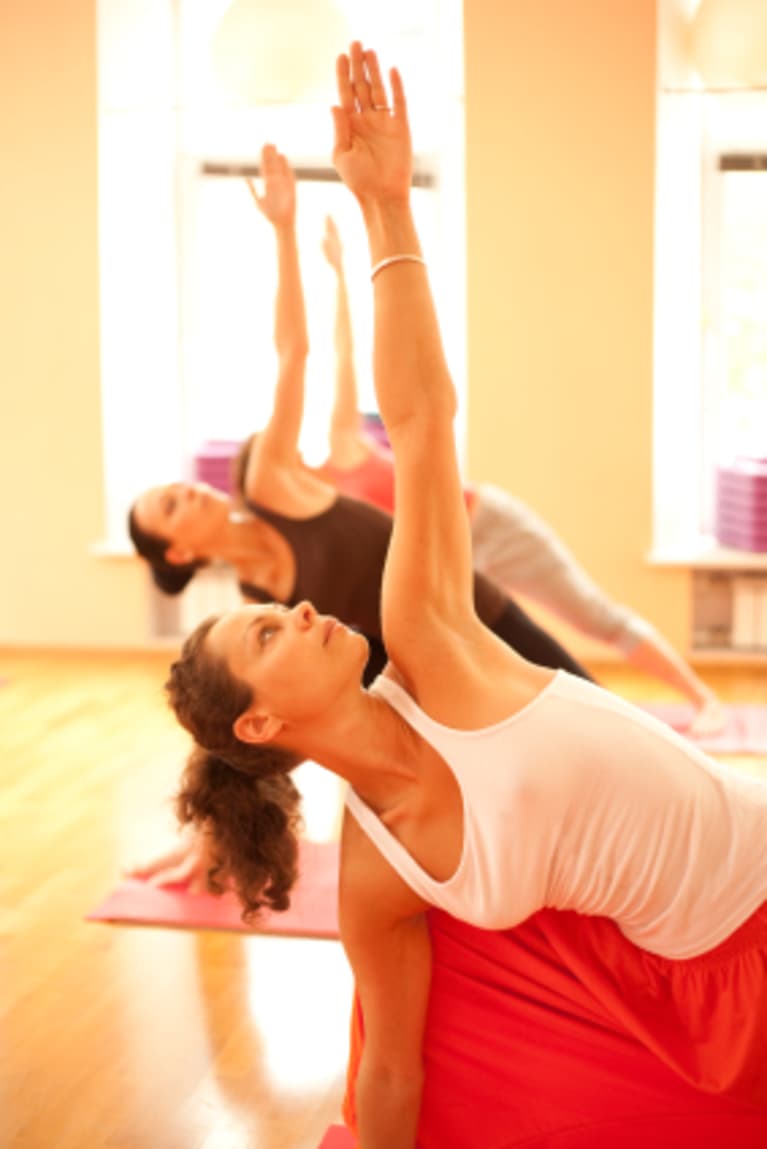 I love practicing yoga. I love learning about yoga. I must admit, however, that sometimes I get into a discouraged slump with my practice. Whether it's because I can't practice as often due to a sinus infection, a busy work schedule or a "forced" timeout to recover from an injury, I can be grumpy and miss my practice.
As I return to my mat, I sometimes discover that I have lost some ground in my balancing poses or a bind. While I know I am supposed to be practicing enlightenment, not caring about perfect or wobbling poses, I feel discouraged. Oops! I'm studying to be a yoga teacher. If that is so, I should know what to say to myself and to a student who tells me this.
Teacher, learn your lesson. I've had ample opportunity to learn and practice this lesson the last few months following an injury which took my body time to heal, not my "three weeks and I should be right back to where I was time schedule." Here are several useful reflections you may choose to use if or when a student tells you he or she is discouraged about their lack of progress or overall yoga practice:
1.) Thank you for honoring me with your truth and feelings. You are accepting the student's situation, no judgment. Simple acceptance with appreciation.
2.) May I mention to you that this is likely a short phase or stage in your yoga growth and practice? I definitely suggest asking if you can go down this line of reasoning. By asking, you allow the student to shape where they need further words or encouragement, rather than saying words which they shut off.
3.) You are continuing with your practice by continuing to come to class. Support the action of coming to class and use the word "practice," a reminder that yoga is a series of practices, not one big final flow of perfect poses which gets showier every day.
4.) Maybe it's time to mix it up a bit. Have you tried a different class? Instead of hard body flow, how about the vinyasa simple series? Of course, you will use studio etiquette and suggest a different class offered in that studio first.
5.) What other sports or activities are you doing which support or might tire you out? With this information you can guide the student to review his or her own activity and determine what changes might be made to transform the slump or discouragement period.
6.) Are you being too hard on yourself? Do you know that other students modify postures, take breaks, wobble in balancing poses? I do. You may go into this further, suggesting some poses to back out of, hold for half the time or to alternate legs while other students do a series on one leg. Fatigue is different for everyone, and if prevented, a student can remain engaged in class and not get discouraged.
7.) How can I help? Of course this may open a door for complaints, needs, maybe requests. You can listen and decide on what makes sense given the time and relationship with this student.
8.) Are you interested in a private class? You know how to structure a private class to coach a student to improve certain poses or postures as well as strength or other needs. By offering the private class you keep your own integrity: Your time after class is not for 15 minute lengthy consultations or to solve all yoga difficulties. Your time and the student's time are important and valuable. You have solutions. Or you can refer the student to another.
9.) Try this book! Whether it's anatomy, pose sequencing or from a spiritual base, you are offering an opportunity for the student to reach out in the yoga world of information for answers. You certainly do not have to know everything.
10.) Can I tell you what I see, saw or observed? If yes, then you point out strength and good modifications you saw today or a positive change over a period of time. I suggest not falling into the trap of discussing how a student's body has changed to be thinner or more muscular. Rather, talk about specifics with yoga: "you seem to be holding tree pose longer," "I noticed you smiling during the middle flow," "I saw you grab your toe for the first time to try that leg extension"… You can find many specific changes which a student may overlook when in a gloomy mood about their yoga practice.
11.) I would like to take this feeling of discouragement from you and put it into this cup. We will leave it there during class and for as long as you want. This may sound funny, maybe patronizing, however the idea is that feelings can simply be gone! I use this technique at times with reluctant students in my public education career. I get smiles of relief and sometimes laughter. The energy is changed and we move on.
Courage is a noun derived from the French word cuer, meaning heart. Courage is defined in Webster's Dictionary as "mental or moral strength to venture, persevere and withstand danger, fear or difficulty". Discourage is a verb, an action word, meaning "to deprive of courage or causing of a lack of courage". Facing this lack and finding a way around, over or through it is its own act of personal fortitude and courage. You, as a yoga teacher, when faced with discouragement may be the catalyst to encourage, bring one to a new state of courage, a reawakened heart.