Nina Simone: My Friend & My First Yoga Teacher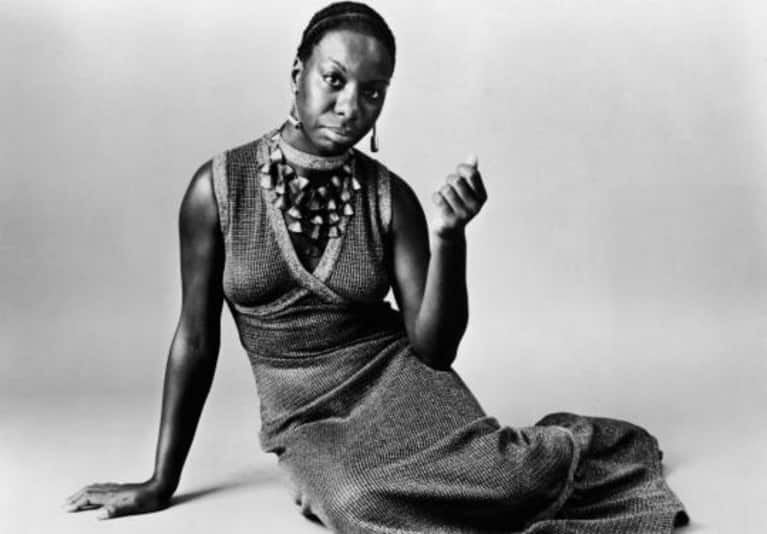 I grew up hearing Nina Simone's voice on my father's records, but it wasn't until college that I really began listening to her—that distinct voice and the sound of her fingers, crisp on the piano keys. She sang about freedom, equality and justice. She sang to shake us up and bring us together. She sang to change the world and all my feelings of separateness at the time seemed to dissolve into her voice.
And then one day something amazing happened. Nina Simone asked me for a ride.
Just before my 25th birthday I was riding a crowded bus in San Francisco, the city where I was born. I was swinging around the aluminum pole when I looked down at a woman with a style and presence that I can only describe as utterly avant garde. Without thinking I said, "Hey, you look like Nina Simone."
The woman paused, turned slowly to look to me and said, "I am Nina Simone. I'm Dr. Nina Simone." (I remembered reading that she had received a doctorate from Julliard).
I was so excited I erupted, reciting a long list of all the places I'd seen her play. The Blue Note, Avery Fisher Hall where you wore a tiara, etc, etc. We continued chatting for the next few blocks and when I told her I was leaving for LA in the morning she looked curious. She glanced at her assistant, Nora, and then asked, "Can I have a ride?"
She said she needed to pick up her Daimler in LA and a road trip sounded like a great way to get there. I thought I was dreaming when she called me a few hours later to confirm it and arrange a pickup. I remember feeling surprised and in awe by her courage—that she was so willing (and with such ease) to take a trip with a stranger, to try something new, to live so freely.
The next morning when my friend Shelley and I picked up Nina Simone in Oakland she came out to our two-door Toyota wearing a colorful dress that looked like a parachute and cork-healed wedge shoes. Her 'mother' (a woman Nina had met and nicknamed the night before at her show in Oakland) had packed her a lunch and, other then a few small items, that brown bag was the only possession she carried.
During the first couple hours of the drive Nina spoke of France and her time in Senegal, making earrings to benefit the people there. She talked about her memoir that was being published (I Put a Spell On You) and when we slowed to pay a toll she abruptly rolled down her window and leaned her head out of the car.
"What's your name?" She asked the man at the tollbooth.
"John," he replied.
"Oh, that was my father's name. Well John, see you on the way back."
She was passionate, nostalgic and vulnerable. She was curious and youthful yet she had strong opinions about the world and constantly dealt with feelings of frustration and anger towards the music industry, which she felt had taken advantage of her by not paying her what she was worth. She also felt other artists had "taken" her songs; she became belligerent when her music was used for commercials and she wasn't properly compensated. As a black woman making music in the 1950s, 60s and 70s, it's easy to understand her frustrations and the challenges she faced.
Throughout the drive she spoke to us like we were lifelong friends. She spoke of bad marriages, bad managers, great loves and of her daughter, Simone.
In San Louis Obispo, the halfway point between San Francisco and Los Angeles, we took a break at the legendary Madonna Inn, which is a gaudy hotel built as a love letter to a local man's wife. There are angels painted on the ceiling and a grand piano in the lobby. While Shelley and I used the restroom, Nina sat down at the piano and began to play. There weren't a lot of people in the lobby that day and no one seemed to notice her, but as soon as I stepped out and heard the keys, I melted. The vision of Nina Simone playing unnoticed, in the intimate setting of that pink hotel lobby was simply remarkable. I realized then that her passion and love was the music, not the fame and audience.
In her voice I felt her longing, her great sense of loss and her love. And while I stood there watching, I felt my own. Her voice expressed a deep connection to spirit, to God. Her depth brought me closer to mine and at the same time I suddenly felt more curious about my own life's journey, my own road trip. She was just so inspiring, so soulful, so herself, so gifted, so human, so divine. OMG!
When you saw Nina play live, you never knew what was going to happen next, how the energy would move through her and through the room. She always said, "My goal is to open people up so they feel themselves."
She was a musical genius and a mystic. The spirit of awakening moved through her and she was intent on opening us up to new ways of seeing something. She wanted us to see new ways of being.
This is the intent of our yoga practice—to see that which we couldn't see before, to awaken in us that which is asleep, to take a journey and arrive at a place we have never been before. This is where the impossible becomes knowable, realized. Nina's religion was music and she believed in its power to change lives, to shift our consciousness so that we lived with more openness and awareness.
When she was finished playing in the lobby that day, she turned to us and said, "Now how can we get this piano out of here?" She was fantasizing about taking the music with her on the road, of strapping the piano to the back of our Toyota so she could play short concerts in all the small towns we passed on the way to LA.
Of course by this point in her life, Nina's unpredictable behavior was legendary and ultimately the reason she had notoriously damaged some relationships and burned bridges. In the end many people refused to work with her, but what I saw on that road trip was something magnetic and captivating—I saw her divine gift. Like the rest of us, she struggled and was flawed but Nina Simone was alive with a unique spirit. She was unapologetically human.
On our way out of the Madonna Inn that day, we dipped our feet in the fountain just outside the doors. We were lavishing in her presence and doing everything we could to prolong the trip, so we walked barefoot with her through the fountain, over all those coins, among all those wishes and dreams.
A few hours later we said goodbye and dropped her off at a condo in Hollywood.
Nina and I both realized we had strong connection and we kept in touch. We exchanged letters and continued to see each other throughout the years. She came to one of my birthday parties and even visited Trixies, my restaurant in New York City.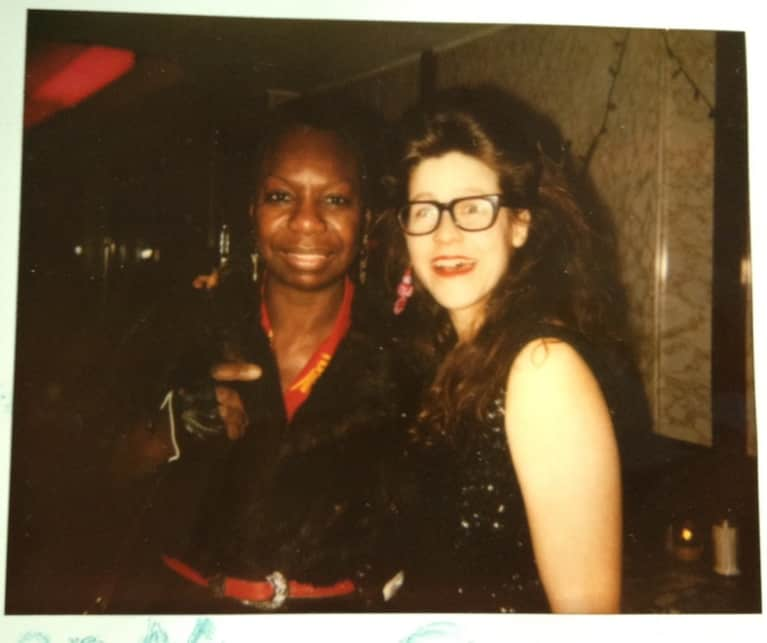 Today when I play her music in my yoga classes I think about that road trip with her. All she wanted was to feel free, connected and part of something bigger. She said she sang, "To groove with the audience," to unite us. She was the ultimate teacher, irrational and inconsistent but always inspired and divine. The joy of the teachings is omnipresent; it is up to the student to find and live it.
The last time I saw Nina was in 1998, about five years before she died. She was performing at the Beacon Theater in New York City and I'll never forget the way she strolled out onto the stage in an African inspired dress and a tribal-feathered headpiece. She was in great spirits and in between piano sets she'd get up and dance. She'd wave her headpiece and taunt the crowd in a subtly seductive way that always made the fans go crazy. When she wanted more applause, more energy and enthusiasm from the crowd, she'd ask for it. She'd lift her hands upward toward the sky as if to say more, more, more please and she got it. She put a spell on us and it worked. Every single time.
She was and is my Nina Simone, my first and my last yoga teacher.