Yoga as a Sport & The Olympic Games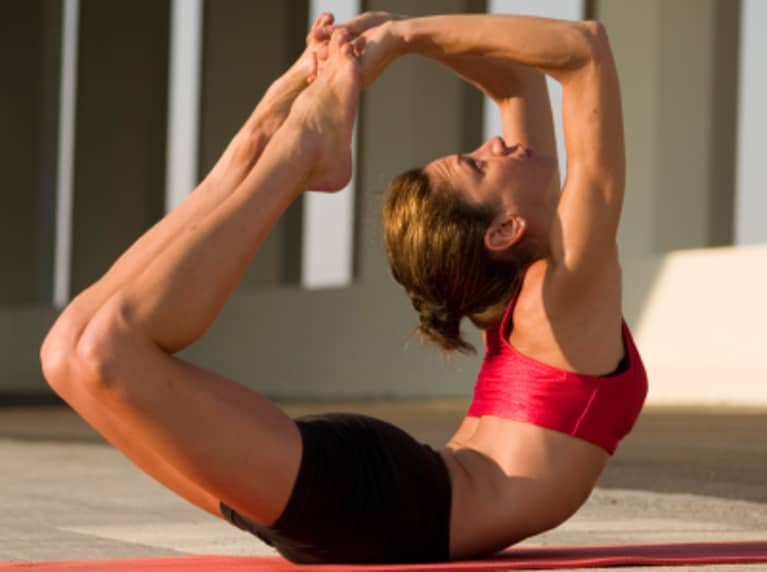 "A thought is an arrow shot at the truth; it can hit a point, but not cover the whole target. But the archer is too well satisfied with his success to ask anything farther." ~ Sri Aurobindo, Indian Philosopher
The topic of yoga as an Olympic sport is being discussed a lot more these days especially with London's 2012 Games less than a month away. While many articles have written against this notion, why is there such resistance when yoga competition has been part of Indian tradition for 2000 years?
Yoga originated in India; its history spans over 5000 years. An important part of the country's culture, it is one of the oldest holistic health systems that not only heals but exercises the physical, mental, and spiritual states.
Hatha yoga, created in the 15th C, concentrates mainly on asanas (postures) and pranayama (breath) – 2 of yoga's 8 limbs which are outlined by ancient sage Patanjali in Yoga Sutras. In turn, asanas have been performed in yoga competitions in India for centuries as a way to demonstrate yoga's life renewing benefits and to inspire others in their practice. NB: India also holds pranayama competitions and philosophical competitions – it is part of their tradition.
It's been over the past 40 years that yoga has made its mark on the Western world, with Hatha the most popular form; more than 20 million people practice in the US. Despite this tight embrace however, discussing yoga, sport, and competition in the same sentence can have polarizing effects.
Such a difference in outlook may be due to any number of reasons: some argue that spirituality cannot be competitive; others say that their postures shouldn't be compared to that of a fellow yogi; many ask how 'breath' can be judged. Could it be that we're getting caught up in a definition of "competition", and not associating it with the same positivity with which it is viewed in Indian culture?
The Indian mentality towards yoga competitions is that the competitor focuses internally. Rajashree Choudhury, founder of the International Yoga Sports Federation (IYSF) and USA Yoga, a non-profit organization formed with the aim to develop Yoga Asana as an (Olympic) sport, highlights the importance of this intrinsic quality:
"When you practice you always strive to be better. You don't practice for the sake of it; you want to get the most out of it. To get the most means you have to challenge yourself, which means competition. Yoga competition means healthy competition. And, if you lose that empowered feeling (of the challenge), then you're not looking at getting more from life. The life is there, but the energy is missing."
She goes on to say that "everyone can practice sports for recreation, or if they want – competition performance." Just as an amateur tennis players can watch and be inspired by a Wimbledon champion, so can a yogi watch and be inspired by the athleticism and grace of a yoga champion.
Rajashree can speak from experience. A champion in her youth, she recalls not even wanting to take part in her first yoga competition at age 9 - she had always been more interested in track and field but at the urging of her parents, she practiced yoga. When it came time to demonstrate her postures on stage, she gave 100% of her heart and soul, just as she does with everything in her life. She remembers being shocked when proclaimed the winner.
Inspired by the practices of the senior students, she went on to win consecutive annual competitions. Over time, she learned the fundamental goal of yoga: to strive for self acceptance and inner growth. Rajashree has dedicated her whole life to yoga, and knows firsthand that it can change a life. As she declares, "I would not be involved in yoga if I didn't do competition."
In a letter to the IYSF in reference to the All Indian National Yoga Championship held in April, 2012, B.K.S. Iyengar – founder of Iyengar yoga and author of the popular book, Light on Yoga, wrote:
"Out of the 8 petals (limbs) of yoga, the only petal that is exhibitive is the yoga-asana-s where as the other petals are very individual and personal. As such there is nothing wrong in holding a competition on the qualitative presentation of the yoga-asanas… The presentation must be very natural with innocence and humility rather than pride and arrogance. Then I consider such competitions as healthy. It should be competition on the artistic level and not on egoistic body cult."
The IYSF presented its 9th Annual International Yoga Asana Championship this past June in the US. Comprised of youth and adult divisions, it is an invitational championship based on those who placed at the top in affiliated national and regional championships - open to any yoga school or style of yoga. Each competitor trains for months; practicing daily for hours, regulating the food, rest and exercise regime, and coached to deliver a smooth and well documented 3 minute presentation of 7 asanas.
Its rules and competitive structure follow the Hatha yoga tradition; championship judges are educated by their Indian Federation counterparts on how to award marks for balance, strength, flexibility, well-paced timing, and appropriate breathing in postures. In turn, points can be deducted for instability, lack of proper alignment, forced or uneven breathing, falling out of a posture, etc. Essentially, a competitor aims to demonstrate postures with grace and ease.
Melanie Simmons, who has been studying yoga for over 11 years and received her Yoga Siromani (teacher of yoga) from the Sivananda Vedanta Ashram, represented the state of Indiana twice at the National Yoga Asana Championship in LA. She describes the experience as life changing. "I had selfless, giving teachers who spent lots of time and energy training our group. I found out I was a dedicated student with a real passion to learn and grow. I watched not only myself but my fellow students grow in confidence as they passed boundaries that being a part of this event requires. And, that is really yoga: learning and growing in awareness and knowledge of the self," she explains.
As a testament to the benefits of yoga championships, the winners travel the world to share their knowledge of yoga and serve as role models for its practice. Joseph Encinia struggled with rheumatoid arthritis, a heart attack, and his weight from an early age. The discovery of yoga in 2005 transformed his life; after years of dedication he won the 2009 and 2010 National USA Yoga Asana Championships. In 2011, he was named national and international champion. Encinia now teaches yoga full time, and is vested in sharing competitive yoga with others.
Jessica Coulston, Bikram Yoga teacher and graduating Registered Nurse, says, "I get a 'wow' feeling when I watch yoga champions like Brandi Lynn or Joseph Encinia do flawless, meticulous yoga poses; flowing from one movement to the next with a smooth, calm breathing technique. I don't care how many back flips you can do, or hurdles you can jump...anatomically, when one is moving slowly, with control and mindfulness, it puts the most strain and effort on the muscles versus rapid movement which is 'easier' on the muscle groups. This is why Bikram always says the slower you go, the better you do, the more strength you build."
Getting to the Olympics is still a far off dream. Rajashree's hope is to link together with similar organizations in other countries to qualify Yoga Asana as an Olympic sport; out of the 75 countries that are required to be voted in by the Olympic Committee, just over 20 run competitions. Says Simmons, "If it were an Olympic sport, the coverage of yoga would be amplified and my hope is the more people who come to yoga, the more the world will grow in self awareness."
The Games will be the ideal platform to inspire the world at large with yoga but for Rajashree, Olympic ambitions are her second goal.
Her primary objective is to introduce more children to yoga. While the practice has been embraced by baby boomers and Generation X and Y, the encouragement is now filtering down to a grassroots level. Rajashree is making inroads to educate children in public schools, ballet classes, gymnastic schools, and sports clubs about the positive effects of yoga – this is where change will happen as children are the future.
"Kids don't do yoga because they haven't been motivated. You have to show them the reason and purpose of doing it. Kids have a difficult time when they go through different stages in life; I know this as I raised two kids of my own. There has to be a sport (for them), there has to be a purpose – if they take yoga as a sport, they can constantly improve. " She also mentions that cultivating a yoga practice will help a child's performance not only in life, but in other athletic pursuits.
In terms of encouraging the Western public's acceptance of Yoga Asana as an Olympics qualifier, Rajashree knows it will take time but remains optimistic, "Now is the time as we can see that yoga is a celebration of the way of life… People love sports. Sports bring communities together; sports bring the spirit… Come and watch a yoga competition if you have your doubts."
To see an upcoming live competition, the Texas Regional Yoga Asana Championship will take place on August 12th, followed by PA &NJ on September 30th, and North Carolina on November 4th.
In the meantime, be inspired by Jared McCann's winning performance at the USA Yoga championships in March 2012.