8 Secret Ingredients for Everlasting Love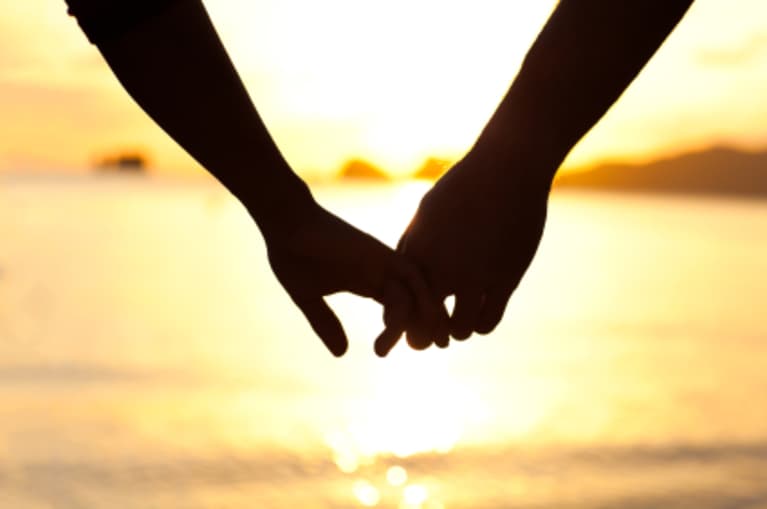 My husband and I met on a date set up by friends. We went country line dancing and I didn't find out until later that he didn't even like country music just the face- to -face partner dancing. We spent every day together for four months, got married in the Chapel of Love in Las Vegas and two days later he left for Japan. I spent two months quitting my job, saying goodbye to friends and family, packing up my things and my dog, then met him there. We had ten days to find a house, learn about Japan and acclimate me, a peace loving, Quaker gal, to the military before he left on a four-month deployment.
Many people, including ourselves at times, are surprised we have made it for so long. It hasn't always been rainbows and butterfly kisses and sometimes we haven't been very fond of each other. But, we still love each other, still like spending time together and still have fun after twenty years; mostly because I am such a fun person with a great sense of humor.
Here are 8 fun ways we have stayed in love all these years.
1. When having an argument, try to remember you can be right or you can be happy. Most of the time I just want to be right but afterwards I remember and try to think how a kind "wrong" person would respond.
2. Look for ways to make the other person laugh. After twenty years you know your partner very well - use that knowledge for good not evil. You can easily push their buttons and enrage them or you can lighten the mood, make a funny face, exaggerate a pet peeve and laugh together.
3. Make every outing a date. With two kids, two jobs and two dogs, there are not a lot of opportunities for alone time. My husband loves to say, "what a great date this is at Target." Or "We have such fun dates at the grocery store." It may not be the most romantic of settings but you can focus on each other, talk without interruption and really enjoy being together.
4. Give your partner space. Everyone needs down time and alone time. When your partner needs some space it doesn't mean that he doesn't love you or enjoy your company, he just needs to re-charge. My husband loves to play those shoot-em up video games on the computer. I take advantage of that time and watch "what not to wear" on TV. We both have fun, connect to ourselves and enjoy each other's company that much more later.
5. Always say hello and goodbye. Nothing is better than coming home to a partner who is happy and excited to see you. Say hello, stop whatever you are doing for a moment and greet your partner.  Smile, give him a kiss, let him know how happy you are he is home. When he does the same for you it makes you feel like a million bucks. If you have to leave, even if it is just to run a quick errand, say goodbye. Let the other know where you are going. Maybe that means you will have to go upstairs or call down to the basement but your partner will appreciate the chance to say goodbye.
6. Continue to learn. Have hobbies, friends or interests separate from your significant other. Be an interesting person. Learn new things and grow yourself so that you have stuff to talk about. Your partner fell in love with you, not a little mirror of himself. If he asks you where you would like to eat or what movie you want to see, TELL him. Don't always defer to his wants and likes. That is boring and you will soon run out of conversation and joy in each other's company. Expand yourself and your own interests and the relationship will grow too.
7. Find ways to brag about your partner. There are countless ways to find fault and complain to your friends about all the annoying things he does but when you fall into that habit you ruin the relationship. When you look for things to praise and even brag about you improve the relationship. If you can brag within your partner's hearing it is even better. He will try to live up to your vision of him giving you even more to be proud of. I am not saying exaggerate or make stuff up and don't be so gushy your friends can't stand to be around you but little bits of sincere appreciation spoken aloud with admiration will turn your partner into a prince (or princess).
8. Keep the attraction alive. Dress up for the other, tell him he looks great, tell her she is gorgeous and sexy. You want your partner to think you are hot stuff. Everyone wants to be desirable and attractive. Keep the physical connection. There are those moments in a marriage where you think, "I have to be with ONLY this person for the rest of my life." Make that a happy thought rather than a dreaded realization. Keep yourself physically attractive for the other and tell him regularly how hot you think he is. If you tell your wife she is gorgeous on a regular basis you will reap the rewards of her appreciation.
This is just a short list. There are many fun ways to keep your love alive for twenty years. I plan on continuing these for the next twenty years. Now I am off on a hot date to Target with my gorgeous husband. Did I mention that he is a great cook?