Harnessing The Breath
Our editors have independently chosen the products listed on this page. If you purchase something mentioned in this article, we may
earn a small commission
.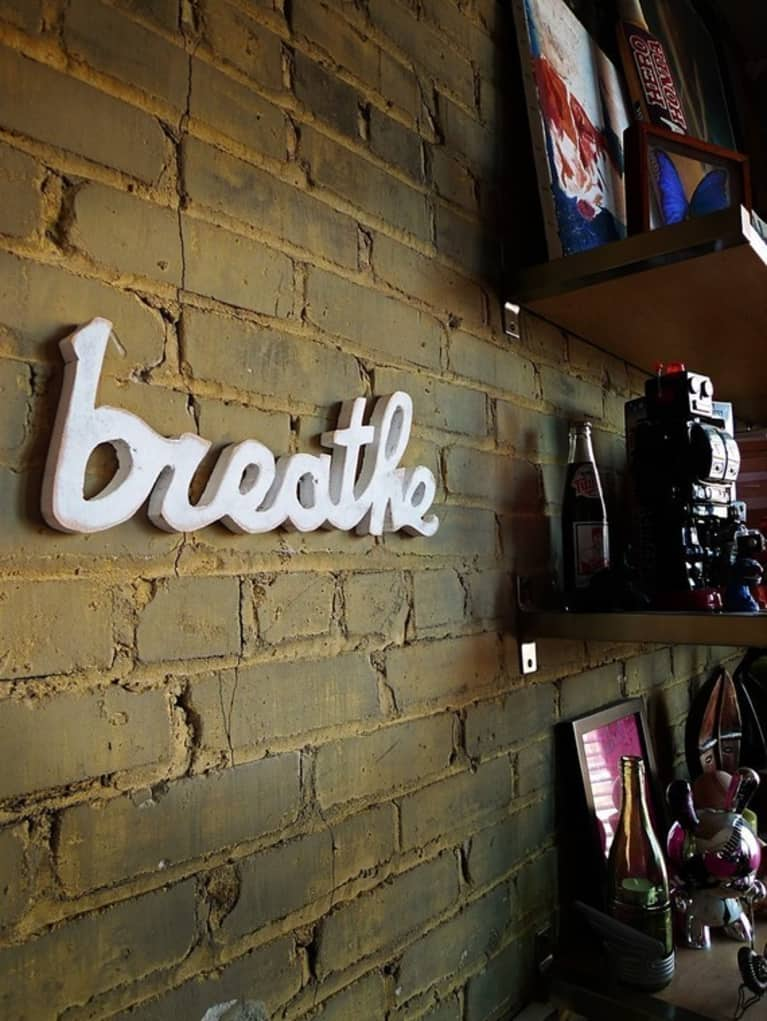 How is it that "the breath" can be the most obvious and yet the most elusive notion at once? As human beings we must breathe to survive – that's the obvious. As calmly functioning vessels of emotion, we must breathe fully to flourish – that's the elusive.
In any yoga class you will hear "the breath" referenced as though it's a beloved aunt or child. It's very much a part of you and yet it is its own separate entity, almost like you might classify your significant other. Now, for those of you who've never been to a yoga class, you might be thinking that this is a very intimate description of an act as ordinary as breathing. Well, that's exactly the secret. Human beings chronically forget how vital the breath is to our wellbeing. Yoga helps us unlock this seemingly cryptic anti-stress medicine, and it exists in our very own bodies, in our very own lungs!
Have you ever noticed your physical state in moments of stress or irritation? Whether it's maneuvering traffic, a difficult exchange with another person, an argument, an insurmountable conflict…we have physical responses to these situations that can actually prove quite detrimental. Sometimes even yawning is mistaken for fatigue when, in fact, it's the brain saying it's hungry for oxygen. I personally notice that in stressful situations my shoulders tend to hunch slightly, my musculature tightens and my breath becomes shallow and weak. Doesn't that sound like a terrible state to then try and reasonably approach a situation? Let's think about inserting one's pranayama practice here. While you may not be on your mat and you're certainly not in the safe space you regularly practice yoga in, it's no reason not to cultivate the same breath. Isn't that one of the many reasons we practice yoga, anyway, to cultivate the strength, calm and insight we wish to apply to all areas of our lives? If you're not a yogi, or you're new to the practice, pranayama is a phenomenal life tool that is further explained by the exquisite Yoga Journal.
This is my challenge to us all: next time we are met with adversity of any sort, let's try to slow everything down. The mind typically begins to race when stress arrives, and this is a normal reaction. By slowing down and taking a deep, long breath we offer our brains oxygen, as well as a moment to ruminate on the situation. That single moment, or several depending on the length of your inhalations and exhalations, of oxygenating the mind and body can be enough time to completely alter the ensuing reaction. By focusing on our physical being we can manage to release the tension from our muscles, let the shoulders relax away from the ears, showing our body and mind utmost respect in this moment of anxiety. Harness the breath and use it to your advantage. By focusing on breathing more than speaking under these circumstances, we not only approach the situation more appropriately but we also minimize the amount of regretful words and actions.
Harnessing the breath calls for an air of mindfulness and most yogis are quite familiar with and fond of this concept. We ought to be as mindful about what we say and do as we are about what we eat and how we practice. Let's start seeing the breath as consequentially off the mat as we see it on the mat. Take this tool out into the hectic world. By harnessing the breath we have a tool to take back control of the fear, stress and angst we are experiencing. We have an instrument with which to say, "No, thank you, I'm not going to react in an abrupt or aggressive manner. No, I'm not going to let this stress weigh me down and fill my body with toxic energy. I'm going to breathe, and I'm going to rise above it." Or some form of that at least. Perhaps that's a good way to leave you today, with the suggestion of an anti-stress mantra; be it the lyrics of your favorite song, the sound of the ocean, a Sanskrit chant, or the blissful hum of Ujai breath, let that be the soundtrack to your calm. Let the breath be your shelter from the storm.
image via Etsy