5 Tips to Sustain Your Healthy Food Lifestyle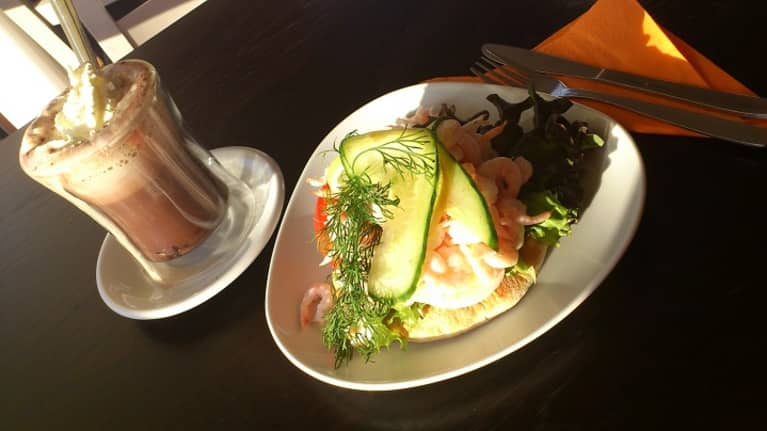 There I was, in the middle of Berlin, Germany when I started to panic. "What was I going to eat as if I eat this amazing local delicacy, am I going to have time to workout?! Oh, and I just had two fresh, mouth-watering pretzels. All those carbs. Yikes!"
Becoming a slave to food can be so easy and happens to so many. No matter if you are traveling the world or simply visiting with friends at a restaurant, being somewhere that is not your comfort zone or within your control can be daunting. Here are some tips I've learned along the way to help you prevent a meltdown before it happens:
1. Find Stability - Ensuring you start your day out with something substantial is vital to your success. You want to ensure you are setting yourself up for success for the rest of your day. Maybe this means you need to pack your own breakfast snack or keep some nuts with you at all times if you know your weakness is often in-between meals. Thus, by ensuring you are arming yourself with wholesome foods, in the moment of panic, you will eat your nourishment first and indulge later.
2. Seek Meditation - As I so often emphasize, meditation doesn't mean you have to drop everything and sit cross-legged and begin to chant. No, not at all. Instead, if you find yourself beginning to spiral, take a deep breath in and slowly exhale out. Maybe excuse yourself and take a quick walk outside. Whatever you are able to do, take a few moments to center yourself and come back empowered to make a wise decision you won't regret later.
3. Learn Moderation - I'm certain you've heard moderation and food over and over again. In fact, I've heard it so often that I really didn't understand it as I'd twist the words in my mind. For example, if I had a weekend camping trip coming up I thought I'd need lots of carbs to sustain the many activities I'd incur. Well, what generally happens when you begin to overload on a food group? Yeah, not too many physical activities end up happening and instead, the carbs just sit there in your stomach. So, what I'm asking you is to truly learn moderation in a new way. If you are traveling and planning on being physically active, why not focus on whole grains and lots of veggies? Maybe bring some fruit along for quick energy that you may need? It's time to define the new moderation by thinking holistically.
4. Understand Nourishment - Again, I'm sure you've heard the famous quote by Hippocrates, "Let food be thy medicine...", which is what this point truly is all about. Food should be nourishment. Thus, often times, we aren't thinking clearly when we load up on a particular food group we know we shouldn't have. Maybe it's because we deprive ourselves and then indulge or we don't yet understand the true meaning in the word nourishment. Our food is meant to be our fuel, so yes, you may be somewhere exotic and paying $75 for a plate of food, but ask yourself, "How will I feel afterwards?" or "Will my organs, skin, hair, nails, bones, etc.... thank me for this?"
5. Enjoy Life - Yes, even though I'm steering you towards maintaining your healthy food lifestyle, you need to understand life should be enjoyed. Of course, even I have my brownies here and there, but it's about finding balance and understanding the big picture of food's purpose.
Remember, it's your life, and the choices you make today will affect you tomorrow and beyond. So, take care of your body, even the parts you don't see all the time. The more you take care of your entire body (from your cells to your limbs) by feeding it nourishing foods and overcoming the impulses to indulge more than you innately know you should, the more of life you can enjoy by maintaining your healthy food lifestyle wherever life takes you.