Finding Peace at an Animal Sanctuary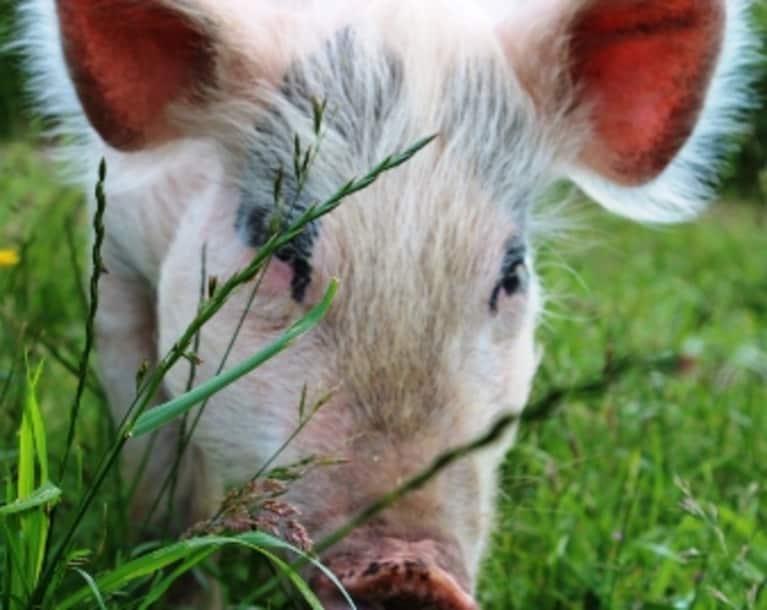 We all find peace in our lives in various ways. We go to yoga. We meditate. We go for walks. We spend time in the garden. We go for a solitary hike in a quiet forest or on a beach. We listen to music. We make art. Of course, these kinds of practices are essential for our emotional, spiritual and mental well-being. We are our best versions of ourselves when we can find some inner balance. This balance enables us to be kinder and more present with those we encounter in our lives and it enables us to give something positive to the world at large.
At different points in my life, I have found peace in all of these practices and more. Lately, though, I've been finding peace in a different kind of place—at Pigs Peace Sanctuary. Once a week, I drive an hour to the animal sanctuary and volunteer for several hours. The work is often difficult—I shovel gravel, woodchips, or manure. Sometimes there is a barn painting or fence repair project. Some days I push myself so hard physically that there is no mental space for thinking; it's just me and my body going to the limit. Other days, I work slowly and meditatively, taking time to think and have some quiet mental and spiritual space. Each time I go there, I make sure to spend some time talking to the pigs and giving them some belly scratches. In fact, many of the pigs will seek out this attention while I'm working.
The pigs at Pigs Peace have all been rescued from cases of neglect, abuse, and abandonment. They come from farms, zoos, auction yards, slaughterhouses and individual homes. Their stories are enough to break any one's heart and make you question your faith in humanity. And yet, what is more moving even than the stories of their difficult lives is the inspiring way they made it to the sanctuary and the devoted humans, like founder Judy Woods, who give so much to show them infinite compassion and care. For each individual animal, their lives have been profoundly transformed by making it to the sanctuary and into Judy's care. They have begun to heal. They have formed friendships. They have learned to trust humans again. They have found safety. They have found peace.
Through their peace, I find my own peace.
I have realized that sometimes our deepest sense of serenity and balance may come from sharing our minds, bodies and spirits in service to others. Being at the sanctuary makes me keenly aware that we can always be kinder, more compassionate, and more open-minded. It makes me aware that there is so much work to be done. Most of all, it reminds me that our paths should always involve a deep commitment to improving the wellbeing of all creatures on the planet and that we can find serenity along that path.