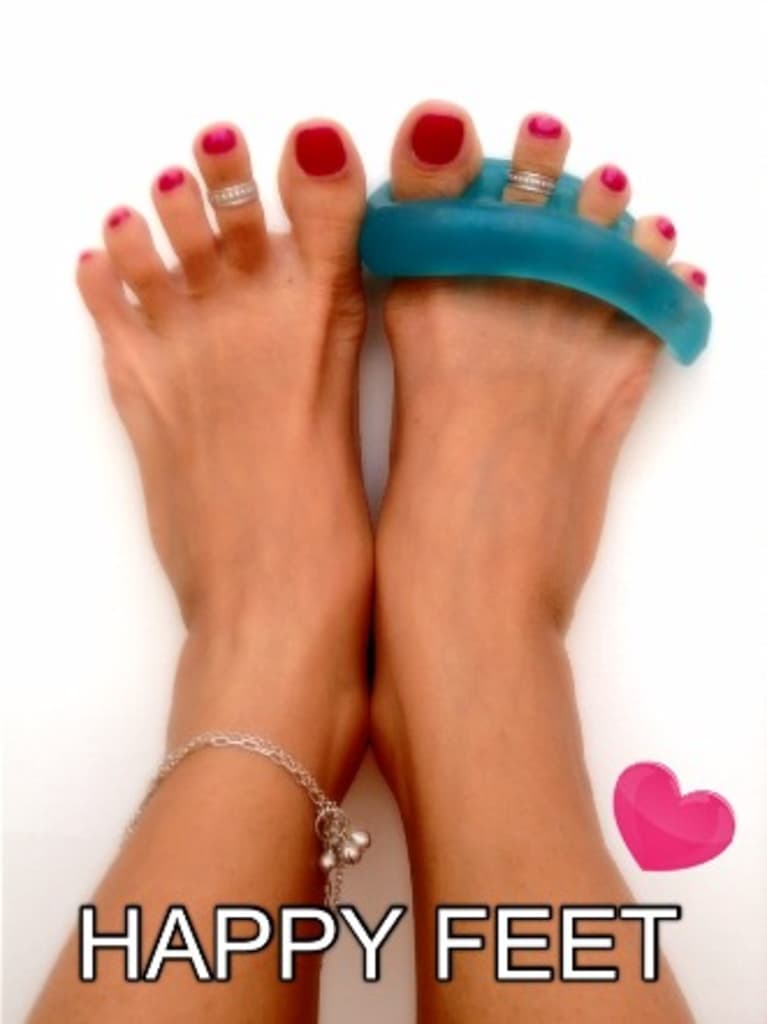 Did you know that each foot contains 26 bones, 33 joints, 107 ligaments, 19 muscles; and all bones in both feet make up a quarter of bones in our entire body? Fascinating, isn't it?
As feet are furthest from our eye sensory organs, we often neglect them and think of them as something alien and even dirty! For me personally, only once I started practicing yoga, I literally took a closer look at my lovely feet. Before that, I never paid attention to them or cared for them, they were long forgotten since my childhood.
Till one day, in a yoga class we were doing a hip opening exercise and the teacher told us to hold up our one foot and give it a kiss. I was sort of embarrassed to do that really, kiss my own foot and then touch it to my forehead? Though when I did it, it felt amazingly freeing! I connected to the part of my body, which I have not paid attention to at all, and it was great to welcome it back.
Since then, I am totally into my feet. You can say that by the amount of pictures that I have taken of my and other people's feet. As they are the first point of connection to earth, I appreciate them enormously for grounding and carrying me through life, for helping me to engage my bandhas in yoga practice and for being so cute and funny! In this article I would like to share with you my ways of appreciating and making my feet HAPPY =)
1. Comfortable shoes
Even though I am a big fan of high heels, I hardly ever wear them because they are not that great for feet and back. If you happen to wear them, make sure that you do not go for too high (wedges are great for that!) ones and once you get home, give your feet a massage or wear toe stretchers (see next steps for that). Corns and calluses are the signs of constantly wearing tight or uncomfortable shoes. So when you go shoe-shopping, try to do it in the afternoon when you feet are slightly swollen because of walking during the day. Make sure you buy summer shoes in warmer times, as feet shrink when it is colder and you risk buying tight uncomfortable ones.
2. Lose your shoes
Whenever you have a chance to expose your lovely feet, do so! At home, in the park, on the beach, in the yoga studio or even at work under your desk make sure you allow your feet to spread and breathe. As the earth energy is lifting up our body through the feet, the rubber soles of the shoes do not allow it to happen. For that reason, if you really want to ground and connect to mother earth, walk bare-feet whenever you can. Feel the earth beneath your feet and try different surfaces from grass, to sand; to pebbles (those are most beneficial to feet health).
3. Give your feet a massage
From time to time, give your feet a nice massage. You may use essential oil mixes or other natural products to do it. Spread your toes with your fingers, twist and squeeze your toes (be careful), rub the soles and heels, and find the moves that your feet love most. For example, I love pulling my pinkie toe and my big toe in opposite directions and feel how all toes spread and open up. As you massage your feet, the blood circulation improves and feet become beautifully pinkish. For that, I also bought a toe stretcher – a device that you put on your toes to stretch the spaces between each of them. There are various toe stretchers available on the market, from very expensive ones to cheap versions. I got myself one pair from Amazon and they work perfectly. Wear them as much as you can, opt for sleeping with them. They are great for preparing your feet for postures like Uttitha Hasta Padangustasana, as by stretching your toes you gain more stability in the standing foot. And eventually, you can spread your toes well, which is essential for engaging the bandhas.
4. Enjoy pedicure and foot care
I bet if you already do yoga, at times when the attention is nowhere and you get carried away, you noticed your untended feet. There is nothing worse than smelly feet, cracked heels and dirty nails. Wash your feet daily, as they are eliminating toxins from our body, do not neglect them! Find a nice pedicure salon and give your feet a present. I found a great lady, who is a reflexology specialist as well. I visit her just once or twice a year and for the rest, I just need simple maintenance (like creams, filing and nail polishing). My feet look cute and I am not embarrassed when a teacher reaches for them. I know they are pink, lovely and smelling great =)
5. Enjoy your feet
And finally, whenever you have chance to acknowledge your feet, give them a kiss and a sniff, thank them for being nice and co-operative. Take their picture or accessorize them, there is a world of anklets and toe rings, thanks to Indian ancient fashion. Appreciate your feet, but also mind cultural differences. In many eastern cultures feet are considered dirty. So if you happen to be in Japan or India, no matter how adoring and lovely your feet are, make sure you don't point them towards other people. Even in Mysore's big Shala during a led class, I had an angry neighbor, who was upset with my foot close to his face in Supta Padangustasana.
But otherwise enjoy your HAPPY FEET!!!