The Golden Rules of Intuitive Eating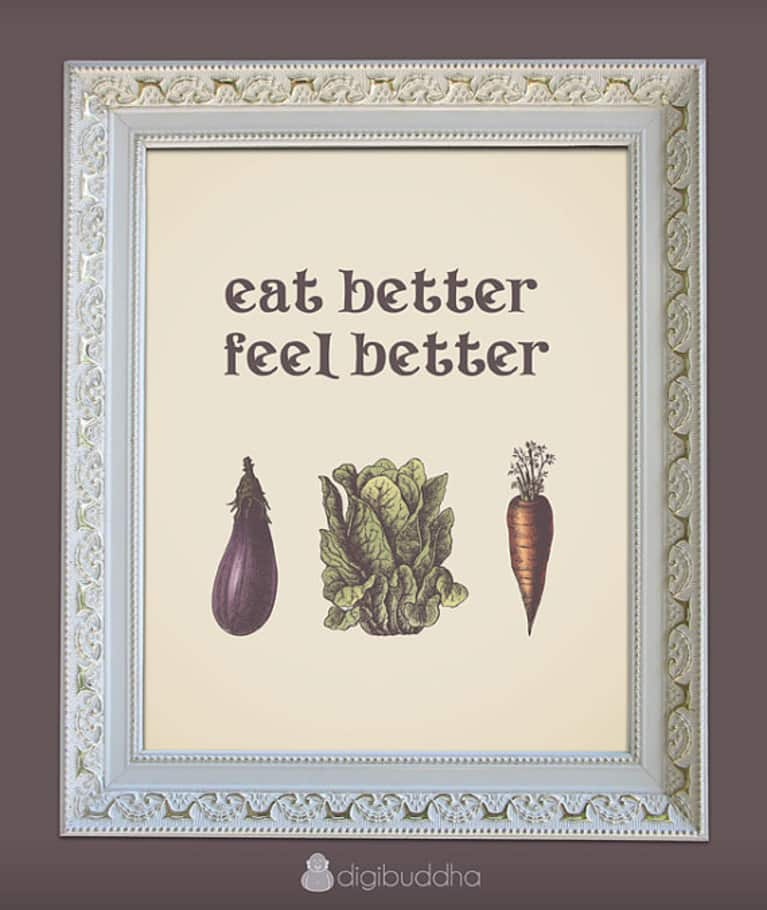 What the heck does intuitive eating mean, anyway? In a modern-day world of fad diet madness, it's incredibly to wade through the mess of slenderizing claims and oftentimes we find ourselves asking, "What should I eat?" What I suggest is a journey, back to what nature intended…intuitive eating.
It reminds me of a tale I once heard when I was younger. It's about two men, one was Caucasian and the other Native American, and they were walking along when The Native American man asked his companion, "Are you hungry?" The Caucasian man looked at his watch before answering,"Eh, it's about lunch time, yeah." The Native American man gave his friend a quizzical look and shook his head. "Only you white men tell by the time on a clock whether you're hungry or not."
This story has always stuck with me. Granted, in a world of work and hustle bustle schedules, it's often not convenient to skip your lunch break because you're "just not hungry yet" because the vast majority of us don't have the luxury of defining our own schedules. I get that, and I'm not telling you to go hungry. I'm simply making an effort myself to ask the question before eating, "Am I really hungry right now? Or am I just eating because it's 'dinner time' according to the clock?" It's kind of an archaically simple concept for many of us these days, to eat only when we are hungry. But how do we manage to live that way in a world of über-convenience, and for those fortunate enough, over-abundance?
My suggestions for us are as follows:
Return to a plant-based diet. I'm not going to preach any particular style of diet to you because I believe that we are all fiercely individual and it is not my place to deny you the foods you want, need, or love. I just advocate for the abundance of energy and wellness I feel when consuming a plant-based diet.
Eliminate any foods that irritate you. Seriously. Stop eating ice cream if you are sensitive to dairy. It stinks, I know. Listen to your body; if something doesn't sit right, if you don't feel well after eating it, stop trying to force it. No matter how much you might love a particular food, respect your body and let it be your guide.
Drink copious amounts of water.
Eat slowly. This one can be hard, it often is for me, rushing around becomes normal and it's hard to just slow down…but let's try together.
Chew your food well. Maybe even shut your eyes. Knocking out a sense heightens the remaining active senses. Extract the rasa from your food. Rasa, according to Yoga Journal, is essentially the nectar of one particular thing. It is the "taste" in food, the "marrow" of an emotion, the "sap" of a human being. Full article, and far more clarity, found here.
Learn the difference between feeling satiated and feeling stuffed. We are conditioned to want to eat everything we've put on our plate or eat until we're very full. You have permission to stop instead when you're satisfied – most of us in this country are fortunate enough to know there will be food available again the next time we get hungry. No need to gorge oneself.
My suggestions are fundamental; I've read similar health commandments in bunches of magazines, but I suppose that's what struck me most about creating my own list of golden rules…they are almost the same, every time. It's because THIS is what works. No deprivation diet, no restriction, no uniformity, simply an individualized approach to simply listening to one's own body. So, the next time you get the urge to look at the time before answering whether or not you're hungry, pause…resist the urge to base your decision to eat on anything other than whether or not your body needs fuel. When you do decide to refuel, try and find a place to sit. Then lend your full attention to the meal, whether it's three courses or just an apple. Intuition is a beautiful, powerful tool. Pairing it with the fueling and nourishing act of eating creates a force to be reckoned with.
As a friend of mine says, "be a good mammal." Put some sincere determination behind the act of intuitively eating and see how much better you feel. I suspect you will feel stronger, more energized, and far more in touch with your own body and mind.
image via digital buddha/etsy