4 Tips From One New Yoga Student to Another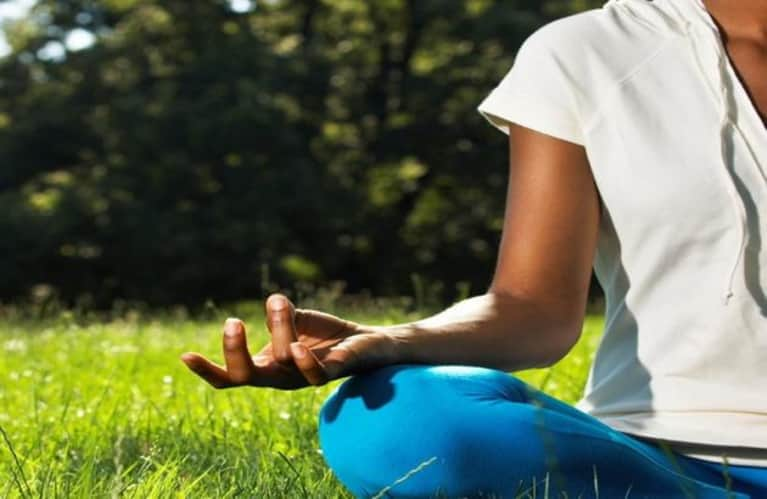 I'm not a yoga teacher. I am passionate about my practice. Yoga has changed my life. More specifically, yoga is now the way that I live. Before, I saw life in terms of black and white, or yes and no. By living yoga, I appreciate the grey and love the journey as much, if not more, than my arrival at a particular destination.
I've practiced yoga off and on for years but really committed just over a year ago. I'm finding joy in exploring the many disciplines, and my thirst for knowledge grows with each new thing that I learn. Like some people who find yoga, I was a type A personality who thought yoga was a thing to do. I'd hear yoga teachers give great advice before class and after but didn't really listen until the lesson was learned. And by learning, I mean I had to usually fall on my face (sometimes literally) to get to the "a-ha" moment.
Though we only see something when we are ready, I wish that another sort of new student sat me down and gave me a few nuggets of wisdom before I threw myself headlong into my practice. It still probably wouldn't have changed a thing, but sometimes we learn from our peers as much as we do from our "teachers."
1. Learn to let go of your ego. You hear this a lot. But if you're like me, you won't listen at first. You'll try to do certain things before you should. You'll compete with others and yourself. It defeats the purpose, and you can end up with an injury. (Ask me how I know this.) The ego can erase the goodness that inherently is. Yoga has helped me turn myself over to love instead.
2. Learn to breathe. Breathing is one of the most important things I do, both on and off the mat. One teacher told me that I should close my eyes and see where I want the breath to go. This has been invaluable as my practice grows, especially during times of stress.
3. Learn the difference between pushing and punishing. This is another one for the formerly driven. Yoga is amazing in the way your body and breath connect to show you where you can grow. If new students aren't careful, you can end up thinking "no pain, no gain." Soreness and discomfort, yes. Sharp pain, wincing and severe aches, no.
4. Learn to laugh. Laughing when I am struggling - or when I feel unbridled joy, too! - has been another wonderful aspect of living yoga.
In the end, this very simple list may be nothing more than a gentle and grateful reflection of my journey so far. Most will eventually learn that, even with help, there is no way around something, only through. That may be the greatest gift that yoga gives.