4 Ways to Show Up for Yourself Everyday!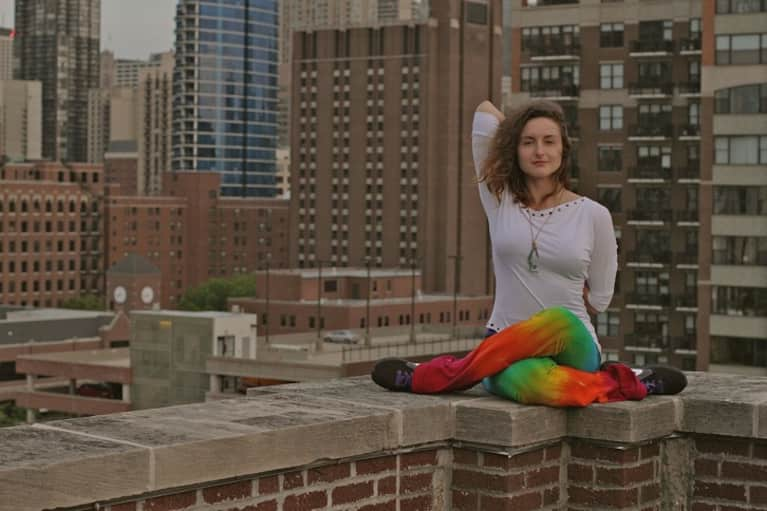 So much of our days revolve around meeting the needs of others, fulfilling obligations, tending to responsibilities. We're very repetitive, conditioned creatures and that often can lead to a feeling of stagnancy, like life is banal, patterns repeat, a waking sleep. We frequently feel guilty and/or selfish for taking time for ourselves, doing nothing for an hour, treating ourselves to a gift, a meal, an outing. We keep ourselves in a perpetual loop of sacrifice and tedium and we deserve better. When your yoga practice becomes something you "have" to do or even when it serves as your only escape, take it as a sign you could show up for yourself a bit more. Here's a few friendly suggestions.
1. Create a Self Care Routine: Everyday wake up and proclaim, "I'm going to kick today's ass." And at the end, write down one to three to five things that made today memorable, why today was a slice cut different from the last. I am grateful to rise everyday, stretch my body in all directions, take a few conscious breaths, wash my face, make my tea and walk my dogs. For you, this routine may include meditation, applying some oils, using a neti pot, taking care of your plants, flossing, dancing, or any number of activities that directly affect your health and happiness. They are simple but comforting. This is your time to let go of the night's sleep and take ownership of the energy you bring into the world. We often wait until the end of the day and decide based on how the external circumstances affected us whether the day was good or bad. Decide yourself, from the get go, how your day will go. Enjoy each moment and the outside will reflect the inside.
2. Break Your Routine Daily: Take that routine above and add some spice to it. You've no doubt heard experts suggest you walk, ride or drive a different path than you normally do. The novelty stimulates your brain and may just give us a few minutes of presence each day. I love breathing. As simplistic and obvious as this sounds, it occurs to me very often how little attention and even gratitude we pay to our breath, our life force. So throughout my day, I'll take moments just to breathe and to be aware of my breath, that's all. For you this may be listening to a piece of music, enjoying silence, talking a walk (another healthy, meditative activity I love!), calling someone you haven't talked to in a while, reading a new passage, watching a funny video, enjoying an Italian ice, anything that is special and less common but brings a little extra goodness to and from you.
3. Express Yourself!: I hear Madonna shout those lyrics and I'm opening my arms and spreading my spirit fingers in a fit of joy. The area surrounding your pelvis and navel houses your passions, your creativity, your sensuality (again, so important), your power, your lust for life. What stirs your loins? What are you compelled to do? What are you afraid to say, share, act or project? Beyond doing something simply because it scares you is the invigorating experience of acting on your intuition, on being and feeling creative and original, even just for a few moments. I gave up dancing as a girl to pursue sports. I have no regrets but something in my gut yearns to move and to express myself through that movement. The point here is not to be heard, seen or admired by another, but to lose yourself in passion and joy, to have moments without inhibition and doubt, get lost in the thrill of living.
4. Indulge in Sensuality: I may be teetering on the Yogi Nymph category as often as I write about sex and sexuality, but I would just encourage us all to take some time and energy away from absorbing and giving to the outside world and instead take some moments to feel, to engross ourselves in sensing from the inside out. Whether you're connecting with yourself or another, tapping into those primal urges not only satisfies our biological impulses, but it boosts our endorphins, relieves stress, improves immunity and sleep, burns calories, increases self esteem and intimacy, helps stave off cancer and other causes of early death, and is simply fun! Get your freak on. You deserve it.
Committing to yourself in these small ways everyday will have a profound impact on your perception, on how you view yourself and your life. I believe wholeheartedly Yoga is a state of being, a way of life, and it doesn't require a mat or even rigorous asana (as much as I love a good flow). It merely needs your fullness, your energy, your awareness. It needs us to awaken from our trance and become participants in the dance of life. Take a still, quiet moment to ponder how you can better show up for You. We'd all reap the benefits of treating ourselves even better. The universe would reflect back in ways our imagination can't even reach. Be good to You.