Not Your Average Office Yoga Video
Our editors have independently chosen the products listed on this page. If you purchase something mentioned in this article, we may
earn a small commission
.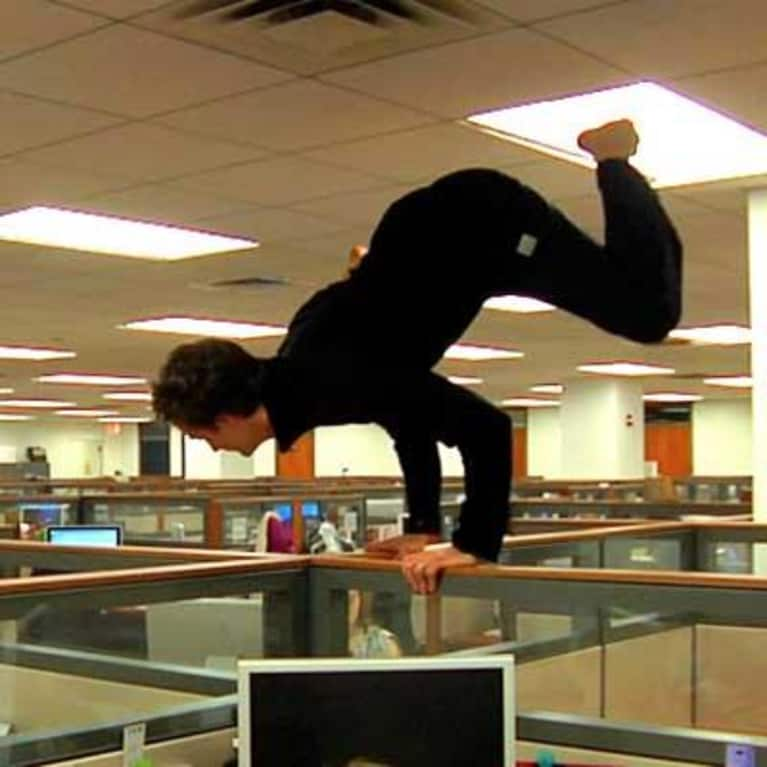 Taking yoga to the streets, the office, into nature and beyond is nothing new. But it's still a heck of a lot of fun, especially when the weather is nice outside. Happy solstice! In honor of the summer of 2012, we are continuing the Yoga Anywhere movement and would love to get you involved!
My good friend Tao Porchon-Lynch always says, "nature is my encyclopedia." She reminds us that nature recycles itself each season, sheds its leaves, and in just a few short months returns to full bloom and lush. We are the same. When we tap into the rhythm of the breath within us, we are reminded that anything is possible. "Anything is possible" is the theme of our fun collaboration and participation in the Yoga Anywhere movement. When I started uploading YouTube videos back in the early days of the Tube, a search for yoga got you some of my goofy yoga-for-everyone videos, along with a black-and-white silent film of Krishnamacharya doing Yoga Anywhere, outside on a rock. Now a yoga search brings up everything from office yoga for the wrists and back, to yoga exhibition videos, to doggy yoga, and it goes on and on.
Shape Magazine phoned me up with their idea a few months back and I said "Of course, lets do it.Yoga Anywhere for everyone!" So we got together Heidi Kristoffer and Mike Taylor (the husband) and some of our pals from around the globe to help out too!
I made Mike play along with this one because I feel there aren't enough guys out there doing yoga in videos, pics, and in the media in general. It's not just girls who can benefit or are drawn toward a regular yoga practice. It's downright cool, sensible, and practical for everyone to practice. At Strala we have a ton of guys, with some classes are pretty equal guys and gals. It's about time that guys step it up and get goofy in yoga videos too!
Now it's your turn to get involved! Join the Yoga Anywhere revolution and win a copy of Yoga Cures courtesy of Shape Magazine.
Tweet a pic of you doing yoga anywhere @shape_magazine @tarastiles with the hash tag #yogaanywhere. We'll share it everywhere!