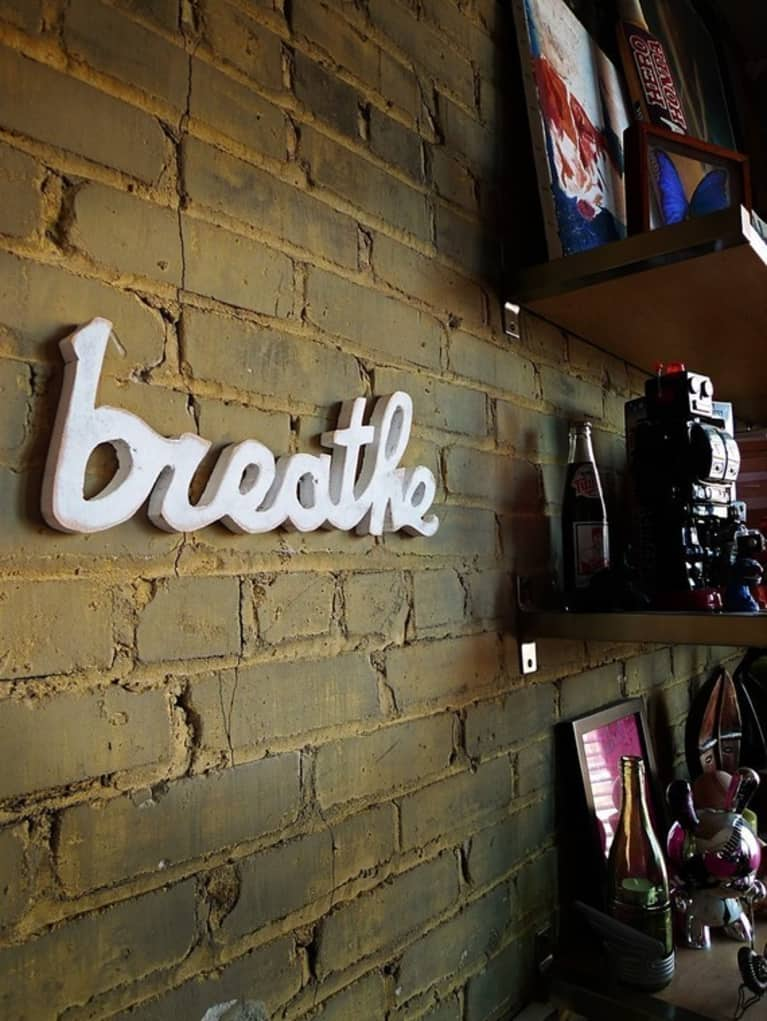 "The things surrounding you in your home serve as subliminal reminders of you who are." ~ Denise Linn
In anticipation for the move to my new house, I decided to have my first-ever garage sale.
For a full week, I rummaged through piles, boxes, drawers, and closet spaces. Everywhere I turned, I found more surprises. I couldn't believe how much stuff I had accumulated – stuff I had completely forgotten ever owning!
As I carefully tried to organize my physical belongings, the "stuff" I had somehow collected during my 31 years of life, I became emotionally exhausted. The mental drain I had felt from seeing, touching, and thinking about every "thing" I owned had conjured up past memories on how I have come to own it; and believe me, they did not always reflect back joy.
I dug up a photo of an ex-boyfriend reminded me of a bitter heart-break… an unused gift from a relative, something I didn't care to keep… kitchen appliances from a friend I no longer talk to… a family heirloom from a deceased relative that I had never even met (something kept out of obligation)… books that no longer represent who I am today…
It seems I did the same with all these items I didn't want to deal with, or didn't have a place for. I just tossed them in the "abyss" – where they remained hidden and forgotten.
These all brought me feelings of sadness, melancholy, guilt, and indifference.
Decluttering for the garage sale was a more emotional experience than I had expected. All at once, I was forced to confront emotions I thought had long ago been dealt with.
To make matter worse, I was also dealing with the new consumption of guilt, self-blame, and embarrassment over how I have come to be this person who owned so much junk! I own clothes that I've never worn (with their tags still on), or that I can't even remember purchasing. I have two tea kettles (why?), two identical purses (both have never been used), three shoeboxes full of kitchen utensils (how many ladles do I need to cook a meal?).
As a Feng Shui practitioner, I know firsthand the importance of creating a clutter-free space, including surrounding yourself with things that evoke only positive emotions. Terah Kathryn Collins, my Feng Shui teacher, once analogized that we should observe our surroundings and recognize that every piece of item is telling a story -- from the smallest of knick knacks to the biggest piece of furniture. As we go through our belongings, we should ask ourselves this: If they could talk, what would they say to us?
Thankfully, as I created my "sale" pile, I realized I wasn't just saying goodbye to that physical thing. I was also letting go of the emotions attached to it. In essence, I was making more room in my heart space.
When I understood that, the painful emotions turned around. It became a cathartic experience. I felt lighter and freer!
At the garage sale, it was amazing to watch others go through my things with enthusiasm and excitement.
One young lady was moving to her first home. My boxes of kitchen utensils that once felt daunting to me will actually serve her well. An old dress that no longer fit became another girl's new treasure.
I had inadvertently spread my wealth and created joy to others. The act of seeing this for myself made me feel more satisfied and at peace with my decision to let go.
It can be hard to let things go, especially for some that we've held on to for so long, for whatever reason. But take it from me – it's worth it! When you are ready to tackle those boxes and piles of stuff you own, consider asking yourself these questions about each item. It might be helpful in facilitating the "how" and "what" to let go.
Do you love it?
How do you feel when you see or touch it? If you could pick one word to describe what you think/feel about it, what would it be?
If you haven't missed it in the last 12 months, will you miss it if it's gone forever?
Why are you holding on to it?
Can someone else benefit from it?
Does it serve you anymore?
Does it reflect who you are today?
If it was "lurking" behind closed doors, can it be "recycled" and re-used in the living space again?
If you're keeping it "just in case," can you easily obtain it later?
It is our natural tendency to accumulate things as we "experience" life. But we are always changing – our beings and our environment.
Make it an annual ritual to declutter. Remember, not only are you creating more room in your physical space, but you're also letting go of emotional baggage. Change your space to reflect your current state. So be choosey, simplify, and be more mindful of what you are allowing to take up space in your home and in your heart. And make room for all the goodies yet to come!
 image via etsy