5 Benefits Of Bawling Your Eyes Out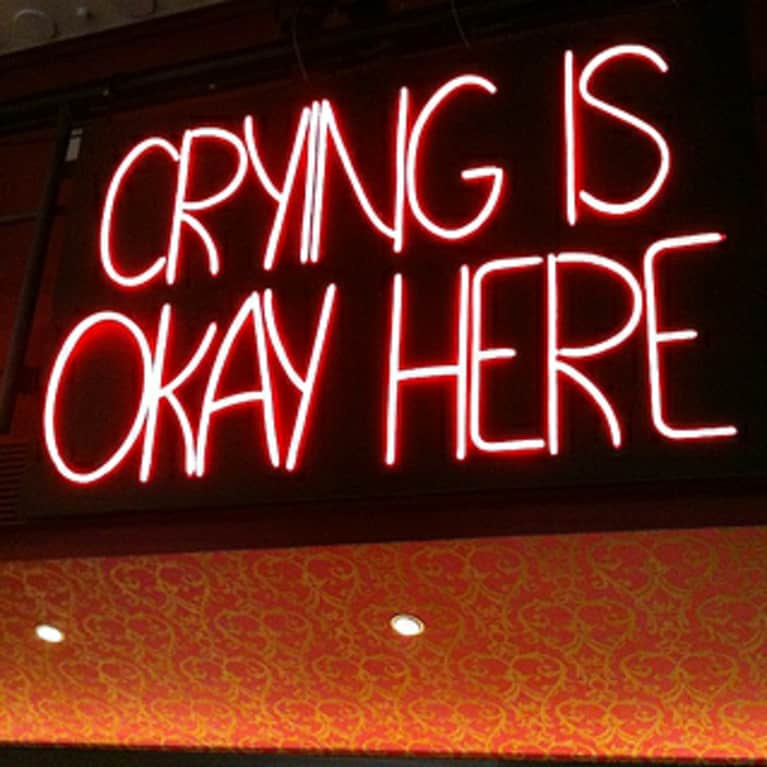 We don't cry enough. Men and women, both. Our culture is hard on those who show their soft, vulnerable side. If women cry, they do so apologetically, as if they're wasting people's time. It's even worse for men. They simply don't have permission to tear up. It's considered sissy. Some of these thought patterns are old and deep seated. Parents who never allowed their children to cry, fathers who mocked their sons when they were hurt or in pain, girls who were told emotions were stupid...
Lets look at the repercussions of this unspoken no-cry rule. Tears usually come with pain: past or present. The longer we hold this pain in, the more likely we are to harm ourselves, emotionally, physically and psychologically. Besides holding pain in begins to bog us down, causing physical exhaustion and a feeling of helplessness.
What we all need is to give ourselves permission to cry. I experience vast differences in my health and wellness when I allow myself to 'let it out'. Sometimes its small stuff, sometimes big stuff from the past crops up. Either way, I'm learning to be kind and gentle with myself during these moments. No inner judge saying 'There you go again' or 'C'mon, enough already'.
I allow myself to just be.
Here are some reasons I think crying is good for us:
1. You don't build up anger or resentment.
When we allow ourselves to release any anger, fear or other emotions that come up while crying, they don't take up residence in our body or mind. This can be toxic for our body-mind and in the long run, manifest into all kinds of chronic physical and/or emotional ailments. This frees up a lot of energy for us to pursue more creative endeavors.
2. You see clearly.
I'm not joking when I say this. Whenever I've felt hopeless, dark or broken and allowed myself to cry, I've literally seen a new path that didn't exist before, unfold before me. We underestimate the power of tears and their release. They help lift the heavy dark clouds that cloud our judgment and intuition.
3. Your laughter is more genuine.
Pain and joy are two sides of the same coin and when we don't allow ourselves to experience one deeply, the other stays elusive as well. The deeper your valleys, the higher your peaks. So if you're aspiring to have a happy, belly laughter that lights up a room, perhaps shedding those pent-up tears will help you get there.
4. You become more compassionate. 
Crying is one of the fastest ways to move into the heart (we spend waaaay too much time in the head!). Being kind, gentle and loving towards ourselves during a difficult or trying time gives us the capacity to reach out to people when they are in pain too. We become more emphatic, patient and are able to hold the space for others to express themselves freely.
5. Silence comes more easily.
If you've ever tried to meditate on a heavy belly or a heavy heart, you know they both interfere with your state of bliss, right? So one of the fringe benefits of crying and releasing pent-up emotions is that you're more readily available to go within and enjoy the silence.
image via flickr/kalaydo