How Do You Define Success?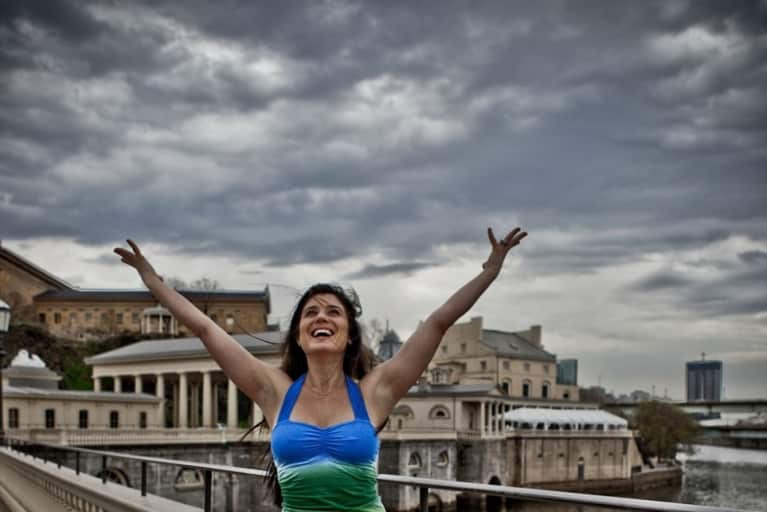 I was sitting on the couch with my husband a few nights ago and I looked over at him and asked him: Did you have any idea, when we started dating, that I'd be this successful?
My hand quickly shot over my mouth.
For so many reasons.
1) Dare I say out loud that I was successful? Let alone "this" successful?
2) Was I successful? I had never said that out loud. Or really thought it for that matter.
3) How can I be successful if I don't have a lot of money?
I knew a blog post was being born.
He looked over at me and said: I knew you had potential.
He was being facetious. And yet, he wasn't.
I was waitressing at The Newsroom Café, and had been for thirteen years, suffering from depression and miserable when we started dating. Truly not the Jen I am today. She was in there somewhere, buried under the layers of black aprons, but it was deep under the dust of restaurant smells.
Here's our story in a nutshell:
We met fifteen years ago.
My mom had this studio on Robertson Blvd. in West Hollywood which she rented out to actors and acting teachers and movie makers and other Hollywood types. She called me and said she had a writer she wanted me to meet and, that, oh yeah, she was dating Neil Diamond.
Yes, Neil Diamond.
(I still have the Harley-Davidson leather jacket he gave me for Hannukah that year.)
We met at the Newsroom Café near her studio. I looked older than I do now because I was so anorexic and pale, and Robert, the writer my mom wanted me to meet looked—nice.
He was nice. Which, for me, at twenty-one, meant one thing—boring.
Not long after I started working at that same Newsroom Café and Robert sent me roses. I didn't know they were from him because I thought him far too shy and too nice to do such a bold thing. So I was stumped as to who the "Robert" was who sent me roses at work.
He called and asked if I got said flowers.
Eeek! Yes I did get flowers and I just want to be friends, I said like the twenty-one-year-old I was.
Fast-forward ten years:
I am still working at Newsroom. Robert comes in. I recognize him straight away.
He looks cute, I remember thinking, I'll go over.
He says he remembers me but cannot remember my name.
Yeah right I think to myself.
(I still think he was lying about not remembering my name. He still denies it. Although now, I see he has a horrible memory and was probably NOT lying.)
We went out for dinner, and afterward, sitting in his car, I knew I was going to marry him.
True?
Yes. Very true.
I married him.
He tells me now that he waited for me all those years.
So yes, he saw potential.
But all those years I was stuck and depressed and we would have never made it. I had to go through what I went through and meet him again to fully blossom.
So here we are on our couch. In our apartment. With my hand over my mouth in shock because I actually said out loud that I am successful.
We are taught to not say that. Or that we are beautiful.
Aren't we taught that? Even subconsciously?
What does success even mean?
I no longer wait tables. I am happy. I have fun. I am sitting on the sofa next to the man I love watching Modern Family. I get paid to do what I love.
I have only been teaching yoga and doing what I do for three years. Barely three years.
And here I am.
You are reading my blog.
Am I successful?
I am to me!
Is my nephew who has Prader Willi Syndrome and Autism successful even though his "milestones" are different than other kids his age? (Answer: yes.)
Are you successful even though you ended up walking a marathon when you had intended to run? (Answer: a resounding YES!)
Are you successful even though you cannot do a one-armed handstand? Even if you cannot do a two-armed handstand? If you cannot even stand on your two feet? (Answer: Yes!)
Am I successful even though I need a pair of hearing aids to help me hear, and even then I think you are sayingDan when you are saying Sam? (Answer: yes.)
Am I successful even though I wrote a blog post about being hard of hearing and not being able to afford hearing aids? (Answer: Yes. Someone who took my yoga classes read that very post and got me a pair of $10,000 hearing aids. It's okay I could not afford them. I did not think less of myself because someone donated them to me. In fact, I bowed in gratitude to human nature and kindness and social media. Big success!)
Is my friend, who does play after play, successful even though she still has to have two waitressing jobs? (Answer: yes.)
Who or what measures success?
Does success mean money? (Answer: no.)
Are we supposed to acknowledge our own success? (Answer: Sure, why not.)
You see, my husband always believed in me. He did! From the moment he met me—when I was twenty-one and anorexic and lost and scared—to now. He may not have remembered my name all those years later but he most certainly remembered who I was.
Even though I had forgotten.
He had an unwavering faith in me when I had no faith in myself. It took years to come back to him because I was not ready.
I am ready now.
I am ready for success.
And let me explain what I mean when I say success.
I mean joy. I mean laughter. I mean being able to say "I love what I do and I do what I love."
By success I mean: love.
I am ready for love.
What are you ready for?
In the comment section below write down how you define success. Also feel free to add what you are ready for in your own life. Finish the sentence: To me success means ____________.