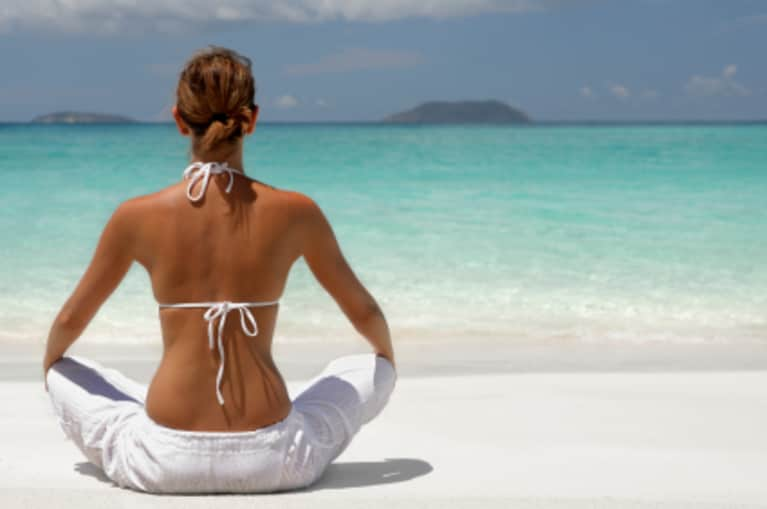 Take some time out for yourself, let the flower bloom within your own heart, find your passion, your destiny, your purpose, your truth and tap into your own inner radiance. Become the best version of you through a little sacred self-healing.
This journey is a sacred act of healing — it's my Eat Pray Love Detox. When you hear the word detox, I am sure you immediately think cutting out certain foods. Yes while eating healthy foods is a big part of the journey, there is more to detoxing than just cutting out certain foods. Cleansing your body is an act of self-love, a spiritual experience, it is a time where you connect with your inner sanctum and nourish your body with the right foods, self-love, affirmations, exercise and everything else holistic.
You don't need to be Elizabeth Gilbert – author of "Eat, Pray, Love" and run away to exotic destinations in order to rediscover yourself. You don't need Italy to dine on foods that comfort your soul, you don't need India to learn how to meditate and you don't need Bali to fall in love.
About two years ago I went through my own "Eat, Pray, Love" experience in my own life, which is how I came about creating this detox. I loved the book so much that I ran away to Bali in hope to find my inner Bliss. While I still adore the book, and still spend lazy Sundays re-reading my favourite chapters, I now know I don't need to search for my purpose and happiness in other things, places or people.
I can find an ashram in my own kitchen as I prepare healthy meals to nourish my body.
I can find my own wisdom if I sit long and quiet enough to listen to my own heart.
I can find foods that make my soul sing through healthy recipes that are made with super foods.
I can find love within my own heart, through my yoga and meditation.
And most importantly I can find my authentic inner truth through living a holistic life based on self-love and nurture.
This is why I have created the "Eat, Pray, Love" detox, it's a detox that will nurture your mind and body. It's a detox that is not meant to be followed strictly; it's just a simple guide.
Here are the commandments of the detox that you should try and follow:
Eat: Love and honor your body through only eating foods that nourish you and make you feel good inside and out.
Pray: 20 minutes of meditation and reflection every day. Write down 3 things that you are grateful for. Start the day with a grateful heart by having a morning ritual.
Love: Create your own daily affirmation or mantra. Hang or write it where you will see it often. Get your love on by giving love to everyone, even if you don't think they deserve it. You can do this by sending loving thoughts to everyone you see today, it takes five seconds, simply when you meet them, visualise sending them your love and then wish them love and happiness.
You need to listen to your body, and let it tell you what kind of detox it wants. So please read the program below and take from it what resonates with you, listen to your body and listen to your truth, so that you can create the right regime for your own body. The food that I love to eat on my detox is a combination of juices, soups, and smoothies made from a combination of vegetables, legumes, fruits, nuts and seeds. I love this because it gives a little variety, and is highly nutritious, this is a program I created myself, however you will find so many similar versions of it in books, on the internet and so forth.
During the detox there is no quantity control, eat when you're hungry and if you start to crave for fuller foods throughout the detox have a handful of raw nuts, a green smoothie or make yourself a bowl of hot oats with rice milk/almond milk.
Soups are a wonderful addition, they are comforting and jam packed full of goodness. So I really could not see any reason for not adding them into my super detox plan.
THE RULES
You can have as much as you like of: Vegetables, fruits, raw nuts, legumes, fresh herbs, coconut oil, olive oil, almond milk/oat milk/rice milk, herbal teas and if you get hungry you can have quinoa, oats, brown rice or millet.
You must avoid: Tea, coffee, dairy products, all meats, breads, gluten, pasta, white grains, tinned foods, salt, and anything that is refined or processed.
So this may leave you wondering what you can do with all of this!Well you can make salads, vegetable stir-fries, soups, juices and smoothies. Here is a day on detox for me:
Start the day with a refreshing green smoothie of parsley, spinach, kiwi, banana and cucumber.
Nourish my body mid-morning with a combination of beetroot, spinach, lemon, celery and ginger juice.
Feed my soul at noon on a spicy lentil and tomato based soup and if I am still hungry have a baby spinach, tomato and avocado salad drizzled with olive oil and pepper.
Sip on an afternoon delight combination of beetroot, carrot, apple, celery and ginger juice.
Unwind my body in the evening with a creamy soup of potato and asparagus.
Rest my soul before bed with a nut smoothie of almonds, Brazil nuts, cinnamon and almond milk.
Now these are just some ideas, however you get the idea....you must just stick to natural foods, but as you can see from my planner it certainly doesn't have to be boring
Detoxing is not just about the foods you eat, it is also about your daily rituals. You can nourish your body further through loving yourself and your body more. When you live to nourish your body, you become fully alive. You vibrate. You radiate. You inspire. You connect with your higher source more easily. Your vitality increases and you have energy to spare. Your compassion increases as you learn to accept yourself and others more easily. You are radiant.
And other rituals that you should consider on your next detox are:
Drink at least 2-3 litres of water a day because water flushes out the toxins quickly and is a natural beautifier.
Have a green smoothie for breakfast at least 4-5 times per week.
Dry Body Brush for five minutes every morning before jumping in the shower. Start from your feet and work your way up to your heart.
Take an enchanted bath at least twice a week to unleash your inner goddess – this is a bath full of oils, flowers and herbs.
Meditation is a daily must, even if it is only five minutes a day.
Give yourself a Holistic DIY Facial once a week. Use fresh vegetables and fruits.
Practice yoga daily for inner bliss, greet the morning with some simple Sun Salutation Poses.
Start your day off with your own personal mantra or affirmation.
Think only positive thoughts
Practice random acts of kindness
It only takes a few days detoxing and your skin will begin to glow due to the nourishment of the extra vitamins and the reduction of toxins, your spirit will shine as you feel full of hope and positivity and your body will be vibrant and light due to all the energy you now have thanks a little self-nurture and love. Remember if it is your first time detoxing, you should always get approval from your doctor first.
This post was inspired by Life Is Beautiful Through Ocean Eyes