5 Summer Tips for Hot Room Yogis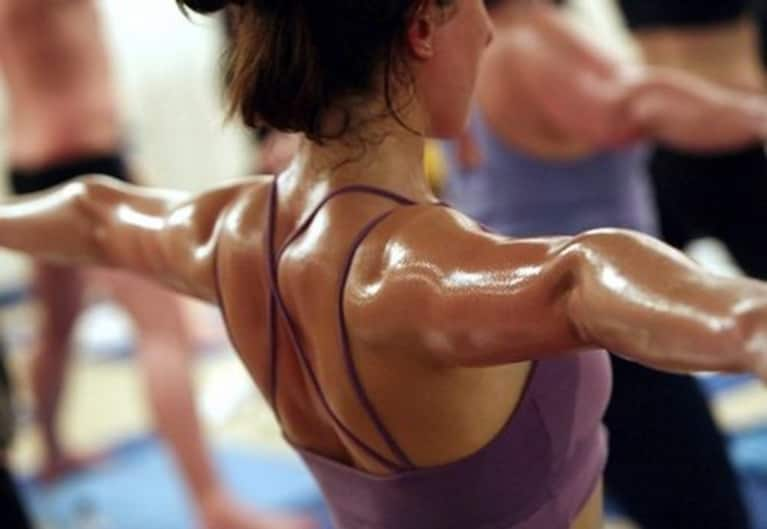 As the weather makes its seasonal transition, so changes my Bikram yoga practice. During the cooler months, my joints sound a little creakier; the hamstrings are a bit tighter. On the flipside, my body feels more limber throughout the warmer months. While an increase in flexibility may be perceived as an advantage, it's also a time when I'm more mindful of my body's limitations; I know that the extra heat could lead to overstretching, especially in those challenging poses.
John Golterman, longstanding Bikram yoga teacher and studio owner shared this #1 tip with me:
"Listen carefully to the cues about strength and muscular work in the class dialogue. Putting a concentrated emphasis on the strength aspect will allow you to make the best of a warmer weather class when you naturally will make progress in flexibility. In Bikram Yoga, the dialogue is succinct in its direction: by listening to the words, the class will always be simple, and absolutely safe."
Hearing John's advice makes me want to get back to the hot yoga room as soon as possible, and stretch through an invigorating and fun summer practice.
A regular Bikram practitioner myself, I've pulled together a few more tips that may help you sweat through the season with ease. Enjoy your yoga!
2. Hydrate Often
I'm reaching for water regularly during the warmer season; for me, a good rule of thumb for adequate hydration is to drink when thirsty – which means I'm continuously checking in with my water bottle during the day. Drinking in large amounts immediately prior to practice has only meant an uncomfortably full belly.
As a reminder to drink, I place a bottle/glass of water within easy reach, no matter where I am; on the nightstand, on the kitchen counter, on my desk, or in my handbag. I regularly add some coconut water to the mix, for the extra hydration and to replenish with electrolytes.
Extra tip: Incorporating electrolyte supplements, kelp tablets, or popping a little Himalayan salt into water also helps with replenishment.
NB: Not sweating enough in class is a watch out as it could be a sign of dehydration.
3. Embrace a Slower Pace
Getting to class with enough time to set up makes a huge difference to the mindfulness of my practice. I've rushed from work to class in the warmer months, only to arrive to my mat in a hot, flustered, and distracted state. While I was happy to have made the class, it took a little time to decompress and ease into the practice.
Extra tip: I've noticed that slowing down my movements as I transition between postures has helped cultivate a calmer (and cooler) practice.
4. A Natural Breath Flow
Changes in seasonal humidity affect the hot room. Pacing my inhale and exhale, sometimes exhaling longer than inhaling, has helped me move through - and transition between - postures calmly.
John Golterman passed along some noteworthy advice: that everything in yoga is a reflection and study of nature, especially the breath.
"Don't over think or overcomplicate your breathing in class. During the postures, we want to breathe as comfortably by the nose whenever possible. However, if you are working very hard, your breathing may speed up; you might need to take a breath through the mouth here and there. This doesn't make you a 'bad' yoga breather – you're just responding to the demands of the poses.
Remember, every single thing we are doing in yoga, including breathing, is exactly what is being done in Nature where the conditions are right. The difference being that we are learning to do it consciously."
NB: At times, the temperature inside the hot yoga room can feel more pleasant than outside. A happy side effect of a hot room practice during warmer months may mean that the day to day heat becomes easier to deal with.
5. Skin and Body Care
I'm a little addicted to taking a warm bath a few times a week; I find it is a lovely way to rejuvenate and relax for 15 minutes. I add Epsom salts once a week to relieve my muscles; you can buy a bag at any chemist/drugstore.
For some TLC after sweating, applying a Hydrating B5 Gel along with an antioxidant and moisturizer performs a dual duty: the combination protects my skin, and keeps it hydrated.
If you have some extra 'spa time' during the week, I recommend fresh papaya for a refreshing face mask. Simply mash up two tablespoons of the tropical fruit and slather over the face; leave for 15 minutes*; then, rinse with warm water. The skin glows, thanks to the enzyme, papain, which helps acts as an exfoliant.
*Cut some extra papaya into cubes and have as an antioxidant nutrient rich snack while-you-wait.