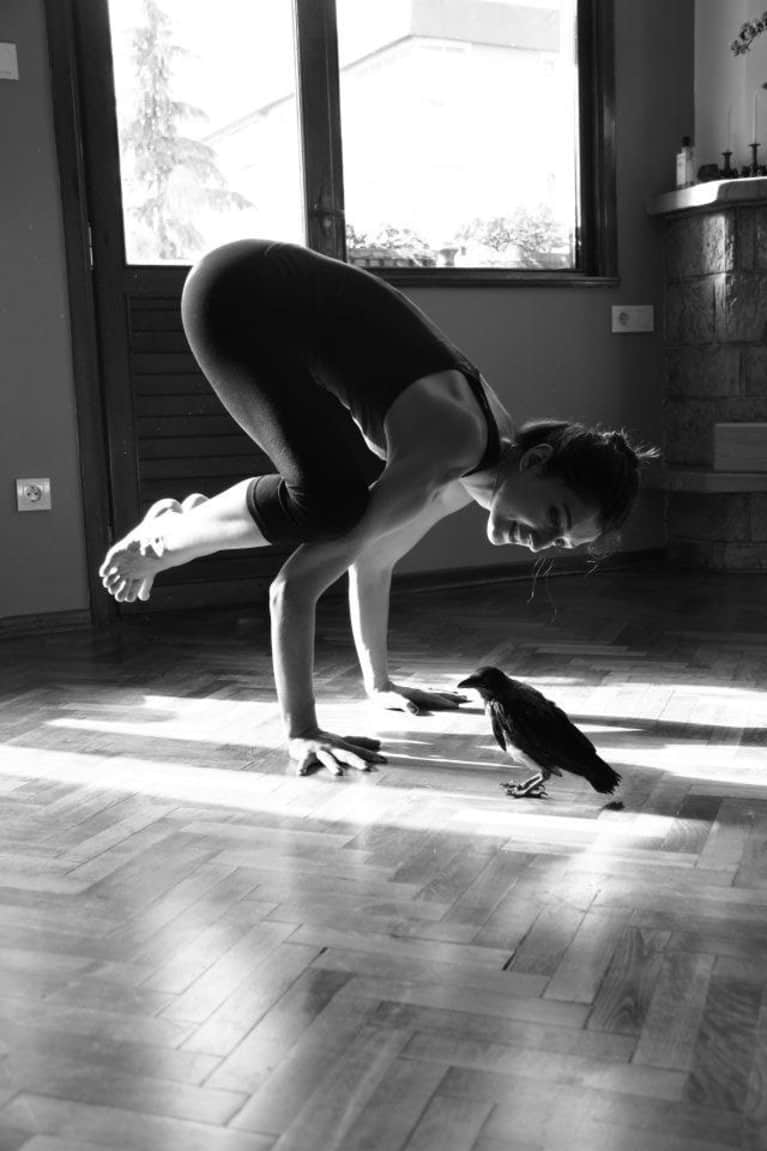 I love bakasana. I haven't always loved it, but now it is one of my favorite poses. Not only does it strengthen and open the shoulders, arms and wrists, but if gives me a sense of lightness and weightlessness that I don't often get walking around on two feet!
A dear friend of mine, Gizem (pictured with Gonzo the crow), recently adopted a baby crow she found roaming the streets of Istanbul. She has nursed the little crow into a strong and able bodied one. Seeing her and Gonzo reminded me of my own personal journey with bakasana and I wanted to share it with you so that if you have not yet enjoyed the benefits of the pose, you soon will.
When I think about bakasana, I smile. But, as I mentioned before, it wasn't always so. I remember the first time my yoga teacher asked me to balance on my hands and lift my feet of the ground, my face tilting perilously over the ground in front of me. A smile was the furthest thing from my face.
However, little by little, I continued to practice, lifting one foot, then the other, until one day they both came up and there I was, flying like a crow.
When I look at Gizem and Gonzo I am reminded of how my own yoga teacher took me from a flightless, and perhaps lost, little bird, wandering the streets of Istanbul and helped turn me into a strong and confident, not to mention airborne one.
All it takes to achieve this is some determination, guidance and encouragement.
As a recently certified yoga teacher, I have had the joy and opportunity of teaching bakasana to a few students and seen the results first hand. Doubt and uncertainty quickly turned into confidence and smiles. I think they may have even enjoyed themselves!
So if you aren't already a fan of bakasana, get out there and try it. And if you are a devoted frequent flyer, then take a moment and be grateful to your body, your mind and that teacher that gave you the courage to spread your wings and fly.