How to Create a 'No Stresspassing' Zone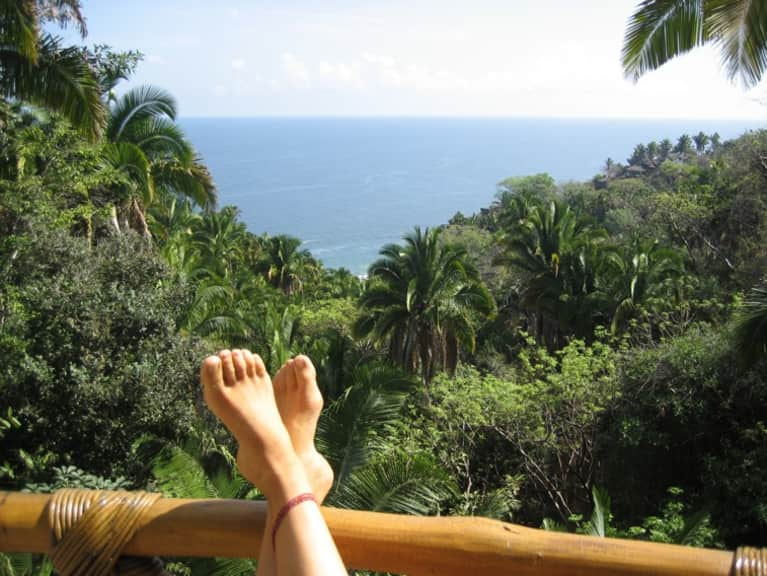 Do you have a "no stresspassing" zone? If you don't, it might be time to consider creating one. In this crazy world it seems that most of us struggle with some degree of stress. I'm amazed that even though I live in the jungle—a place of natural beauty, tranquility and balance; a place where I am continually reminded of the essence and simplicity of life and art of being slow—I frequently myself rushing around blindly, suffering from the twinges and anxieties of stress.
I've often been encouraged to incorporate meditation into my daily routine and though I know that meditation offers a path to calming the mind and potentially reducing stress, I've found that unless I'm committed to a group meditation, my personal meditation practice often falls to the bottom of my "to do" list. However, keeping my sanity is a priority and I know that I need some strategy to free myself from the stresses of the day. So... I'm delighted to have discovered that when I re-frame the idea of meditation as more of a "no stresspassing zone" I am much more likely to integrate this into my daily routine. My no stresspassing zone is a place where I give myself permission to let it all go and just be. Sounds inviting and kind of fun, right?
Here are simple ideas for your unique "no stresspassing zone".
1. Pick a physical place. The easiest way to get started with your no stresspassing zone is to designate a physical place. For me, my hammock is my sacred, stress free place. When my feet leave the ground and I find myself looking up at the palms while enjoying the gentle sway of the hammock, my mind and my body shift gears. I give myself permission to leave my hurries and my worries behind. So what is your hammock equivalent? Do you have a favorite comfortable chair? Maybe a favorite bench by a lake or a river? Or maybe a particular room in your house. Pick your spot and then commit to keeping this as your special place of no hurries, no worries, no work and no stress! Whenever you come to this place, you can let the wind blow your "to do" list away. This is a sacred place of relaxation, enjoyment and presence.
2. Let others know. A no stresspassing zone is no good if someone can just waltz in and disrupt you! As you create your no stresspassing zone it's a good idea to share this with your family and friends. Sure, they may think you're crazy but you'll be training them to respect your space! Be sure to tell them that in order to be everything you want to be everything you want to be for them you need to take care of yourself as well. Turn off your cell phone, put a sign up on the door, do whatever you need to do. Make an effort to make this a sacred space.
3. Create a strategy for your zone. It's up to you to decide what is and what isn't invited to join you in your stress free zone. Many of us have a hard time going from fast paced living to a halting stop; when you think about it it's not really very natural to slam on the brakes in your life. So you might need to consider a tool for slowing yourself down and easing yourself into your stress free zone. Physical items (ideally technology free) such as a sketch pad, a journal, knitting, and listening to gentle music are all great tools for slowing your mind down. Figure out what works best for you and then use that tool to start slowing your mind down. Ease yourself into leaving your hurries and worries behind.
4. Set your intention. When you enter your no stresspassing zone make a habit of reminding yourself that you are the only one who controls your thoughts. As you enter your zone, you're simply choosing to let them go. Set your intention around this; where your attention goes, your energy flows. It's also important to keep in mind that fear and worry are simply thoughts in motion. You have the power to free yourself from worry, fear and stress, you simply have to set your mind to it.
5. Pick a time. Many of us are creatures of habit and routine. If a no stresspassing zone sounds like a good idea to you then you might want to schedule this into your daily planner. If time is scarce, try starting small. Setting your alarm 15 minutes earlier than necessary is a great way to give yourself time to visit your no stresspassing zone. Whether it be right away in the morning or later in the day, you know you've given yourself an extra 15 minutes that are just for you.
I think you'll find that you'll really start to look forward to visit your no-stresspassing zone.I know I do! My time in my hammock is a buoy of sanity in a world that is frequently stressful. Creating a no stresspassing zone is just one element involved in keeping a healthy balance in your life. It's crucial to listen to your unique body and really figure out what food choices and lifestyle choices work for you. Check out my free guide to get started with listening to your body. Also be sure to check out my upcoming 30 Day Nourishment Challenge!