5 Ways to Reignite a Dwindling Yoga Practice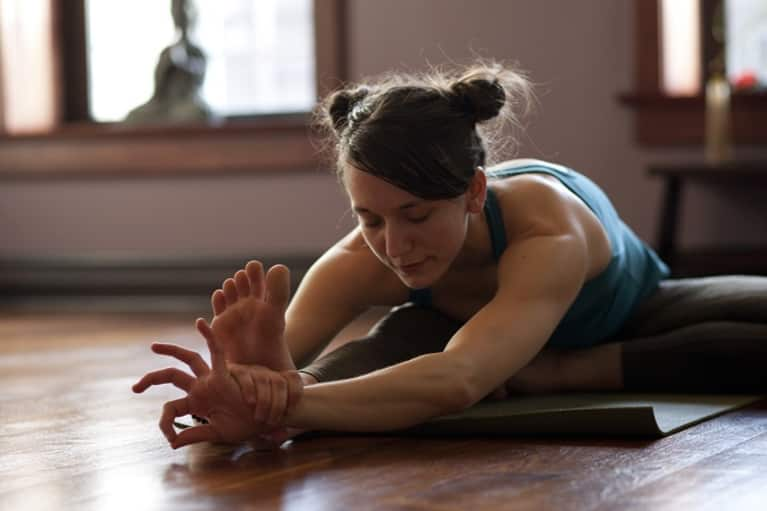 I've been teaching yoga for about three years now, and I've been practicing for about eight. My journey began as a pretty mellow interest in yoga as a lifestyle, with small ups and downs. I liked it, I always came back to it, but it hadn't really grabbed me yet. Yoga ebbed and flowed with the rest of my life until one year, when my life path was taking twists and turns—when I found myself feeling uprooted in more ways than I could have imagined—yoga changed.
Suddenly, my yoga was no longer just a physical practice; my yoga changed to a life path. And just like that, yoga exploded into my life in a whole new way. Within a year, I was a teacher. And within months of becoming certified, I was beginning a mentoring program and teaching in two studios in Chicago. And I was ecstatic!
As many of you know who have caught the "yoga bug," once it really takes a hold of you, and it really reaches its height, its presence in your life can often not be imitated or replaced. But despite this significant place it holds for those who truly love it, we still might experience ups and downs in our connection to the practice that first stole our hearts. If you find your passion for your practice is dwindling, try following these 5 tips to get back to your yoga:
1. Go back to your roots. Start taking that beginner level class you took when you first started practicing yoga. Spend this time practicing your breath and your abdominal locks. Make your effort strong, purposeful, and focused inward. Reconnect with your inner yogi. Instead of the practice being about mastering an asana or reaching your physical edge, make it more about your inward journey through class.
2. Try out a new studio. Exposing yourself to a new studio is an excellent way to step out of your routine and reexperience the vibrancy of yoga that first attracted you. Whether it be new teachers, new flows, new themes, new music, or just a new setting, you can experience yoga again through the eyes of an excited beginner.
3. Talk to your teachers. Sure, you listen to them for an hour or longer and you might feel there's nothing else to say, but talking to your teachers after class can reignite a dying flame. Yoga teachers are teachers because they're passionate about yoga! Let your practice be ignited by their personal expressions of that passion. Say hello!
4. Truly express yourself through your practice. Recognize that your teacher is a guide, but that there are no hard, fast rules in class. If you want to breathe a little longer, use a block or a strap, drop into child's pose or take off into half moon, go for it! Hang out in savasana longer, smile, giggle, sigh, do it all... just be you! Yoga is a physical practice, but it's also a spiritual practice, and YOU are an expression of your spirit. Allow your spirit to become involved in your practice.
5. Start a home yoga practice. I know, I know, this might seem somewhat intimidating. But, hear me out.
Practicing at home is a beautiful way to express yourself through yoga! No one to compare yourself to, no one to listen to but yourself, no one telling you where to go next or what to focus on, and no one telling you when you can practice. You like hips? Go for it! You want a 15 minute savasana? It's all yours! And as an added bonus for those of us who just can't find peace in the thought that we might not be doing it "right" (which, by the way, doesn't really exist*) it might also inspire you to find a book on yoga, read more, or reach out to your teachers for input. And what better way to reconnect with why you love yoga than through exploring it even more.
*Per my commitment to safely spreading this practice to others through teaching, I must add in here, of course, please be careful in whatever you choose to explore in your home practice! Be nice to your body!
So, go practice! Take notice of the little things that first sparked your inner yogi fire. Explore new realms of yoga. Express YOU in your yoga. Practice the asanas of yoga, practice pranayama, and practice living your yoga. Yoga is obviously a beautiful and challenging physical practice, but it's also a path. Find your passion for the path and reignite your yoga!
Photograph of Diana Oppenheim by Scott Shigley