5 Life Lessons Beyond the Yoga Mat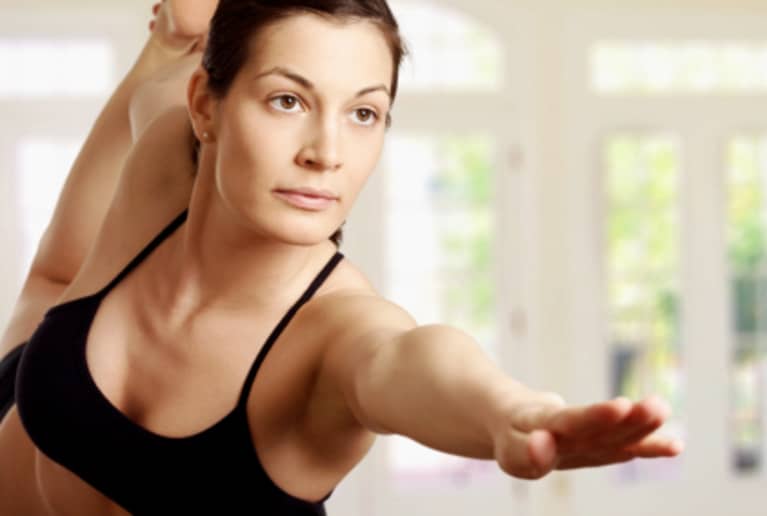 One of the most satisfying experiences in yoga is overcoming obstacles. Whether it's finally finding balance in Toe Stand; easing up tight knees in Fixed Firm; or, in my case, setting aside the fear of an old injury and progressing into Standing Separate Leg Head to Knee pose.
After months of trying in my Bikram yoga class, I decided to put mind over matter; I madly contracted my thigh, and willed my right leg to stay straight as I curled in and out of the pose. I had to steady my balance somewhat but the shaky ground gave way to completion of two full sets of the pose. I was on a high – I did it! Was this a revelation? Whatever it was, I shared the good news with one of the studio's teachers, Corinne. A couple of minutes into the conversation, she asked, "Do you apply your learnings from the yoga room, to your everyday life?" From one challenge to the next; I pondered this question for weeks.
Although I wasn't very eloquent in answering Corrine at the time – I mentioned something about applying the discipline of the practice during periods of procrastination – over the many days that followed, I came to realize that my change in attitude and outlook changed the day I set foot to yoga mat. The thing is, any deliberate 'App'lication of what I learned in the room was lost to my subconscious where it received neither further acknowledgment nor mindful thought.
Since this recent shift in perspective, I've become conscious of my actions outside of the yoga studio; when I face a challenge, I remind myself to breathe it out, and maybe to just smile it off. No matter how big or small the impact, a concentrated effort has made a difference to moments of my every day. The past is the past, yet if only I had paid attention to this 'App' concept years ago…
I share with you a few observations that you may identify with, or which might help you get closer to your edge outside of yoga.
1. The Breath
Learning: A challenging yoga practice is made a lot more enjoyable when we control the breath; reining it in to an inhale-exhale count of 4, helps alot. One of my Bikram teachers, Aaron Zisman, says, "Try to match your exhale to your inhale. There's more than enough oxygen in the air but if you don't exhale enough, carbon dioxide can build up; it will feel just as uncomfortable as not having enough oxygen."
App: Outside the safe zone of the room, remembering to breathe in deep and controlled intervals during stressful situations helps minimise perceived anxiety. Aaron's words have helped me overcome potentially uncomfortable situations; I recently passed these words along to some friends, to remind them to breathe through the tough times. The breath is the key.
2. Patience
Learning: With a consistent asana practice, small improvements happen over a period of time. So, a (usually) difficult posture may one day feel much easier to fold into, and unravel out of. Rushing can be overrated. As Bikram Yoga teacher, Omri Kleinberger, often reminds his classes, "You have your whole life to do yoga."
App: By practicing patience outside the room, we can potentially overcome things that may have otherwise proven injurious if acted on too fast. Just think: we have our whole lives to live – enjoy the momentary pauses.
3. Empathy
Learning: Yoga is practiced by many different bodies which means your Half Moon pose may look completely different to mine. There could be any number of reasons for this –anatomy, inflexibility, injury, or just having an 'off day.' Whatever the case, being present in the room heightens our feelings of empathy – we've all struggled.
App: Yoga fosters a sense of compassion; personal challenges are inevitable outside the room despite being less obvious than in the class. Embracing empathy is something to keep in mind when a friend, colleague, or even the barista is having a bad day.
4. Ease
Learning: Moving with grace into a pose encourages a sense of effortlessness; setting aside any (idealized) expectations means letting go of rigidity. It sounds cliché, but going with the flow can sometimes make the difference between holding a posture, and falling out of it. Have you had one of those days, when you move into Standing Bow without a thought; only to realize that you actually nailed those 60 seconds?
App: Exercising effortless ease outside of the room relaxes the mind; decreasing the pressure we place on ourselves minimises the tension build up in our shoulders and necks which means less pains to deal with. Less 'overthink' = less headaches.
5. Smile
Learning: It's not uncommon for a teacher to suggest that the class smile prior to moving into a pose. If you've experienced the effects of upturned lips, or even laughing at a teacher's joke in class, you'll know that smiling works. Suddenly, the energy of the class lifts, the poses feel a little easier, and you lift that inch higher in Locust pose.
App: Smiling outside of the room can elevate an 'ok' day to a great day. I promise that you'll experience some 'feel good' moments that otherwise may not have happened. Giving someone a smile may just mean receiving one back.
Always keep your smile. That's how I explain my long life. ~Jeanne Calment