4 Remedies for Healthy & Vibrant Summer Nails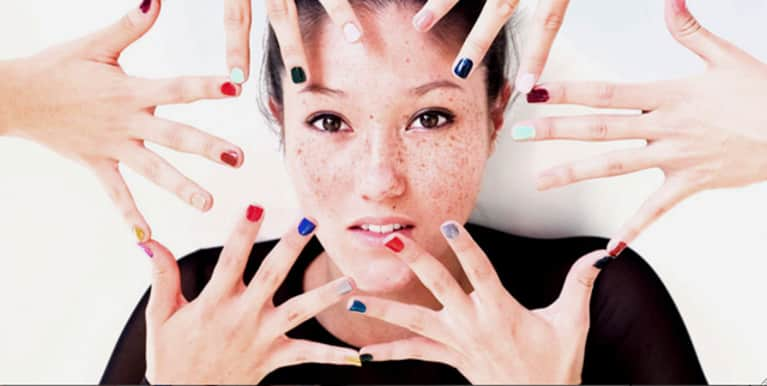 The summer sun is out which means it's time to show a little more skin, feature those translucent pink toes in toe-peeping sandals, and glam up those fingernails with brightly colored polish. But if discolored nails, fungal infections, and dry cuticles have you fearing nail exposure, here are four tips to revamp those dull nails and make them pop in your glamorous peep-toe pumps and strappy wedges.
1. Cuticles: Dry, Cracked, and Damaged - Oh, My!
Damaged cuticles are a fashion-don't not just because they keep you from having knock-out nails. Cracked cuticles - which result from using too many harsh chemical soaps or repeatedly trimming, pushing, and prodding around the nail root - are a breeding ground for yeast and bacterial infections. When we probe around our cuticle beds and abuse our hands and nails with harsh chemical solvents, we disrupt the once watertight space under the nail fold. The result? Bacteria sneak in through the damaged cuticle and our nail beds become home to these pesky, infectious microbes.
The solution? Indulge in regular, therapeutic cuticle soaks to keep your nails hydrated, nourished, and damage-free. I love to soak my fingers in castor oil with a few drops of frankincense essential oil or to rub my nails - devoting extra attention to the cuticles - with coconut oil. I apply coconut oil to my hands and feet after showering in the morning or leave it on my fingers and toes overnight with cotton socks and gloves to seal in the moisture.
2. Pesky Fungus Busting Your Nail Beauty? 
Healthy nails should be translucent pink with a subtle gloss. If you find fungal overgrowth invading your nails, pick up a bottle of pau d'arco alcohol tincture to remedy the situation (available online or at a local health food store). Apply one-half dropper-full under the infected nails and, for even better results, follow that up by painting the nails with 3-4 drops of DMSO (dimethyl-sulfoxide), also available in health food stores.
Remember that the health of our nails reflects our internal health. If a nail fungal infection becomes chronic, it may be a sign of an internal imbalance, particularly an underlying candida (yeast-overgrowth) or fungal infection. To clear up the imbalance and get your body back on track, follow an anti-candida diet. Choose meals with yeast-fighting power by eating low sugar, yeast-free foods and rich, alkaline greens. Avoid high carbohydrate and sugar-based foods such as sweet, seedless fruit; yeast-containing bread; pasta; potato chips; candy; and soda and rebalance your intestinal flora with a high-quality probiotic supplement.
3. Nail Biting Intervention
Can't kick the nail-biting habit? Nail biting may be linked to the presence of parasites in the body as well as a lack of alkaline minerals. To increase alkalinity, choose colorful, fresh, raw plant foods like alkaline-rich herbs or fresh, organic leafy greens. Make raw salads or toss your greens in a blender with your favorite fruits for a smoothie bursting with balancing, alkaline nutrients. If the problem persists, try a natural parasite cleanse.
4. Are Your Nails Slathered in Chemicals? 
Summertime means pretty polished toes and fingernails. But if you're rockin' popping nail polish colors with no idea of what's in those nail paints, beware! Many brands of nail polish and polish remover contain known carcinogens. Remember to keep your fingers and toes both brightly colored and healthy by choosing brands that are toluene-, dibutyl phthalate- (or DBP), and formaldehyde-free. Many health food stores carry the "three-free" nail polish brands which come in a plethora of summer-loving colors without all those icky chemicals.
So it's time to put these remedies to the test and work those toes in glamorous summer sandals. And with newly revitalized nails, get ready to feature those fingernails with popping color or in their natural, translucent pink beauty!
image via NoMoreDirtyLooks