What You Need to Know About Sunscreen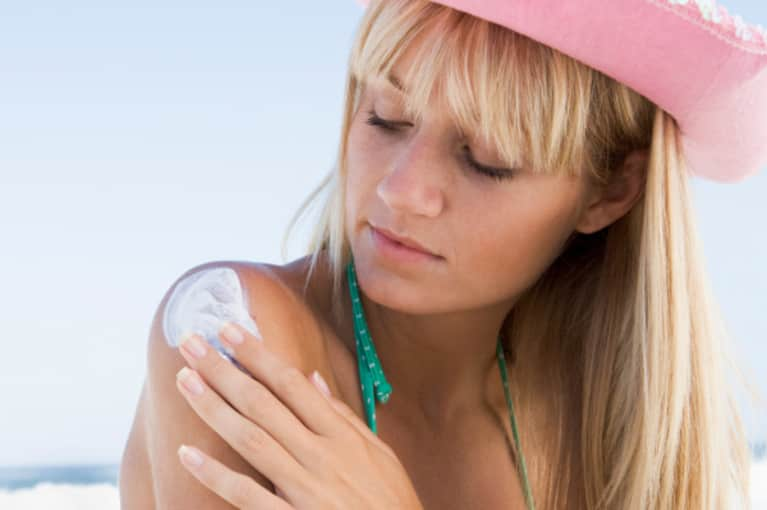 It's that time of year – the days are getting longer and warmer, and hopefully we will all be able to start spending more time enjoying the great outdoors! Relaxing days spent basking in the sun can be quite heavenly, but the side effects of sun damage – sunburn, peeling, wrinkles, and in some cases, skin cancer – are definitely not! This brings up the inevitable question of "what should I do about sunscreen?" There is certainly no shortage of sunscreens to choose from in our society, whether you are shopping at the drugstore or the department store. However, what you might not realize is that the majority of sunscreens on the market may actually cause your body more harm than good! Conventional sunscreens may prevent sunburn, but they may also be hazardous to your health in the long-term.
When shopping for sunscreen, take a careful look at the ingredients list and any other labels on the bottle. I have listed below some ingredients and claims that you should avoid, and those that you should choose, when purchasing sunscreen.
Avoid Sunscreens with:
Vitamin A (retinyl palmitate) – This substance is an antioxidant that prevents skin-aging – doesn't sound too bad, right? The catch is that while Vitamin A may be safe to put on your skin at night, say in an anti-aging cream, is can be harmful when put on during the day because when this compound is exposed to sunlight, it causes the release of damaging free radicals. In turn, these free radicals can cause skin irritation and speed the growth of skin tumors and lesions.
Nanomaterials – Zinc Oxide and Titanium Dioxide were, for many years, the most common ingredients in sunscreens. However, they leave a white residue when rubbed on your skin. Nanotechnology as it pertains to sunscreen involves dramatically decreasing the size of particles in Zinc Oxide and Titanium Dioxide so that they can be absorbed by the skin and rub in clear. The concern with nanomaterials is that so little is known about their effects on the body, and they are able to be absorbed through the skin in large quantities.
Oxybenzone – This substance has been shown in studies to be a potent hormone disruptor, mimicking estrogen within the human body and potentially leading to diseases such as breast cancer, endometriosis, decreased sperm count, and prostate and testicular cancers.
Fragrance – "Fragrance" can include a number of harmful ingredients including parabens, which are also hormone disruptors, and diethyl phthalate, which is a plasticizer and solvent.
Now that we've seen what to avoid, here's a list of some things that you should look for when buying sunscreen, and a few other tips to help protect your skin:
Choose sunscreen with:
Non-nano Zinc or Titanium Dioxide – Non-nano mineral sunscreens create a physical barrier on your skin, hence the white residue they leave behind. However, they are not absorbed into your body in large amounts, so they are a much safer option. In my opinion, looking a little bit paler than normal is a small price to pay in return for a healthy body!
UVA and UVB Protection – Your skin needs to be protected against both long-wave ultraviolet radiation (UVA) and middle-range ultraviolet radiation (UVB). UVA is present throughout the year and penetrates into the deep layers of your skin, where it is more likely to damage cells that lead to skin cancer. UVB only reaches the outer layers of skin, where it can cause sunburn and hyperpigmentation. Most conventional sunscreens only protect you from UVB radiation, but it is very important to be protected from both types.
Some More Helpful Tips:
Avoid the noontime sun – this is when the sun's rays are at their brightest, and skin is more susceptible to burning.
Find Shade – if you are spending a long time outdoors, seek out some shade to give your body a break from time to time.
Wear Protective Clothing – if you are going to be outside for an extended period of time, choose clothing that will help protect you from the sun, whether it is a long-sleeve shirt or a wide-brimmed hat.
Whew, this is a lot of information! If, like me, all of this information has made you overwhelmed and unsure of where to start looking for healthier sunscreens, I would highly recommend going to Environmental Working Group's cosmetic database called "Skin Deep."
Skin Deep rates the healthiest sunscreens on the market, many of which are widely available in stores like Whole Foods Market or can be purchased online.
I hope this information is helpful, but by no means do I want you to be afraid of going out in the sun! Just take the necessary precautions, and you can protect your body while simultaneously reaping the health-boosting benefits that the great outdoors have to offer.