10 Tips for Translating Yoga Teaching into Wellness Lessons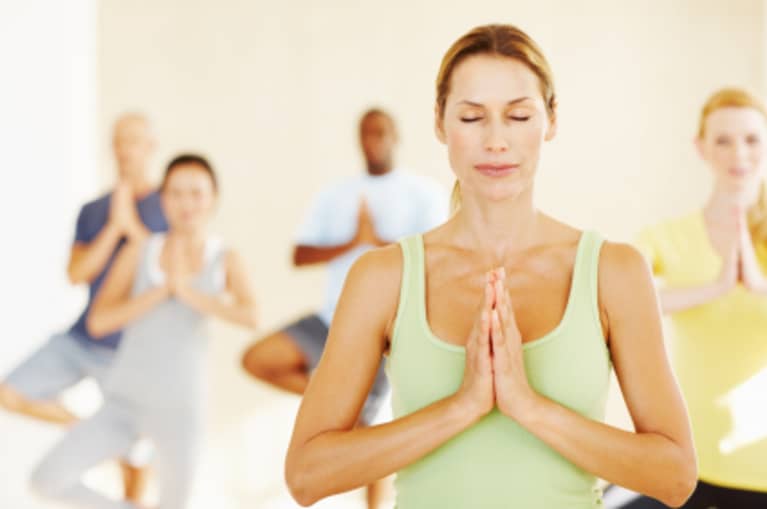 Over the past year, I've developed a number of presentations focused on wellness. I've presented in a number of business settings, including hospitals, business organizations and companies of varying sizes. This has become an important piece of my business because it gives me a different way to share wellness information. While teaching yoga is my main offering, part of my strategy is to look for other ways to share my knowledge.
If you're interested in developing this kind of offering, here are some tips to get you started:
1. Give people what they need: Regardless of the presentation's setting, it's safe to say that your audience will be filled with people dealing with stress. Give them useful tips and techniques they can use to decrease the stress in their life.
2. Leave them with a reference tool: Much of what you say will be forgotten if it's not written down and much of what you show will fade away as well. Leave them with a handout that highlights the essential tips so they can reference it as an ongoing support. I like to make videos for my website, barebonesyoga.com, as well as my YouTube channel so people can refer to them after the talk to guide them through meditation and yoga.
3. Look for yoga's wellness themes without focusing only on yoga: Unless your presentation is going to be specifically about yoga, it's benefits and how to practice, look for the common wellness themes that you emphasize in your classes. Focus, deep breathing, staying positive, living your passion, being compassionate and grateful; these are all themes found in yoga that can help anyone live a healthier life without ever stepping on the mat.
4. Demonstrate: I've put lots of people in Legs-Up- The-Wall Pose in presentations and I've personally been barefoot in more non-studio settings in Boston that I can count. Get people up and moving their bodies. Show them some stretches they can do at their desk. Take them through a brief meditation exercise. Guide them through some deep breathing exercises. The more you can get them feeling the impact of what you're saying, the greater chance they'll follow up on their own.
5. Keep your language simple: Remember, you're not in a yoga studio. Yes, you're a yoga teacher and you know Sanskrit and yoga philosophy. But, unless your presentation is specifically about yoga history, keep your messages, tips and language simple. Many people coming to your talk will hear you're a yoga teacher and, if they don't practice yoga, will automatically discount that what you have to say will apply or be helpful to them. It's your job to help them see that the messages of yoga, both in action and in spirit, are highly applicable to anyone and even more so in today's fast paced world.
6. Get them participating: There is nothing worse than a presentation where the presenter talks "at" you for an hour. I like to mix in exercises that the participants can do which will illustrate one of the themes of my talk. One of my favorites is to have people draw a circle and divide it up into segments that reflect the time they spend on critical things in their life: work, family, exercise, feeding their passions, personal life planning and other areas. This exercise helps them see if they are living out of balance and it allows for a discussion around time management so they can start living more in balance and doing more of what they love.
7. Share real life stories from your teaching: Help people see how yoga, meditation and other wellness techniques have helped some of your clients by sharing some high-level information about their stories. Of course, you'll refrain from using names or identifying information but this is a way to help people see the impact of taking better care of their bodies and minds. One of my favorite stories is from client, a physician, who told me that after a few months of practice, she could finally start to feel her feet while at work. She felt this was a direct result of feeling her feet solidly underneath her during yoga; she felt it helped her stay connected to her body while in stressful situations at the hospital.
8. Stand up and remove as much furniture between you and your audience: Just as in a yoga class, you want to be close to the people in the room. Move tables, chairs and anything else you can. Make it more like a conversation around a fireplace and less like a presentation in a corporate setting under fluorescent lights.
9. Smile, be yourself and speak from the heart: Before every talk, I am always nervous thinking, "What do I have to share that's of value?" But I truly believe that the information is helpful and can recognize that this is just self-doubt rearing it's ugly head. Be as relaxed as you can in your body; move around the room, look at people directly and warmly, encourage people to share and answer questions.
10. Be sure to leave them with a way to reach you! This is so important. Whether it's a business card, an article you've written with your contact information or your website, be sure to leave them with a way to reach you. This will help you develop new business leads as well as new client relationships.
Getting outside the yoga studio and talking about wellness will give you another way to earn money, share what you know, build relationships and grow your business. Once you do a few of these talks, word will spread and your opportunities will increase. Don't forget to tell your private clients as well as studio class attendees about your offerings so they can see if their employers might want you to visit. Also, post what you're doing on social media so your connections can see also This is a great way to get new speaking opportunities.