What You Need to Know About Dandelions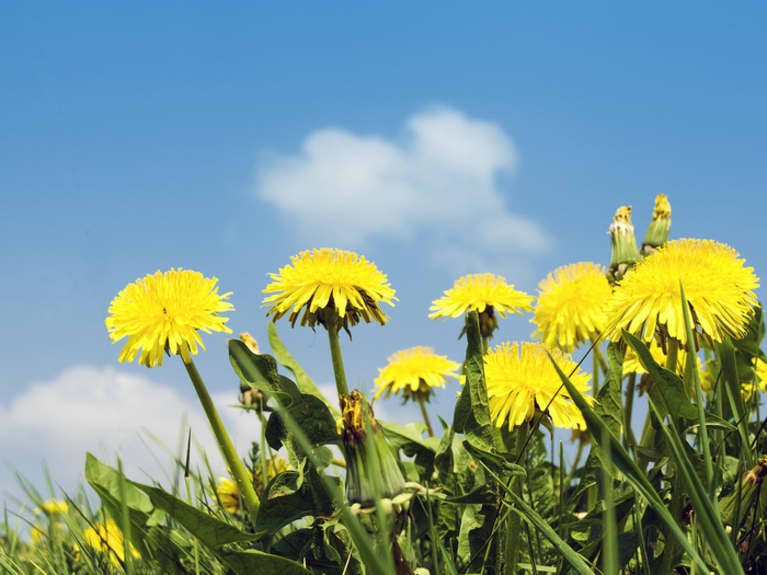 With the arrival of spring comes the inevitable carpet of dandelions covering every inch of green and tenaciously poking up in concrete landscapes as well. They're little fighters, seemingly able to grow anywhere, which tends to be an annoyance to those who love perfectly green lawns, but I'm happy to report that dandelions are totally rocking the health world. This little "weed" is making appearances at local farmers' markets and health food stores as more and more people are returning to the wisdom of the plants.
Dandelions have many amazing qualities, and I'm psyched to share what I know, since I've adored them since I was little (maybe intuitively knowing how wonderful they were?). I hope you'll read this and then go hang out in the grass, full of a heightened appreciation for taraxacum officinale or "lion's tooth".
Why dandelions are such rock-stars:
Dandelions are powerful medicine. The Greeks called them the "disorder remedy" for their ability to cure a myriad of ailments. They have been used to relieve constipation, eczema, psoriasis, gallstones and osteoarthritis.
Dandelions are the king of liver support. After eating heavier and fattier foods all winter, we're generally in need of some liver detoxification. Brilliantly enough, one of the first edible foods to appear in the wild each spring are dandelions, meaning that Nature knows best, providing us with bitter greens to stimulate bile production, promote healthy digestion and clear free radicals from the bloodstream. The lymphatic system is boosted by this and your whole body gets a great cleansing kickstart!
Dandelions are a strong ally to women during menstruation. They have been used by Native Americans, Chinese herbalists and Ayurvedic healers to support and nourish the reproductive organs. Dandelion is used to ease cramps, calm upset stomachs, soothe acid reflux, as well as release water retention and bloating. If you've had any of these issues, dandelion should be your new best friend!
Dandelions are packed with nutrients. The roots contain calcium, chromium, iron, manganese, magnesium, niacin, phosphorus, potassium, protein, riboflavin, sodium, zinc, vitamin A and vitamin C complex. The leaves contain omega-3's, vitamins A, B, and D, potassium, iron, calcium and phosphorus.
Dandelions create instant on-the-go glamour. See below.
Six rock-star uses:
1. Eat them: Several giant handfuls of dandelion greens, steamed with some garlic, white balsamic vinegar and a pinch of sea salt. Yum. I could eat bowlfuls. And since you can gather dandelions just about anywhere, it's a completely free meal. Just make sure you're not harvesting from a chemical doused lawn or anywhere too near a busy road. Take the opportunity to go exploring off the beaten path in search of tonight's dinner!
2. Drink them: In a green juice, that dash of bitters adds some amazing digestive enhancement to an already powerful shot of green energy. Apple, ginger and lemon help balance the bitterness but don't take it entirely away, that bitter taste is part of what stimulates digestion!
3. Tinctures: a very effective way to use them medicinally and easily found in health food stores or from your local herbalist (or farmers' market). A good daily dose might be 10-40 drops per day.
4. Dandelion Honey: In a glass mason jar, I fill it 1/4 full of freshly minced dandelion leaves and flowers and drizzle enough local, raw honey over the top until it's covered, then begin mashing it with a wooden spoon or pestle and let it sit for several weeks. It lasts indefinitely since honey is the most potent natural preservative. The potency will increase as the honey crystallizes with the plant material. Use in tea, drizzled in your morning yogurt, spread on toast (I personally love it on home-made gluten free flatbread) or take by the spoonful. Honey has incredible healing elements itself so mixing it with the dandelion is an excellent way to take your medicine!
5. Dandelion massage oil: Make your own with organic olive oil and fresh dandelion leaves and flowers (gathered when they are dry/free of dew). Chop the plants up and fill a jar, pouring the oil over the herbs, making sure to cover all plant material right to the top. Stir to incorporate and make sure they're covered, and place the labeled and covered jar somewhere dark and relatively cool for six weeks. Note: Make sure the jar has been filled to the very top so mold doesn't grow, but if it does, simply skim it from the surface and fill the jar back up with oil. As long as it stays on the top of the jar, it won't harm the oil. After six weeks, strain and store in a dark glass bottle, using as needed. Add a drop or two of lavender essential oil for extra soothing and healing properties.
6. Adornment: Make a bohemian-chic crown and unleash your inner child or indie rockstar.
However you use them, get outside, gather some dandelions and rock on.
image via