Learning the Fine Art of Loving Ourselves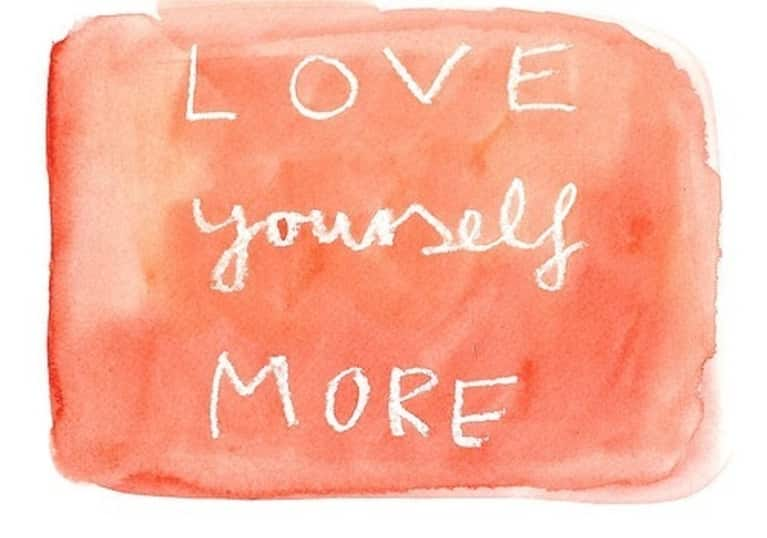 Poets write about it, countless songs have been written about it and perhaps some might even argue that a war or two was fought over it -- I am talking about love, amore -- the language of the heart. The one thing we cannot live without as humans, besides air and our cell phones of course. From, the moment we can talk, we learn to say "I love you." Yes, love is indeed grand, but unfortunately love does come with a price, and that my friends, is where it indeed gets tricky. We all know this reality, oh too well, from the countless broken hearts we may have suffered along the road to blissful love. We all seek our soul mates, someone to complete us and make this journey here on earth meaningful. What if we could find that kind of completion within -- what if we turned inward to our infinite spirits and embraced ourselves as the love of our life?
We are never taught to love ourselves first and foremost in as children, that is a "no, no" in our western culture. We must not be narcissistic or self-centered. We must put others first and chase after their affection so as we might feel fulfilled as human beings. Once we find that elusive thing called "love" then we have to hold on to it and cherish it, nurture it, protect it. No argument out of me on that one. But what about self-love-where does that fit into the equation? Just as important, if not more so than loving others -- yet we never really talk about it and certainly don't encourage our children to practice it. We want them to be confident but not cocky. What is wrong with being a little cocky when it comes to loving ourselves? I mean aren't we worth it? Look around at all the broken and failed relationships and ask yourself why? Perhaps it is because we cannot give what we ourselves do not possess. How can we truly fall in love with another if we have not fallen in love with ourselves? I know, you've heard it all before and then some and quite frankly are sick of hearing about it. But really think about it for a second. All this searching we do in our lives to find happiness, doesn't it always seem to come back to ourselves?
If we don't honor our internal light and feed the flame so it shines like a beacon, how can we attract all that we desire? Look around you and imagine a world where love was the only job any of us ever had to work towards-the ultimate goal in our life journey. This is possible, but it has to begin within. We have to learn to fall in love with ourselves.
Learning to love ourselves first begins with self-dialogue. What are the messages you are giving yourself every moment of your life? We only use 10% of our conscious minds that means 90 % of the messages we are giving to ourselves are subconscious. It is mind-boggling just how many negative thoughts run through our minds every second that we are completely unaware of. In order to change the messages we give ourselves, we have to go deeper than just posting little messages on our mirrors and every once in a while say something positive to ourselves. We have to practice it on a deeper level, so it infuses every cell of our being. Our cells have memories, so we must create new, healthier messages that our cells can work with.
Each morning before you rise, the first thought in your mind should be a loving one. No matter what the external circumstances might be in your life, wake up with the thought that you are an amazing, incredible, beautiful being. Train yourself to do this. Watch how a negative thought about the external circumstances in your life will try to trump it. Practice it like a religion-your self-love religion. While we say we want happiness, for many it is easier said than done. Set aside 15 minutes before you start your day to meditate. Just lie there in bed, breathe deeply and thank yourself, thank every cell in your body for taking such good care of you. Thank your immune system, your heart, etc. Thank it for being strong and healthy and for all that it does for you. If at first, you feel negative thoughts try to sneak in to under mind your efforts, ignore them, you have the power to change those negative thoughts with love and self-compassion. The key here is not to just say the words, but FEEL them with genuine emotion to your very core. The breadth and depth of this process can be so emotionally powerful, But I promise you so worth it!
The human body is such a magnificent machine which we take for granted. We never stop and thank it, love it, and honor it for all that it does for us each and every moment of our lives. Throughout the day, when you feel external circumstances creating distress, remind yourself that you are enough, you have every tool to be happy and you trust in yourself to handle everything that comes your way. If you begin to practice this ritual every morning, it will eventually seep into every cell of your being, and your core will then become grounded in self-love. You will discover that you are indeed enough and your relationships can only become more powerful once you discover the greatest love of all-self-love. Namaste!
image via