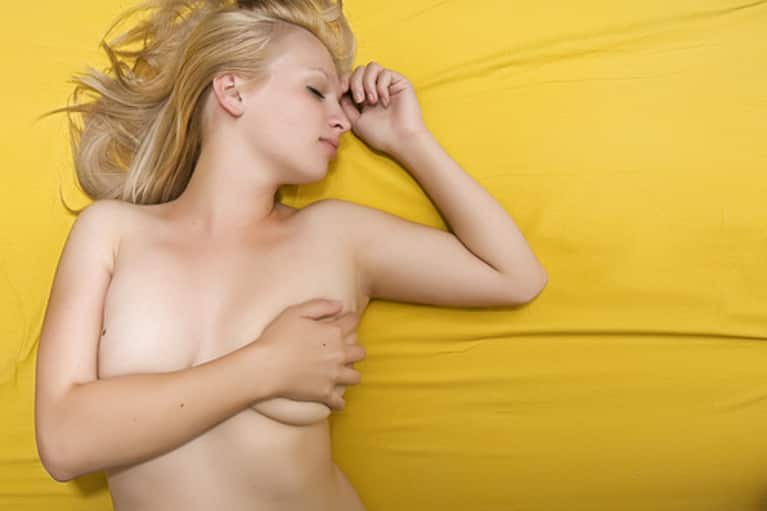 We all have days when we feel better than others. Getting a great night's sleep, leaving the office early or kicking butt in your boxing class are all great ways to contribute to your overall well-being. But let's face it, we don't have time every day to do all of these things. When we feel stressed out, we tend to turn toward comfort, which can often mean bad habits, and away from taking care of ourselves. Here are 7 tips, one for every day of the week, that will lead you toward a path of well-being. Start with Sunday's tip and build on throughout the week, so that by Saturday, you'll feel like a new person.
Sunday: Sleep Naked – That's right, stripping down to your birthday suit at bedtime is good for your skin, heart and mind. Summertime is just around the corner so I know you're looking forward to shedding those layers and getting some sun on your skin. But your skin needs to breathe all year round. By uncovering your skin, you'll allow for proper ventilation, circulation and help to regulate your body temperature. Plus you'll feel sexier for the next seven days!
Monday: Just Say No – To some 'no' may be an ugly word, but to me it means balance. Stop spreading yourself so thin and this week only make commitments to things that feel right for you. Say no to a kid's late bedtime request and yes to a bath instead. Say no to that last minute call to meet the girls for drinks and go get a massage instead. By taking care of your needs this week, you'll feel more focused, energized and confident.
Tuesday: Take the Stairs – While the gym might be calling, your boss' voice is louder. If you can't make time to get in a good cardio workout this week, commit to taking the stairs. This low impact aerobic exercise doesn't require any fancy equipment, (although you should probably take off those high heels), can be done in 10 minutes and it not only tones your calves, quads and glutes, but releases endorphins to make you feel happier too.
Wednesday: Laugh Out Loud – When was the last time you had an all out hearty, gasping for breath belly laugh? Make it a point today to tell a joke, listen to some stand-up or find a crazy cat video online. Laughter enhances your metabolism and invigorates your immune system by giving your internal body a workout equivalent to a jog.
Thursday: Sing in the Shower – If karaoke isn't your thing, take to your shower where everyone sounds great and you reap the benefits without the embarrassment. Opening your lungs and breathing deep into your belly increases the oxygen in your blood stream, simultaneously lowering your blood pressure. Also, learning new lyrics and melodies exercises your brain, while enhancing your memory.
Friday: Give Hugs – The weekend is here so share your joy and hug your neighbor, or friend, or dog. We've all been on the receiving end of hugs when we've had a bad day or are down in the dumps, but spreading your cheer is good for your health too. Giving hugs that are 20 seconds or longer lowers your blood pressure and diminishes stress -- both of which reduce your risk for heart disease.
Saturday: Take a Nap – Let's face it, there are not enough hours in the day to get most things done, let alone a full night's sleep. Make up some of that shut-eye on the weekends with a nap. Not only will you feel more rested and alert, a proper amount of sleep will increase your sex drive.
image via