Lessons From 108 Mala Beads on the Floor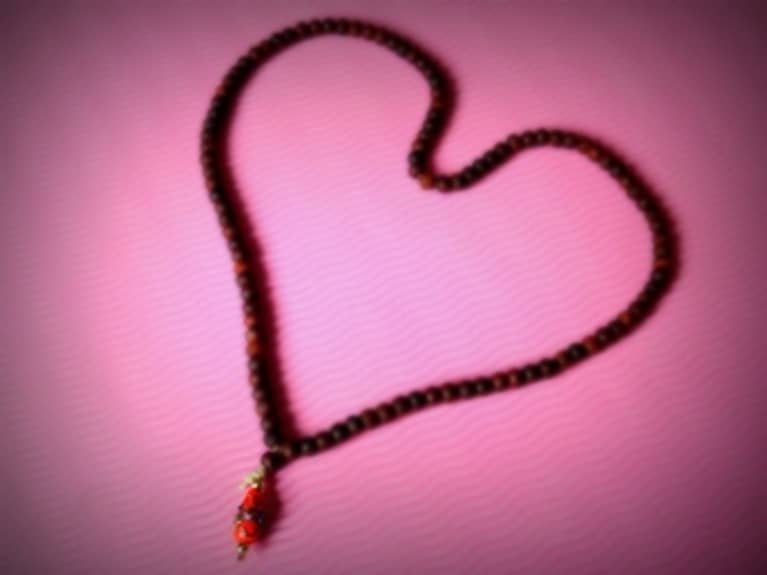 For those of you who are not familiar with mala beads, they are a string of 108 wooden beads used to assist one in the reciting of mantras. As each mantra is chanted one bead is moved along the string to allow the devotee to remain focused on the mantra. For me, they have become a sacred symbol of my devotion to my practice of yoga and my journey through the Yoga Therapy program. I have set many intentions and infused much gratitude, in these little wooden pebbles, through my meditations. As my practice continues to deepen, so will the symbolism of the beads as they accompany me along the path I am so graciously stumbling upon.
Last week my 10-year-old daughter, Paige, wanted to wear my malas on her wrist just like Mom does, and sadly they broke. One hundred and eight, pea sized, rosewood orbs dispersed everywhere throughout the yoga room. With tears trickling down her sweet face, this girl was genuinely upset and apologetic as she knew they were special. And while I was a bit sad, I told her that her feelings were far more important than the beads and not to worry about them. I explained that I knew it was an accident and perhaps it was time for some new ones as I embraced her and kissed her forehead. Her tears faded and her face broadened into a smile as she said, "I love you, Mommy, for being so understanding and not getting mad." In this moment, I learned, once again, that I always have the choice to express love instead of anger and that nothing is more sacred than the heart of another. This lesson was worth many strings of mala beads.
After I left the room she quickly scoured the room for the remaining beads and managed to find 107 of them and lovingly placed them in the shape of the words "sorry mom" on my mat and informed me that I needed to go see something in the yoga room. As I entered the room my eyes were immediately drawn to the dark pebbles that rested upon the light pink mat. This made me tear up and feel immense gratitude because, for me, this symbolized the love and devotion I had infused into these beads and how these devotions appear throughout our lives and in our relationships. This was a true manifestation of my intentions.
The beads sat in the bowl for days until recently, I walked out onto our deck and saw the lone bead sitting there basking in the glow of the spring sunlight. My set of beads was now intact and so were my daughter's feelings. What a reward! I smiled and placed the lone bead with the others and promptly told Paige that the last bead had been found as she exuded relief.
This morning, I began to re-string the set on a brand new piece of cord which now includes a special decorative bead that Paige had given me last year. The love and gratitude infused in this simple set of wooden beads has now even more significance.