My 89-Year-Old Grandma Loves Green Juice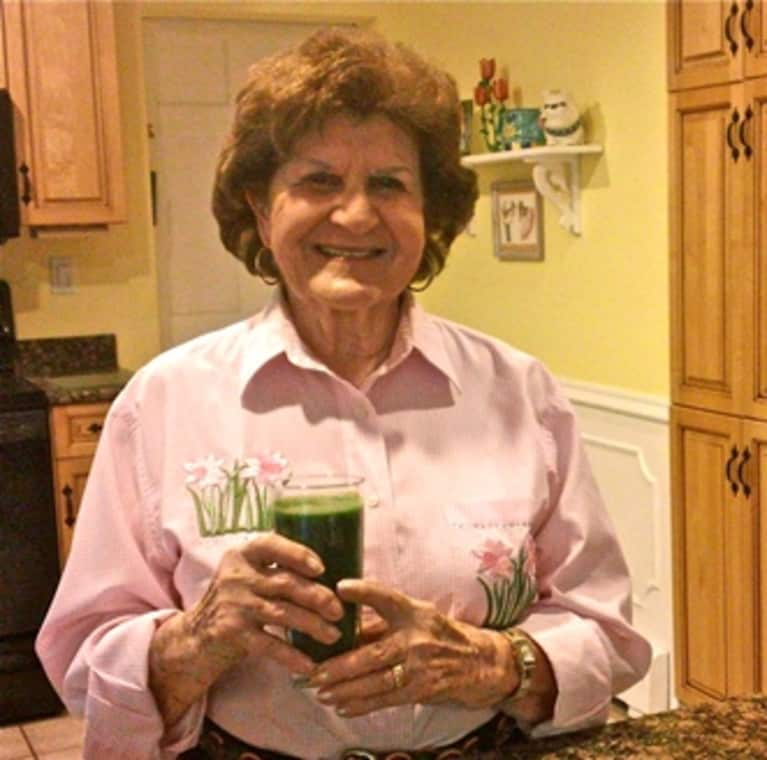 Five foot two, wavy brown hair, adorable, opinionated, energetic, sassy, green-smoothie-drinking, and eighty-nine. I can't stop gushing over my greens-eating grandma.
My grandma loves pork chops, and spaghetti, and steak, and hard boiled eggs. She loves Chinese Food and Burger King and, my gosh, does she love dessert (a banana split is better than dinner any day!). I may wish she ate a few less wontons and a few more leaves of kale, but I'll love her no matter what she eats, as long as she's happy and healthy.
A few months ago, she surprised me with an interest in the loudest inhabitant of our kitchen countertop -- my blender. Every morning as she was watching The View or her favorite morning political talk show (she's eight-nine, witty, with it, and politically inclined!), she'd be interrupted by the roar of my blender mixing up my favorite greens, superfoods, and a fruit or two. To be honest, she always seemed to think my food habits were crazy. "Why can't I take you to a restaurant?" she'd ask me when I'd turn down Italian food or the Chinese buffet.  And, my favorite regarding my veganism -- "Why won't you eat chicken? Chickens aren't animals."
No, it's not always easy being green -- or, rather, eating green with an eighty-nine year old grandma who just wants to love you with all the food she can make -- or pick up from Costco. But, little by little, she could deny the green smoothie afterglow no more, and she wanted in.
And, so, exuberantly, I grabbed my blender, a few leaves of chard (not too many for the first tasting), some frozen berries, coconut oil, and a banana and whipped up her first green creation. With her special "TV Ears" on which magnify the sound, she flipped on the television, sat back in her lounge chair, and sipped slowly and diligently until she had gotten everything -- even the last drop, which was a little thick and not bursting with cold, icy goodness by the time she got to it. But she did it and, almost every day since then, she has left her greens and her selected fruit for the day on the countertop near my blender, ready for me whenever I have the extra time to measure out the water, throw it all in, and blend.
Eighty-nine is never too old to go green. Since catching the green smoothie bug, my grandma has cut down on her meat consumption, has incorporated daily salads into her life and, her favorite, the celery cure! A few stalks of celery before a-less-than-ideal meal and no indigestion for the first time in years. She's been hankering to try coconut oil -- not just in her green drinks but on her skin. Who says you shouldn't look fabulous and wrinkle-free at eighty-nine? She's ready to give fresh aloe vera gel a try and came home the other day with two aloe vera plants -- one for me and one for her. I see her watering hers everyday and then leaving it on her windowsill for the sun to shine in on it.
My grandma is beautiful, fabulous, and energetic and now keeps tabs on all the celebrity news so she can dish to me who the newest Hollywood vegan is. Green, glorious, and eighty-nine. I couldn't ask for anything better.
So go green when the time is right for you and, remember, it's never too late to adopt a healthy habit. Happy eating, all!
For more green smoothie fun with my grandma, check out the short video we made together about going green.