What I Learned From Playing Yoga with My Son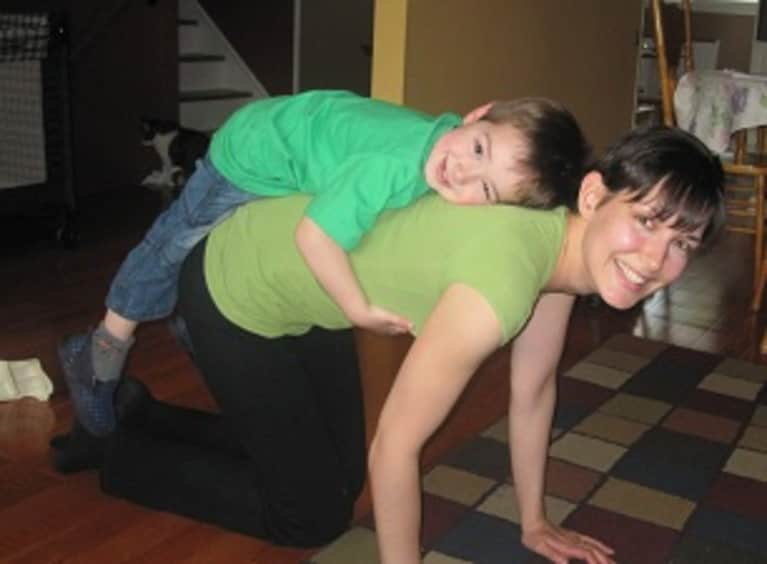 I sneak in a few yoga poses during my day, in-between tending to my kids and their needs, practically forcing my mind to let go of the chatter and clatter and simply focus on my breath. At the back of my mind is a constantly running checklist that comes to the forefront when I have a quiet moment or two: Did my older son eat enough for breakfast? When was the baby changed last? How long has the baby been asleep, enjoying his peaceful afternoon nap? Should we go outside to play now, or after lunch?
And in the midst of running down the 'done' and 'to do' lists, I hear my older son ask, "Mommy, can you do Downward-Facing Dog?" It's impossible to not smile at such a sweet request, which I could not ignore even if I tried. I shut off my overworked brain for a moment, smile at my boy, and get into his favorite yoga pose, only to spot him from the corner of my eye also practicing the pose beside me. He starts to giggle and the sound is a joyful, mischievous song that rings through the space of our home. I bring my knees down to the carpet and fold into child's pose. I half expect to look up and see my boy doing the same, but instead, I now hear that same little giggle right behind me. The next moment, he climbs onto my back for 'doggy ride pose.' He puts his arms around me as I remind him to hold on tightly, and off we go, with me moving in circles on my hands and knees around our living room. My son is hanging on my back, giving me the biggest bear hug one could possibly get from a little preschooler.
We are both in the moment, giggling, making barking noises, acting silly, playing. This is our practice, our game of yoga. We invent poses as we see fit and we are in our own world, aware of each other, creating memories that, I can only hope, will last a lifetime for my boy. There is plenty for us to learn from one another, plenty of time to think, to contemplate, to plan. Right now is the time to connect. Nothing silences the noise of my mind like the sound of my child laughing while we play and – yes, in fact – practice yoga together.