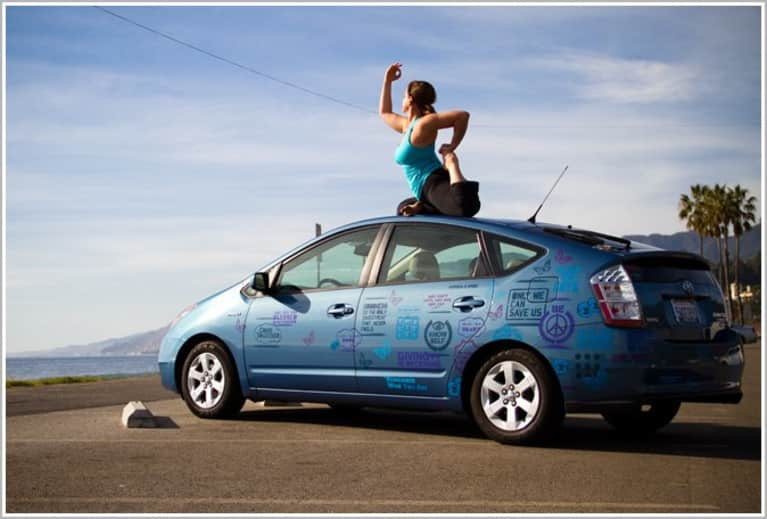 Although I love my Big Booty, in this case, the junk I'm referring is in the trunk of my car. I'm a yoga teacher and musician in Los Angeles who hosts a variety of public and private events around the city, so my Prius is often packed with stuff. While I often ride my bike around Santa Monica and Venice, my car is my mobile office and there are certain things I need to keep with me in order live my lifestyle on the go.
Here are 5 things in my trunk right now:
1. Drums. The tambourine can fit easily in my purse but sometimes I need to put 4 Djembe drums in the truck when I host big classes or drums circles. I often carry a basket of shakers and rattles too.
2. Lots of lululemon. Sometimes I laugh at all the sweaty clothing that I clear out of my trunk. My crazy schedule has me changing my outfit multiple times a day and since I don't want to carry sweaty clothing in my bag, I always toss it in the trunk.
3. Running shoes. I never know when I'm going to find a great set of stairs or a hiking trail and since I generally like to wear flip flops, I need to keep socks and shoes in my trunk. I like to be barefoot sometimes too, but it's nice to be able to make the choice!
4. Water bottle and reusable mug. Hydration is important so I keep extra water bottles in the back so I can refill them and keep drinking everywhere I go. I also love coffee but hate all the paper cups that get wasted, so I keep a mug with me at all times if I can.
5. Dog leash. If I'm driving my car, it's a good chance I'll have my dog, ZOID. This Australian Shepherd has been my adventure companion for ten years and we love spontaneous jaunts through parks and communities. Even though he doesn't need a leash, I keep one just to stay legal.
What's in your trunk? Comment below on the stuff that you schlep around with you to help you live a lifestyle on the go.
Photo & Car Mural by The Art of Chase