Don't Be Afraid of Something That You Love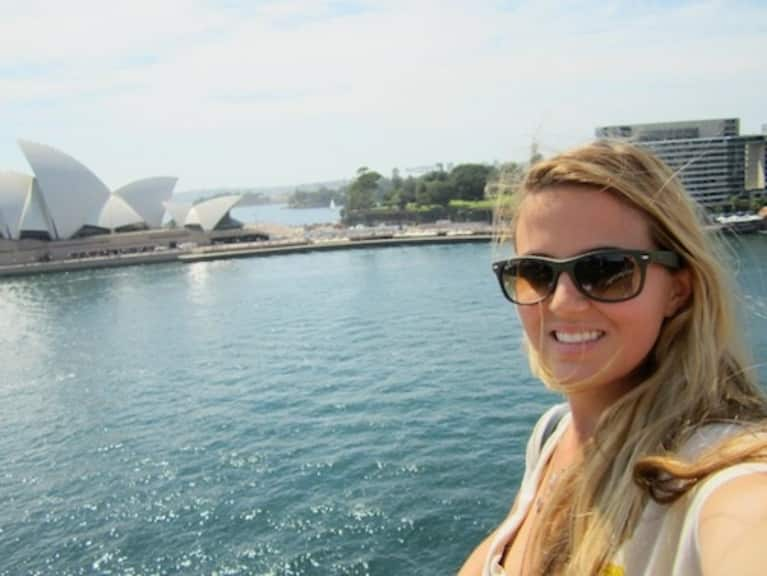 When I was a child, my dad, Dr. Wayne Dyer, would say this poem below to my brothers and sisters and I whenever we would despair over what we were going to do with our lives. As a kid, I interpreted this little poem to mean that I could grow up and do whatever it was that I wanted and that the key to it all was to simply do what I loved. As an adult, I have realized that feeling comfortable enough with what you love and being willing to go after it can be so damn hard. I was raised with the knowing that I could create my life any way I wanted it to be.
You do not have to be good.
You do not have to walk on your knees
For a hundred miles through the desert, repenting.
You only have to let the soft animal of your body
love what it loves.
Tell me about your despair, yours, and I will tell you mine.
Meanwhile the world goes on.
Meanwhile the sun and the clear pebbles of the rain
are moving across the landscapes,
over the prairies and the deep trees,
the mountains and the rivers.
Meanwhile the wild geese, high in the clean blue air,
are heading home again.
Whoever you are, no matter how lonely,
the world offers itself to your imagination,
calls to you like the wild geese, harsh and exciting --
over and over announcing your place
in the family of things.
- Wild Geese by Mary Oliver
I was raised by two deeply spiritual people, my mom and my dad, and they taught me things that were quite different than what I was learning at school or what my friends' parents were teaching them. I learned at a young age that the solution to all of life's problems lied within myself, and that the only way to find those solutions was to go within, to be silent, and meditate. We learned Transcendental Meditation at the age of 5 and although I didn't really start using it until my 20s, the knowing that I could solve my problems was a source of comfort for me in my teens. My parents raised us with the idea that if you want to have something show up in your life, offer that same thing to someone else first because as we were taught, the universe is based on laws of attraction and you get what you are, not what you want. My parents also taught us to steer clear of the "good opinion of others" and to not let fitting in get in the way of being ourselves.
All in all, I was raised with profoundly wise tools to help me grow up and create the life I wanted for myself as an adult. But even with all of these tools, I found myself stuck, feeling depressed and anxious at the age of 24. I wasn't sure what I wanted to do with my life after I had finished my grad school. I kept thinking, "I know that I can create the life I want for myself- but right now I don't even know WHAT it is that I want and how can you create the life you want for yourself when you don't even know what it is that you WANT!"
I decided on a whim to take the LSAT and see if I could prolong my becoming an adult in the working world by going to law school. I did well on the LSAT, applied to a law school in South Florida, and bam- two weeks later I found out I was accepted and they were giving me a scholarship. A month later I was enrolled as a first year law school student, beginning the first week of August. I felt happier, I felt like I was doing something that was honorable. I was also really relieved to have the identity of a student again, so when people asked me what I did- I could tell them I was a law school student and they would think highly of me. Six weeks into law school however, I could barely get out of bed in the morning. I truly was miserable. My attempt at tricking myself into going to law school to avoid doing something that I really wanted to do wasn't working. I came down with pneumonia and I think it was because I was so full of dread ever day that my body was cooperating with what it thought I wanted - a reason not to get out of bed anymore. I decided to text message my dad and see what he would say if I told him I was leaving law school. I sent the text and a few minutes later I had a reply that said, "Serena, you came here with a dharma, a purpose. If law school is not part of your dharma, then go out and find what is. Do what makes you happy, I am proud of you no matter what. I love you, Dad."
I left law school with both of my parent's encouragement and support. I left and decided that I was no longer going to be afraid of doing something that I love. I had been afraid of what people were going to think of me if I quit and I was afraid of feeling like a failure. The truth is, I slowly began to feel that I would rather go after something that I love and chase my passion than stay in a situation just because I was afraid of what others might think of me. Five months after I left law school and started focusing on the feeling of happiness, the feeling of accomplishment and the feeling of peace, I was offered a contract to write a book about growing up with spiritual parents. My book, Don't Die With Your Music Still In You that I am co-authoring with my dad, will be released in the Spring of 2013. As Mary Oliver said, "you do not have to be good... you only have to let the soft animal of your body love what it loves." When you shift your consciousness and begin to believe that doing what you love is an option for you, you will see that the "world offers itself to your imagination, calls to you like the wild geese, harsh and exciting, over and over, announcing your place in the family of things."
I know it can be tough to sometimes find time when you're tired from a grueling work day, taking care of loved ones, or doing chores, but I hope you can always give yourself a few minutes to reflect on what you love, and try to figure out a way to work it into your life somehow.