What Is Advanced Yoga? (From a Recovering Pose Junkie)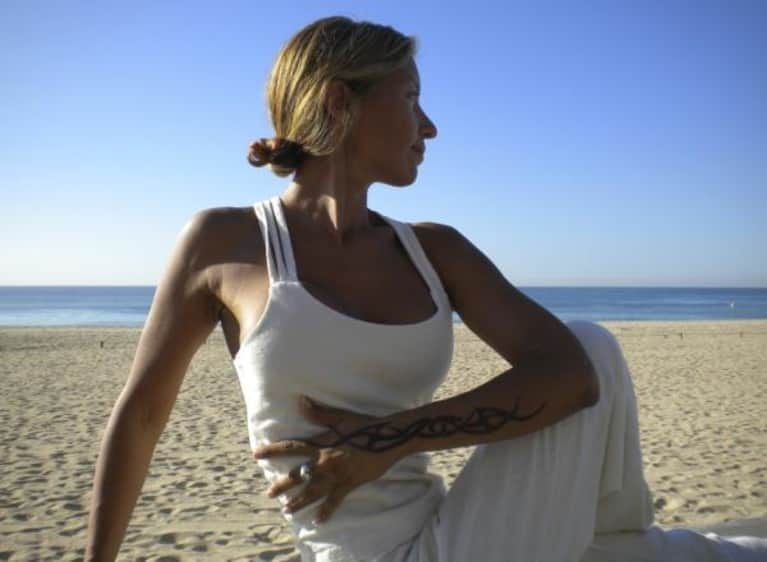 When I started yoga, it never entered my mind that there was "advanced" yoga. I began the practice as therapy after an accident where I was hurt emotionally and physically. I was the youngest yogi in my local community college class by a good 25 years. I felt like Bambi, learning how to take those first, feeble steps. When I think about those kind spirits in my first few classes, I realize that they are some of the most "advanced" yogis I've shared time with.
As I continued practicing, I became hungry for more. I found the only yoga studio within a 30 minute radius, and discovered classes that were leveled and had all sorts of complicated names. It was a different energy. I heard fellow yogis talk about their plans to get "good" at yoga so they could go to the next level up class. The gold standard was a Level 3 class.  Just saying it intimidated me, let alone thinking I could actually attend this class and not make a fool of myself. A few years later, with great hesitation, I took my first "advanced" Level 3 yoga class. I survived!  Nobody in particular high-fived me, but I celebrated myself for being there amongst the local celebrity yogis.
More years have passed, and I have to admit: I became an advanced yoga junkie. I traveled all over seeking cooler poses, more abstract, unusual variations, and taking teacher-training programs. My physical asana practice of poses evolved to what you now see on any of the popular YouTube videos these days. But those years weren't necessarily filled with advancing my life. I collected poses and I over-consumed material possessions at the same time. My pose collection grew just as the size of my car, closet and house increased. But something was not growing internally for me.
I was doing everything right and yet I could not find an easy sense of contentment. Then I learned something when I started teaching introductory classes. I began to see that the most advanced yogis were the ones taking my beginner classes! These folks, often in their 50's, 60's, 70's weren't pushing the poses in their bodies.They had made peace with struggling and didn't want to practice that skill set anymore. Instead, they wanted to reinforce mindfulness skills like paying attention, remaining calm, breathing generously, and staying connected.
For me, yoga has always been a curious paradox and never more so than when it comes to defining "what is advanced yoga" because it reminds us that we don't necessarily advance chronologically. We may get a promotion in our career, while at home, our relationships have stalled. In the same way, on the mat we might be creating more exotic shapes of poses, but our minds could still be highly distracted. We might be able to do three hours of yoga but may not be advancing into a nicer person.
So here from my life experience—both in and out of poses—are the 5 Key Things that Describe an Advanced Yoga Practice:
1. Breathing on purpose. There is no progress without breath.
2. Awareness. Paying attention to the subtleties in our bodies, thoughts, breath. The inability to be grounded or present stupefies the mind and progress slows down.
3. Non-animosity. Compassion in motion promotes active equanimity. If there is forcing, then there is no feeling. Without feeling, we make everything hard.
4. Understanding the goal or intention. An inability to know your own GPS infantilizes you and limits progress.
5. Trustful surrender. This means we need to trust and recognize that what is happening is promoting our happiness or growth and either way it is for our higher good.
It is clear that we can apply these five ways to describe"advanced" yoga beyond the shapes we create with our bodies. We can apply them toward advancing our life practice. Personally, I would rather live an inspired life than grow my physical practice. I may not always advance chronologically, but today that is my intention. I intend that what I feel, what I say, and what I do are all in alignment progressing together.
Love yourself, love your day, love your life!
Silvia