I Love My Body, Therefore I Am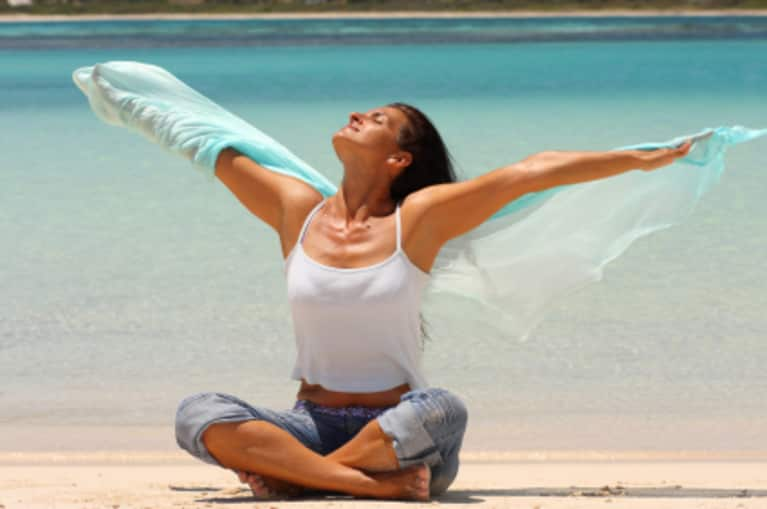 I love my mind. I believe in the power of thoughts. I believe that the only way to heal our planet is to change the way we think: if we re-imagine our plates and our produce and our farming methods, if we choose not just to eat organic but to live in the motto of local, organic farming -- feed our bodies, the earth, and the animals with love and kindness -- then we will change the world. Indeed, thoughts fuel actions and become our physical reality. As Descartes concluded, I think, therefore I am.
But there is something about that conclusion that leaves me wanting: my body, I recall. Where is my body?
For three and a half years, I went to college. I attended a prestigious university. I had an internship, my own babysitting business, and academic success. I lived in New York City and flaunted my sleek, faux leather shoes up and down Broadway. It was brilliant. I was miserable.
But I persisted. After all, I was Ashley Asti, academic. I write good papers and get good grades and I like it. Or so the lore goes. In reality, I was Ashley Asti, sick, exhausted, dragging. The emotional, academic, and social suffocation I felt at school took a toll. As much or as little as I ate -- as meat-free, dairy-free, and gluten-free as I ate -- I felt sick. My face broke out. No matter how much conditioner I used, my hair hung dry and flat. My always-strong nails wouldn't stop breaking, my stomach was a mess, and my body felt like it lagged behind me as I tried to wake it up each morning, blast the music in my iPod, and push it around a track or through the park.
And then I waited. I waited for someone else -- my parents, my friends, or maybe even a stranger--to tell me that the way I was living was not okay, that I should not feel this way. And no one gave it to me. Not because they didn't love me, but because they weren't in my body and my mind. Because they couldn't feel what I felt.
And then, finally, I heard it: "No, this is not okay." The words were my own. I had waited and waited and waited for someone else to say them, for someone else to save me, but my body had been telling me all along. The blemishes invading my face had been screaming it. My stomach had thundered, roaring until I finally heard myself. My hair refused to shine until I did something to change my life, and my feet would not sprint through the park until I grabbed a blender, made a green smoothie, got on a yoga mat, changed my career plans, moved to a new apartment, found new roommates, and listened to my body.
My fellow students -- my fellow mothers and daughters and brothers and fathers and writers and doctors and yogis and friends -- listen to yourselves. If you love you, hear your body. Let it speak to you and be with those feelings. Really be with them. If you love you, reach your arms across your heart's center and hug yourself when you feel unsafe or sad or alone or just needing a little extra love. Your body is so beautiful and loving -- it listens to you even when you don't. And it will listen and wait loyally and prod you kindly until you are ready to hear it. My body is just as much a part of me as my mind and I thank it for being with me, for reminding me where and what real happiness is.
I think, therefore I am? Yes. But, more importantly, I feel, I run, I go upside down, I hug, I eat, I listen. I love my body, so I can love me? Absolutely.