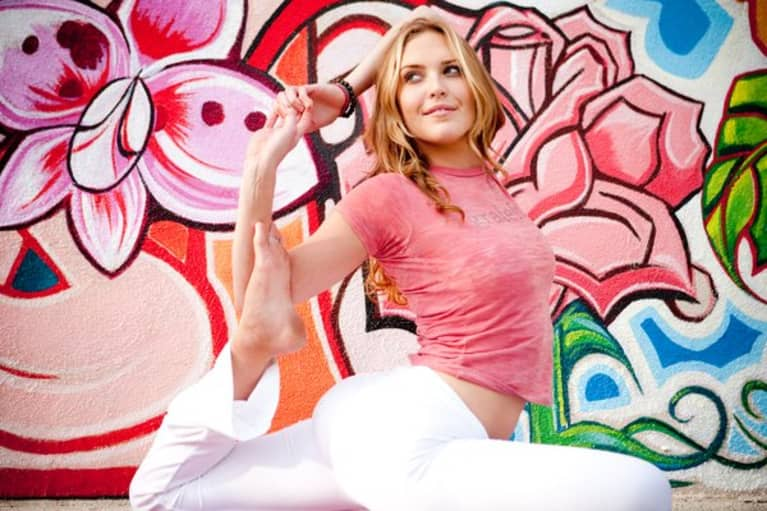 Over the past ten years yoga has had a profound effect on my life but what has changed my life has not been the quality of Warrior II (though my hamstrings have certainly benefited) or whether or not I can hold a forearm balance for three minutes, but my ability to now look inside and find exactly what I need.
What does that even mean?
Every single answer to every single question lives inside of you. They're not in a book. They're not in a seminar.
They're certainly not from me.
Yoga teaches us how to listen to ourselves – to pause, to be present through our breath, and then to allow our truth to unfold.
When that truth unfolds, if you have the strength to listen to it, what you'll find is joy.
That joy fits different people in different ways – for some it might mean getting up at 5:30 every morning to meditate and practice; for others it might mean taking an hour-long walk at sunset with your pup a few times a week. or you know that one "friend" who just drains the life out of you? It may be time to say goodbye. And that other one who inspires you to see the world, write every day, learn to cook? See that one a lot more often.
True happiness requires work. It requires consistency and inner and outer awareness. And we're not talking about swinging-from-the-rafters kinda happy. We're talking about true, sustainable joy that is not determined by what is going on around you but by your beautiful inner world.
We each have a responsibility to our inner joy, and to furthering our development as bright beings. And that development can be a whole lot fun. Take the time to dream, to envision, even to write it down or paint in on your wall. Make declarations that are bold, scary and liberating. And then watch the universe delight in your happiness.
"What you think you become." – Buddha