One Good Reason to Cheat in Yoga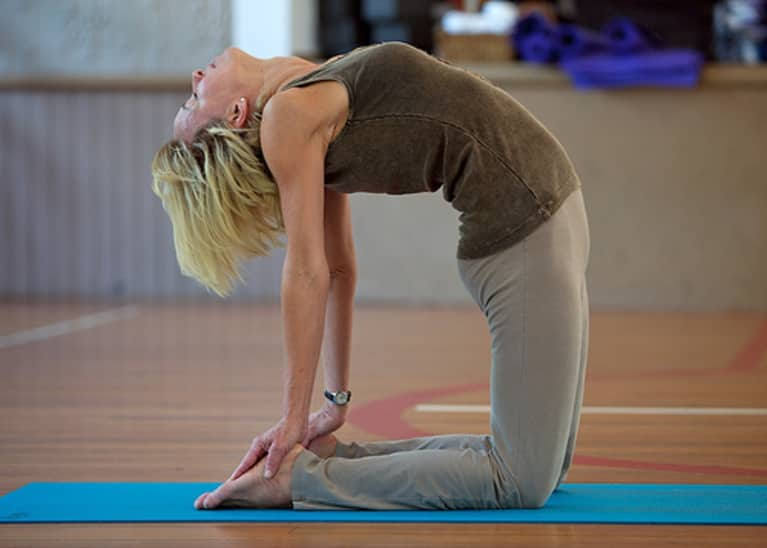 I had fallen in love with yoga. This was fifteen years ago and at that time I loved the heat, the sweat…and the teacher saying my name.
"Beautiful arch, Cori." (That's me.)
"Very nice, Cori."
I pushed a little harder because of it, though I tried to appear calm and serene.
Mirrors covered the walls of the studio and when I heard my name I looked at my reflection: Young, thin, flexible, strong. I smiled knowing the teacher had noticed.
"Beautiful opening, Jennifer."
"Very Good, Jim."
I wanted to hear my own name again. What about me? I thought. Each time the teacher didn't say my name I pushed a little harder too. Then I looked over at her. She was cute in her stretchy black shorts and tiny little top. She had a strong curvy body. I looked back again at myself in the mirror and saw that I looked different. Now my legs were too skinny. My nose was too big. My skin was too white.
Maybe if I arched just a little further…there would be something to admire, something for others to envy, and I would feel good again.
This is the benefit of "cheating the yoga system": Others may admire you, approve of you, or think you're cool. So if this is what you really want, go for it!
Just keep in mind that there are always consequences to our actions. If you cheat the yoga system by using the practice as a way of gaining external approval, impressing, or competing with others, the consequences are guaranteed to be disappointing. The rewards won't last and ultimately will never be good enough because deep down you won't believe you deserve it.
In the mean time, you will likely develop a confused and misguided pattern of seeking the temporary reward of external approval in order to feel good for a moment and will probably miss the reality that happiness depends on who we are, not who others perceive us to be.
So you may want to explore an alternative option to seeking the approval high: Close your eyes, breathe deeply and lean inward to the details (the physical sensations, the emotions, the thoughts that pass through your mind) in yoga, or as you walk down the street, or sit with a friend, or even enter an argument or an uncomfortable situation…and get the high of being fully present and accepting of what this life has to offer.
And P.S. don't feel bad if you still notice yourself "cheating". We are human and often guided by a crazy self-centered monkey that lives in our head and tries to call all the shots. Deeper breaths, more often, will eventually help us to realize that this insane little guy deserves our love, but doesn't need to rule our world.
With love, Namaste.
image via