7 Limitless Ways of Giving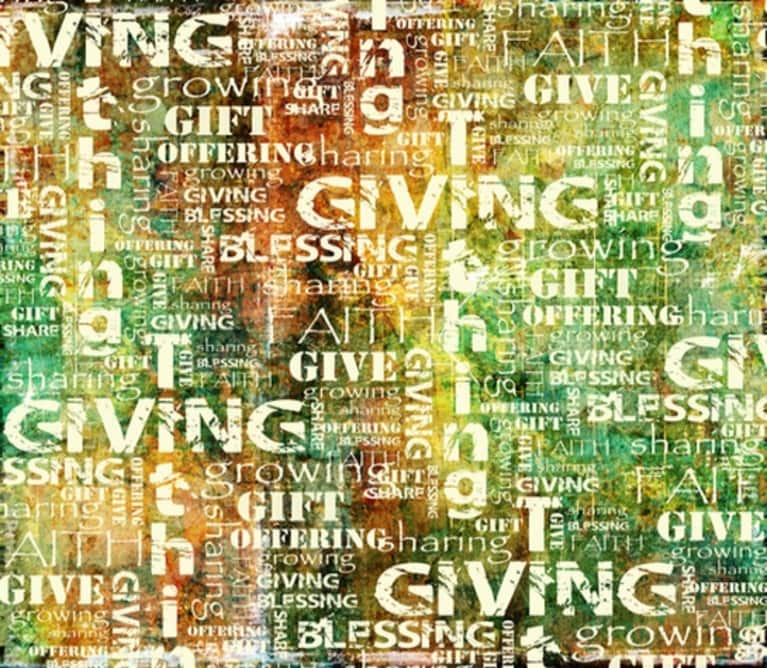 It's been repeatedly noted by happiness research experts in recent times that giving and contribution are one of the ways we can make ourselves happy. And we all know how happy it makes us to receive! What could be more beautiful? Who can lose in such a reality? When many of us think of giving, we imagine making monetary donations to a cause or buying something material for someone. These are certainly powerful and useful ways to give. But they are not the only ways! And thank goodness because not all of us have the means to give as much as we would really like to in these ways.
There are a good number of generous acts that don't cost a penny & have no limits to their value at all. We can never give too much of them, and we can all afford them no matter what our circumstances.
Here are just a few:
1. Kindness: If there is a gift that keeps on giving, it is kindness. I read a book entitled The Art of Being Kind a couple of years ago, and in it the author shares a good number of studies conducted to demonstrate the ripple effect of a kind act. Of course, no study can follow the effect to its end (if it has one), because it likely reaches much farther than we can ever know. But it does reach far. Kindness is passed down from one person to another. It is as infectious as the glorious sound of uncontrollable laughter. Never pass up an opportunity to be kind. And if you care to understand the power of kindness and ethical intelligence, read The Art of Being Kind by Stefan Einhorn. This book changed my life.
2. Compliments: How awesome is positive feedback? I love positive feedback, and I have no cap on how much of it I can take. We humans love acknowledgement. No, we thrive on it! Which is why we should shower each other with it.   After putting loads of effort into ourselves, our work, our family life, our education, it feels really good to have our efforts recognized & praised. And who doesn't love to be admired? Don't be a secret admirer.  Speak up & compliment someone!  If you think someone is beautiful, brilliant, easy to talk to, funny, thoughtful, or a badass, tell them! I will admire you for doing that.
3. Time: Most of us have thought that there just aren't enough hours in the day. Still, we need to make time for what matters. It isn't always easy, but it is essential. In the end, it is the people in our lives who are the most important thing. How many stories have we heard of "busy" people who have had a near death experience or some other tragedy happen that made them realize they hadn't prioritized correctly & needed to spend more time with those they love. Let's not wait for tragedy to wake us up to this! Let's make time now for what really matters. And if you happen to be someone who has an extra bit of time on their hands, why not give it to those in need? There are many volunteer opportunities available for those who have time to give to people and animals who don't have everything they need without the generous spirit of others.
4. Acceptance: This is a fundamental need of all human beings, and yet not always that easy to give. Ironically, it is sometimes hardest to give to the people closest to us. But we must. Sometimes we get overly caught up in "bettering" the people around us when we really should be accepting them and focusing only on bettering ourselves. I know I am guilty of this. To feel and be accepted as we are is a wonderful gift. Not much else can lift our spirits more and help us feel adequate and like we are enough. We are enough. So are the people around us. Let's treat them that way. Let's give our acceptance and let each other just be.
5. Appreciation: I think we have all experienced what it's like to feel unappreciated. It hurts. Bad! Then we all know how meaningful it will be to stay focused on expressing and demonstrating our appreciation whenever the opportunity presents itself. Gratitude is a well-known healer. Thinking about what we are grateful for is a great thing to do. Writing it down, even better. Speaking it out load. Priceless.
6. Attention: I was at a wedding recently and soon came the time for the best man and the maid of honor to deliver their customary speeches. As the maid of honor gave her tearful delivery of love and good wishes to the bride and groom, one table of guests were jabbering throughout the whole thing.  I thought this to be terribly rude & unfortunate.  These days there are so many ways we can offer our undivided attention.  Making eye contact, shutting off the cell phone at dinner, genuinely listening when someone is speaking to us.  Showing sincere interest in what is happening in the lives of others.  Stopping whatever we are doing to be present for the person who is standing before us.  We live in a world with endless distractions.  It takes effort to give our attention exclusively.  Let's vow to make that effort.
7. Encouragement: We all fall into bouts of fear and self-doubt from time to time. Sometimes we even fail at something. It is a part of life. These times also bring us opportunity to remember who is there for us to help us build our courage back up and get back on track. We know we always have someone in our corner. It's such a privilege though to get to be that someone in someone else's corner and we should not take that for granted. It is such an important role. If we are already paying attention we might identify chances to play that part more often than if we wait to be approached and asked to do it. We can give by looking for chances to encourage and build people up and be their strength when their own is temporarily broken.
I can honestly think of so many more ways to give to those around me, but I think this list of 7 ways is a healthy start. When I write these types of articles, I write them because I personally need the reminders and hope to inspire in the meantime. Thank you for joining me on this particular journey to limitless generosity. Be well!
image via