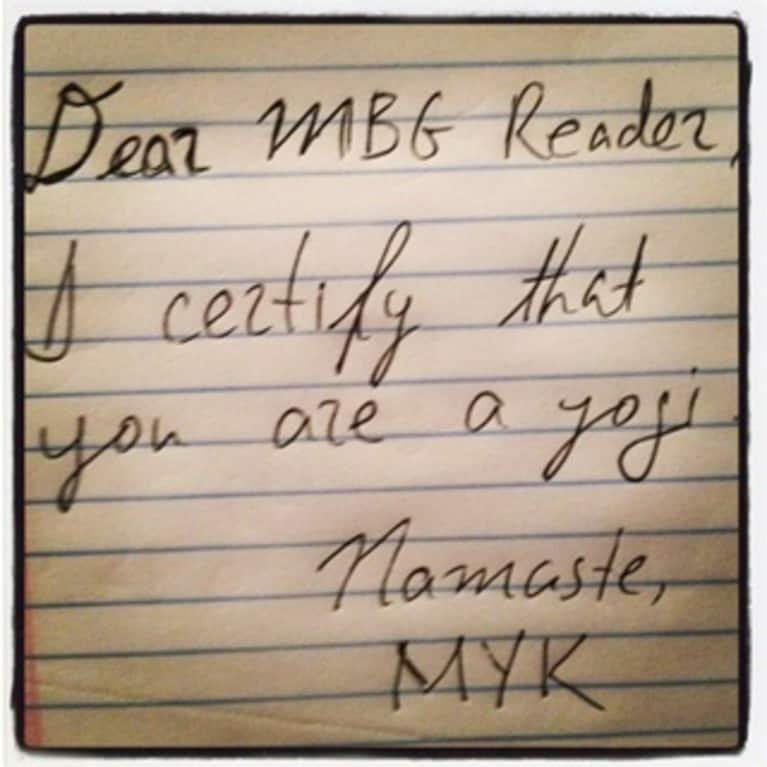 I've got to be honest. I haven't been diligent with my asana practice. On Saturday, I rolled my mat out for the first time in a few weeks for some self practice and...I felt totally fine. My body wasn't as limber or strong as it might be, but I FELT FINE. And I've generally been feeling pretty great, even without that physical practice. As for my mental state, despite being busy, I'm (relatively) calm, centered, and optimistic. Happy.
Sitting on my unrolled mat, a thought came to me...I'm still a yogi, right? I had better be - it says so on my Twitter profile. Even though I haven't walked into a class since March, there's certainly a yogic part of me that has nothing to do with the physical practice. Really, yoga doesn't even have to use esoteric Eastern words like Karma or Namaste. It is just a path, a path we are all able to walk along. And sometimes, we wander off it or we forget about it. Sometimes it's dark and we not sure if we're really on it. That's fine too. The point is...that we know about the path, and we trend back to it.
In today's post, I've designed a Yogic Path Check-in List. This is not a test, or a quiz, it's more like a scavenger hunt. If you can identify and relate to 3 of these instances in the past few weeks, you're on the path. It doesn't matter if you can do crow or not. You're kind of a yogi. Let's see how you do.
You're a yogi if...
You've taken a few deep breaths, and felt noticeably better afterwards
You've appreciated something beautiful just for its own sake
You've felt grateful for some aspect of your life, and it brought a smile to your face
You've physically connected with another person, and during that time lost your sense of self
You've done a good deed and completely forgot to expect acknowledgement or reward
You've hugged an animal for at least 5 seconds
You've gotten mad at or been hurt by someone, but now you're ok with the incident
You've experienced a period of 'flow' at work, and lost track of the time
You've been challenged by a person or a situation, and upon reflection, you feel thankful
You've listened to an amazing song, and totally lost it
There you are. If you're feeling any 3 of these, smile - you're on the yogic path! If you're feeling all of them, 100% you were already smiling before you saw this article. If, for some reason, you had a bit of a block with this exercise, I'll make a deal with you. Try any 3 in the next month-ish, and I'll acknowledge your yogi-ness too. I promise. No down-dog necessary.
Oh, and if any MBG readers are down to play a little fill-in-the-blank in the comment section, go for it - "You're a yogi if__________________."