6 Tips to Live a MindBodyGreen Pregnancy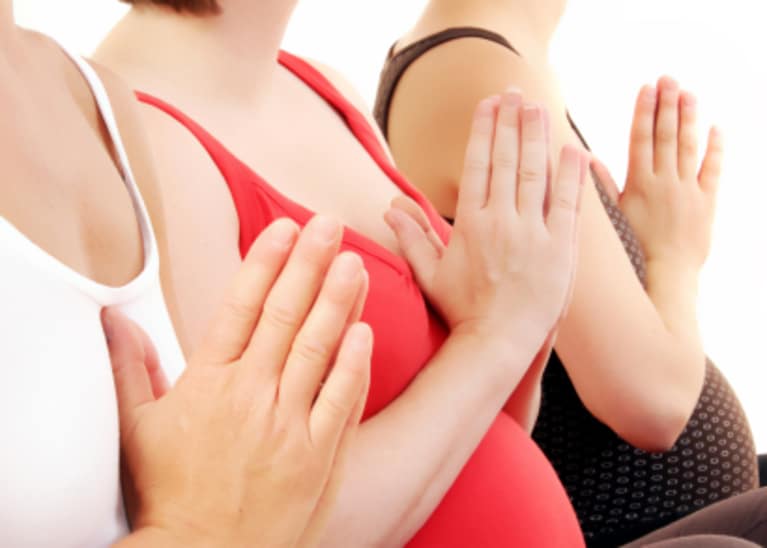 Do you want to live a MindBodyGreen-style pregnancy? Here are six great tips to get you started:
1. Think and talk about your little life inside in a welcoming way. The bond between mother and baby starts from the moment of conception and the relationship between you and your little one has already begun formulation when the birth into the world happens. I teach prenatal yoga and have two of my own children, and I really believe that the mother's relationship with her baby starts from the moment of conception. Your thoughts are their thoughts; your words are their words. So watch what you say because they are listening. Let that little life inside know they are loved daily, that you can't wait to meet them, and that they will be loved. All pregnancies are different and some have to make the hard decision to give the baby up for adoption; regardless, that little life still disserves the right to feel welcomed and nurtured. Why should it be any different from what I tell my non-mommy-to-be yogis that "what you say is what becomes your reality", and what you say becomes your baby's reality.
2. Get out the music and relax. Remember even those we count the day of a baby's birth as "day one", your baby has been exposed to all life has to offer for the last nine months through you. Music is an amazing way to help children relax and develop parts of their brains that wouldn't otherwise develop. Studies have proven that classical music improves brain development, so why wait until the baby is born. Both of my kids had the opportunity of non-stop yogi-style music, chanting and rhythm, and when they came out to meet the world it was no different. They sleep well; they can easily relax and are definite yogis. Plus as the mom you also get the benefit of relaxation and an uplifted mood and mind set.
3. Use essential oils. Not all essential oils are alike, however, the use of essential oils can really aid in both the benefits of pregnancy, for mom and for baby. It's important to make sure your oils are of therapeutic grade and a reputable company (I love Young Living), My Mommy must is essential oil Gentle Baby rubbed on the belly 1-3 times daily with a blend of high quality oil or belly butter. Gentle Baby relaxes baby, smells good and helps in the prevention of stretch marks (yeah!). Plus there are tons of therapeutic essential oils that can be used on you and baby for colds, upset stomach, headache, nausea, and mood.
4. Consider the foods and drinks you are putting in your body during those vital nine months. Remember this is the first nine months of your child's life, so what you eat they eat, what you drink, they drink. This mind set could possibly aid in the lessening of issues once baby is born. As a personal choice I ate vegetarian/vegan during all my pregnancies (and have otherwise for the past 15 years) and was very conscious of what went into my mouth without going overboard crazy. A good organic, undenatured whey or plant based protein shake daily (read the labels, because many are misleading and contain soy and fillers), tons of greens, water mixed with a healthy amount of electrolytes and vitamin C & B, good omega based foods and supplements, fruit and lots of healthy snacks. I've learned that it can go both ways, and as a mom growing a baby, you must be aware of your baby's needs and remember what you eat they eat. I think this concept is just as important as when they are born, and should only continue after delivery.
5. Practice yoga and meditation. As a mom of two and a yoga teacher, I encourage all my students to practice yoga throughout their pregnancies if their health allows them to, but even more so I encourage them to take a prenatal yoga class if they can. For me as a teacher yoga as a mom to be is a huge opportunity to slow down, breath and bond with that little life inside. I always start my "Baby in the Belly Yoga" classes with a belly meditation, hands on baby belly. For many moms they have gone all day without stopping to really connect with that little life inside. And to me it's not just another yoga class; it's a time for me to remind them of how precious this time is and how amazing the process of growing a baby really is. I want them to notice the little things, to see themselves a beautiful, special and extremely important. Because in a few short months a piece of them will be out in the world, and that is amazing. Yes, prenatal yoga is exercise and it has many physical benefits, but the connection and mental experience for both mom and baby is priceless.
6. Stop preparing so much and just be a bit more. As westerners we tend to pride ourselves on how much stuff we can acquire, and when expecting it is no different. The best crib, high chair, pump, clothes, bottles, the list goes on. For me, I try to remind all my prenatal mommies that this nine months you can never get back, you can never redo, and we so easily forget that. This is a bonding time, a time to really get to know your little one. When that little life is born, you as the mother are not meeting them for the first time; you exclusively have had the opportunity to intimately know them for the last nine months. So take a bit more time to bond, to prepare your relationship instead of all the fancy "things" that you care more about then they do, because when the big day comes, all they care about is you.