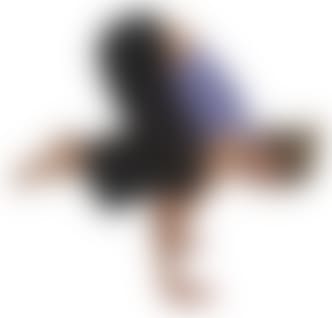 The first
yoga pose
I remember doing was
simhasana
(Lion's pose) six years ago. If you haven't done Lion's pose before, you have your eyes crossed, tongue sticking out, while taking loud breaths from the back of your throat. As a beginner it made me a little uncomfortable and confused. I was curious, though, and I began to think, "Why do
yoga
?"
My original perception of yoga was that I would be squatting for an indefinite amount of time and that it was about endurance. But as I continue on my yoga journey I learn that yoga is many things.
My earlier yoga experiences took place at the local YMCA. Even though I was going through the motions of yoga, I was not taking my practice much further. At the time (I was about 18 years old), my practice was mostly about calming down after a step aerobics class. Yoga was a quiet class that didn't lead me to be sore the next day.
After a handful of YMCA classes, and a few other classes here and there, I ended up practicing more and exploring different
types of yoga
. It wasn't until I practiced a gentle form of hatha yoga that something clicked inside me.
It was a gentle yoga class I took in college where cat/cows, spinal twists, savasana, and simple stretching/bending poses completely changed my life. When I took this class I had no idea how much I really needed it. It spoke to me at a unique time in my life and opened me up to a whole new awareness of my body and mind.
After this experience I replicated the practice at home. Practicing then took me to
meditation
, so I started that as well. I read books, I watched iTunes yoga videos, I rented yoga DVDs, and I practiced, practiced, practiced. Then I forgot about yoga and stopped.
I stopped for a few months but then returned again. I looked to the same gentle yoga classes that I used to love but felt that my body needed something more. It turned out that my yoga practice transformed into something more vigorous. Now I am part of a class that asks more of me, pushes me, holds me in
poses
longer, and makes me do things I never thought I could.
In my practice today, I crave poses like bakasana, or crane pose. Six years ago I would have looked at this pose and said that it was only for yoga masters. Actually, when my teacher asked us to move into this pose, I laughed a little. "Yah right," I thought. But then I let go and tried.
My yoga practice meanders and I never quite know where it will take me, but I do know that I need it. I now understand that practicing yoga is a part of my life. It gives me the emotional and physical support I require, even when I feel that I don't need it. For six years now I have been returning to the mat and the journey won't stop there.