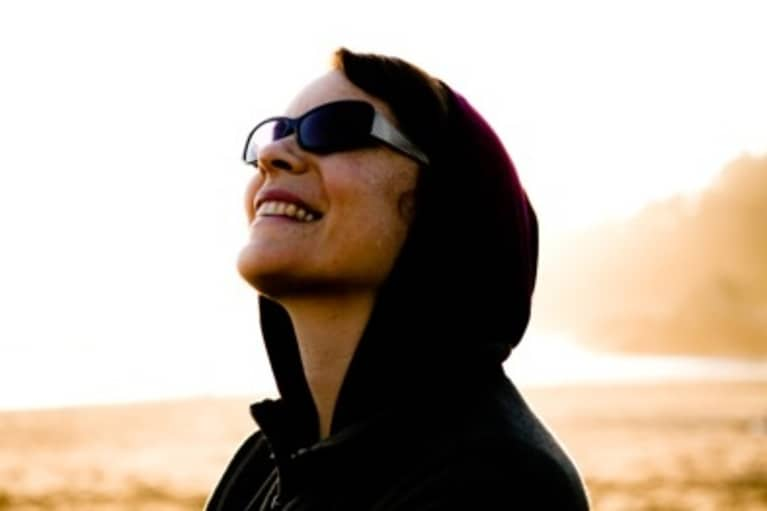 I grew up as a kid going to church every Sunday with my parents and brother. As I got older I realized my lack of connection with a religion that did not feel like my own. Among other reasons, it did not help me love the God within.
When I entered my healing in 1998 at age 24 when diagnosed with a brain tumor and recovering from my first awake brain surgery, I entered a spiritual journey. Maybe that included the brain tumor in a God Spot. More than anything else, I felt absolute despair about the diagnosis of a brain tumor, surgery, and severe fear of mortality. Never overwhelmed by those emotions before, and a combination with the intensity of unresolved issues in my life before cancer, it was like a flood too big for me and without capacity to go anywhere.
Sometimes feeling like I was drowning in my own river alone into a bottomless pit, I sought for healers to help me through the process. Since then, I've passed through many gateways. On some levels and especially when I'm centered in myself, I have learned to travel the path myself. The answers are all within. Finding that place requires a firm foundation.
After my first brain surgery and for many years, my five elements acupuncturist began to build a stronger bridge for me with my full self, including spirit. Along with balancing my body, I started to feel my angels experiencing their presence as well as other forms of support. Shamanic work also helped me to extend a real connection with my true nature. I learned more about connecting with spirit and closing my eyes in order to see into the other side.
With my brain tumor recurrence finally reported to me in February 2004, I then started using foods for my health and healing. I discovered that when I ate really healthy, I deepened my connection with spirit. A clean diet has detoxified me to feel clearer and brighter into the light. The daily practice of eating healthy continues this process.
From there I learned more about the importance of breathing. That includes each and every moment from birth until death. As Kabir says so beautifully, "What is God? It is the breath inside the breath." With breath, we are connected to our true home and essence.
When I was really sick in the fall of 2003 staring at my ceiling for several months, and then more fully in Europe for cancer treatments several years later, I developed a relationship with silence and stillness. The combination of silence and stillness helped open the gateway to my deeper self, soul, and spirit. This presence for prayer continues to evolve and expand for me. I apply stillness in various ways. As I wrote in 2006 from Germany, I felt most relaxed and internally balanced when a deep stillness surfaces within me and I'm able to flow from one activity to the next. I'm not attached to anything or anyone. I am not looking at my watch. I am not thinking about what I'll do next. I am not responding to other peoples' needs. I am simply in my own unique, distinct rhythm.
For me the most challenging blocked gateway and yet also invitation to God is about my thoughts. The chatter in the mind can block happiness and love. While it can feel really hard to turn off the chattering of negative thoughts, good medicine resides abound. I dance, listen to music, stretch, spend time in nature, journal, reach out to caring people, and use other steps to transform my thoughts into a higher self. That includes daily affirmations to support healthy, higher frequency beliefs. Life is too short and with beautiful joy. I also know that the only way out is through. Human beings need to feel everything. The word emotion comes from the Latin word to move. Emotions must be felt and released. That includes working with and through repetitive patterns.
On my healing journey now fourteen years after my brain tumor diagnosis, I move closer into my center within. Going home as above so below, God resides in the silence, stillness, and organic rhythms. In July of 2009, I felt spiritually guided to try the 5Rhythms movement practice. The 5Rhythms grounds my authentic, organic movement through a wave of flowing, staccato, chaos, lyrical, and stillness. Providing deeper embodiment of body, mind, heart, soul, and spirit, the 5Rhythms is a map to finding myself. Dancing helps me get out of my head into my true Self with God.
With everything I know including from other chapters and components in my spiritual journey, and definitely much to learn, sometimes I forget and feel disconnected. Sometimes I only want someone to be with me in my journey through a conversation, a touch, and even to be held. After all, we are not alone in this journey of life. We are all connected. And when the waves of communion ebb and flow, and when the experience of being real and raw with others cannot occur, it reminds me to connect more with myself and spirit. I feel my emotions to then move deeper in myself. That is a gateway through which I connect with God. The pain becomes the glory.