Sarah Herrington on OMSchooling, Writing, and The Poetry of Yoga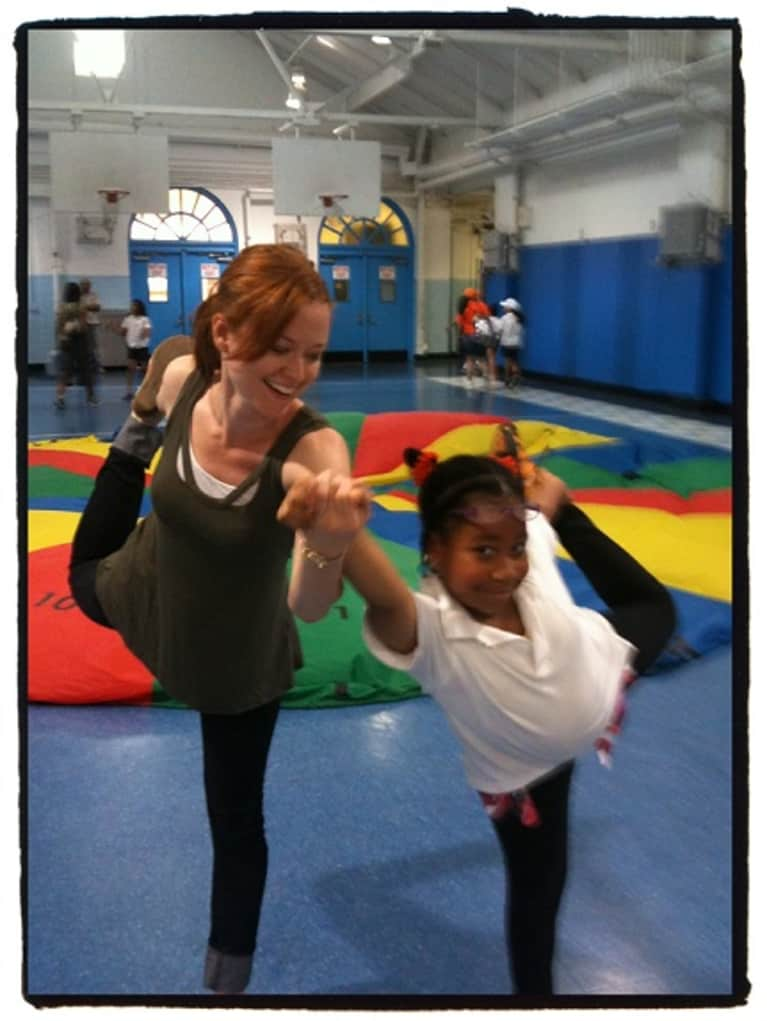 To hear many adults talk about their first time practicing yoga is to hear a great deal about the moment "a light bulb turned on." Yoga has helped adults get healthy and fit, overcome life's challenges, and has provided the inspiration to pursue passions, among much else. Now imagine how much earlier in life these gifts could come if we started sharing yoga more freely with children. Sarah Herrington (a MBG Wellness Expert) is on a mission to do just that, and she's off to a great start with her new book OMSchooled, soon to be published by Addriya Press. Herrington has been teaching yoga to children for years, beginning as a staff yoga teacher in a NYC public school, but OMSchooled will bring her methods and stories to a wider audience. Sarah graciously agreed to answer my questions about yoga, her new book, teaching yoga to children, and writing in general.
Can you tell us about OMSchooled?
OMSchooled is a book for yoga teachers, classroom educators and anyone interested in sharing yoga with youth and promoting it in our school systems. It is a teacher's guide but also filled with personal stories. OMSchooled grew out of years of teaching kids' yoga as a full time, on staff yoga teacher in a NYC public school, as well as teaching in studios and privates. When I began, teaching 5-7 classes a day 5 days a week, I read every book and watched every DVD I could. While these materials helped me, I still found I needed guidance in making yoga lesson plans, combining yoga with classroom management, elevating the educational standards of yoga programs, and tips for bringing yoga philosophy to 5-year-olds. As I continued to learn through teaching I began writing OMSchooled to hopefully help others interested in this work, and to share more yoga with more youth!
What initially drew you to yoga?
I actually didn't like my first yoga class but am glad I went back. My second class (years later) left me feeling so inspired and filled with calm, awakened energy. I had a Buddhist sitting meditation practice before yoga, and came to see yoga as moving meditation. I was originally drawn to the spiritual aspects, and the ability to really heal and hear myself more deeply. Yoga helped me get out of my head and into my heart. I just saw how yoga was positively affecting me and I kept going with dedication. Yoga helps me drop all the stuff that doesn't make me happy, you know? And then hopefully move through the world from that place.
Absolutely! And what drew you to teaching yoga to children?
Again, I didn't set out to do this! I was teaching teen girls creative writing when I first began to think about teaching yoga in general. Then I heard about an opportunity to teach at an all-girls school, and applied...and then found out the girls were ages 4-12. I just dove in, and found working with kids to be very joyful and profound…they taught me a lot about yoga. I thought about what life would have potentially been like if I'd done yoga as a kid – the idea of sharing these practices to people so early in life excites me. Now I feel honored to also share these tools with other teachers, who can reach even more kids. Imagine a world where people learn yoga and meditation from youth?
You've married some complementary yet not conventionally-related fields – yoga and writing poetry – and you've turned them into something that works for you. For those of us who also love more than one thing, could you share how you do it?
For me, these two practices go together seamlessly and work and speak to each other daily. I feel very dedicated to the practices of yoga, meditation and writing. I think it's important to keep following your heart. As I've continued to pursue these three things personally it's become more of what I want to share. I've recently connected with more yogi poets, and feelings of being in a community helps. For example, I was recently published in the anthology The Poetry of Yoga and read with Sharon Gannon and HawaH and other yogi poets at Jivamukti yoga in NYC.
How does yoga help your writing? Vice versa?
Both yoga and writing are practices of deep listening and honesty to me. Both are practices of making space. In yoga I often "get to the bottom" of things by hearing what's really going on in my body and life. This then works its way onto the page when I'm writing. I respect how honest yoga is with me, and strive to be that honest with myself and others in my writing. Yoga helps me to get out of my own way, and the better writing comes from that place, too.
I've noticed that a solid community of supportive friends and family really helps when our pursuits are creative, or "outside the norm" in some way. Do you typically surround yourself with people with similar goals?
Yes, and no. I definitely love being around those who inspire me and who I can share in conversations of craft and practice and questionings with. I feel blessed to have met some amazing mentors along the way, in both yoga and writing. But I find I'm also surrounded by people with different interests. I'm interested in people in general, so like to hear the stories and get to know all different types of people. That inspires me, too, whether we share actual interests or not.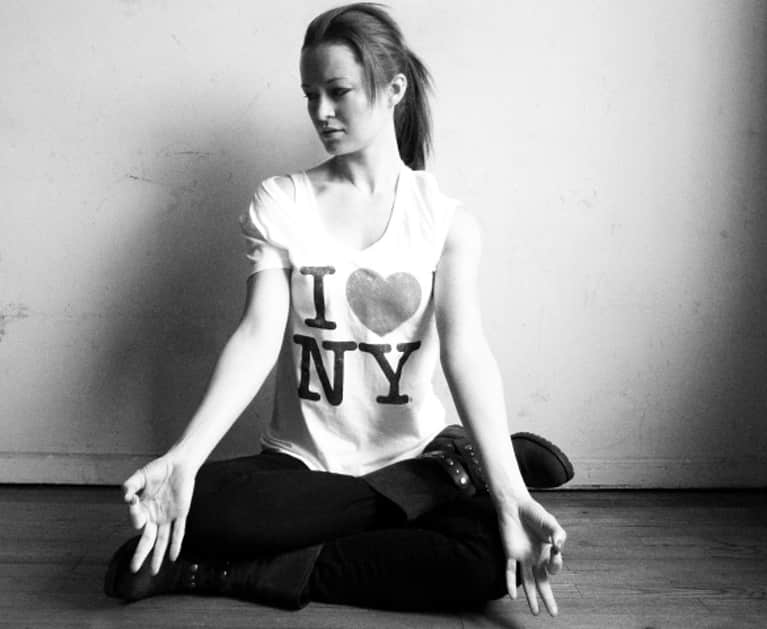 You seem to be making poetry "cool"…is that something you set out to do, or is it a fun byproduct?
I'm glad to hear I'm doing that, because that's not a conscious intention! I definitely think poetry is cool, though. I think it should be less marginalized. Lots of people write and read poetry and we should all come out of the closet about it. I was recently featured in fashion magazine Zink as a poet...and I love the idea of poetry getting a shout-out in a fashion magazine. When I was featured in the Oprah Magazine Poets issue, too, I was happy mostly because Oprah was giving poetry a major spotlight, and it deserves it. There was some controversy in the poetry world regarding how Oprah chose to cover poetry, but I was glad to see it getting a big shout-out in a public forum. I'm not about writing for other writers only, but for everybody. I think the more you tell your stories the more you can inspire others to do the same. I know I've been inspired to seek and say by those writers I've read and felt kinship with.
Do you read your own poetry in your classes?
Not usually, though a few friends have told me they read poems from my book Always Moving in yoga class, in savasana, which was the best compliment ever! I do like hearing poetry in yoga class. I think the words sink in even deeper when you're physically open like that.
Read more about Herrington's work teaching yoga to children in OMSchooled, and on om-schooled.com and sarahherrington.com.