5 Reasons Why Maya Angelou Is My Yoga Mentor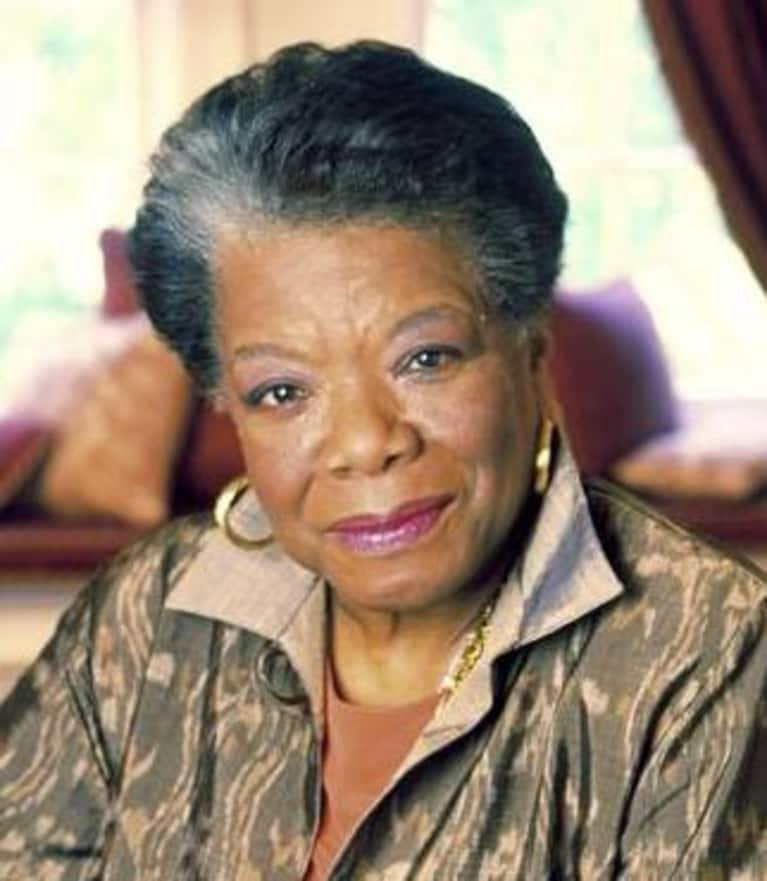 I had the honor of seeing Dr. Maya Angelou recently and although I knew I'd walk away in awe of this renowned and influential woman, a woman who is a world famous author, poet, historian, actress, scholar and activist, I had no idea that she would help me deepen my yoga practice.
As a yoga teacher, I struggle sometimes to help my students connect the body and mind, in a way that is beyond a "tight tush with good vibes as you bend" and sometimes I am challenged when I teach teachers, to help them to see how they are not above their students, but equal to, yet they must serve as a beacon of light at the same time. For both of these situations and, in my own personal practice, a surprising yoga guru that I found within Dr. Maya Angelou inspired me and I want to share this with students, teachers and non-yogis. Let me state that I say "non-yogi" loosely. I think anyone living a yogic lifestyle is a yogi to me, not just the people who are beginning with or take ownership to the asana portion of the limbs.
Here is what I learned, how she inspired me, and why she is my yoga mentor.
1. We are all holding clouds and light, and that means we all have a rainbow to share. We've all had struggles, we've all had hope and overcame something. In this, we learned how to develop a rainbow. Share our stories of developing rainbows. When you see someone who appears to only feel their clouds, lend your light to them, and be that rainbow to them. As Dr. Angelou says, it could be the color of your dress that inspires them, or how you strut, or what you say to them to help them. Everything we do is a potential rainbow, so make each choice rainbow worthy.
2. Believe in yourself even when others do not, and on the flip side, when you see someone down, go ahead and vocalize your belief in them in some way. "My grandmother used to sit me in front of her when I was a selective mute for years, after that rape when I was just seven years old. I remember her saying that people thought I was an idiot but she knew better, and that one day I'd be teaching the world, and traveling the world. I remember sitting there thinking, "You poor ignorant soul", and yet, she knew better. She saw it in me and she believed in me, and that changed my world", said Dr. Angelou.
3. We are all hero's and shero's. She explained that sometimes the laptop will break down, and you need to grab a book. Go find a librarian and ask them for a book of poetry. She laughingly said to wait a few moments because the librarian will have to take a few moments to pinch him or herself that they are being approached in this technology age, but that you should read poetry, and learn to bring a passion to your hero-shero within. That to be inspired we have to sometimes look at others who were so inspired only a poem could express it. In recalling part of her youth, she said "I had it in my head that Shakespeare must have been a young black woman, as how else could someone know how I felt? When I found out he was thought to be a middle aged white man, I was shocked!" For me, this taught me to often look outside of yoga to find yogic inspiration, and not always to focus on the "within" of myself but the "within" of others. I was learning it as a meditation-of-mind in motion just by listening to her in fact.
4. Something else brought to the mat from what I call now, "master class with Maya" is that anything negative is a poison, even if watered down. She explained her disgust that people, of all colors including people of color, use the world "Nigger" like it is nothing, even laughing at it. "This is a word, used to dehumanize slaves. You can smile all you want and try to make it a world to empower but guess what, you are really just adopting the poison. You've been fed the poison so long you don't know that by saying it is is like saying you can be cocky and say, "yes you can call me nigger but I can call me nigger and hate myself even more, see?". She continued with the fact that out of anything of the same genre, even if it sounds benign it is filled with edge and ashes still of a former explosion of hate or poison. So true. We can take a vial of poison and water it down, add aromatherapy and everything else to it, but it is still poison and capable of hurt. The hurt may not be the same hurt but it is still hurt. On the mat, we sometimes push ourselves in the name of peace or challenge or our edge, but in that edge there could be ashes. We could wear vain clothing and in that vanity there are ashes. This was a hard pill to swallow, no pun intended.
5. A cheerful spirit is the best medication. Be strong and happy, see the light in others, see the rainbow in yourself, share the rainbow, revitalize, repair, remind yourself of whom you really are. Of all the virtues, develop courage first. The other virtues may come and go erratically but with courage they are more apt to be less erratic. Anyone can do anything erratically, but have commitment to who you are inside, and use your energies constructively or it will end up being destructive... all lessons from a woman who taught me the best master class I ever attended, and the only time I stood in mountain posture was to give a standing ovation to her.
What lessons have you learned off the mat to bring on the mat? What unlikely teacher have you encountered?
image via Dwight Carter